Ontario Liberals Still Trying to Wiggle Out of LRT Commitment
Contrary to Premier Wynne's claim, Queen's Park has heard repeatedly and consistently from Hamilton that we support B-Line LRT with the promised full capital funding.
By Nicholas Kevlahan
Published June 10, 2014
In a recent recent article in the Spectator, Liberal leader Kathleen Wynne claimed that the province needs to hear from the City of Hamilton about whether we want light rail transit (LRT) along the B-Line.
Contrary to that claim, she has heard repeatedly and consistently from Hamilton that we want LRT, with the full provincial capital funding that has been promised in 2007, 2011 and now again in 2014.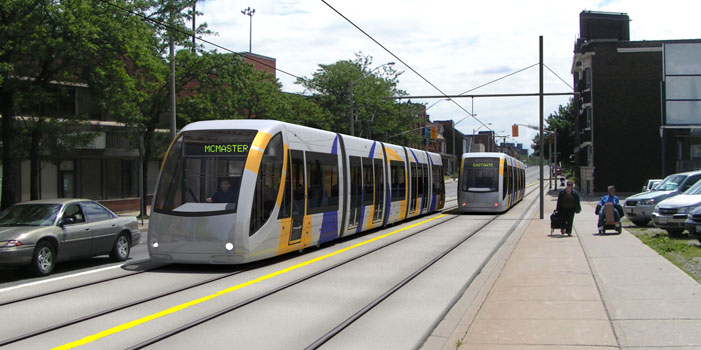 Rendering of planned LRT line
Council sent this message loud and clear when they submitted the extremely detailed Rapid Ready LRT report to the province last year. Even Spectator columnist Andrew Dreschel pointed out in April that Council's position on LRT has been "steady as a pilot light".
It is disingenuous to claim that Hamilton's position is somehow not clear because a couple of local Liberal candidates from Stoney Creek and the Mountain don't support the B-line LRT project - especially as the Liberals have said they are working with Council, not the local MPPs, on the LRT file.
So when Premier Wynne told me back in February that she understood Hamilton hadn't yet made a decision, what she really meant was that the party had backed the nominations of two candidates whose platform is counter to both Council's clearly expressed request and the Liberals' longstanding promise to build "two light rail lines across Hamilton".
It would be just a bit too convenient for the Liberals to use their own candidates' opinions as an excuse for not keeping their promise to spend $800 million in Hamilton, especially as they have had seven years to follow through on it.
Now compare and contrast the Liberal and Conservative LRT strategies in Ottawa:
Ontario Progressive Conservative Leader Tim Hudak says he is now open to funding the second phase of a light rail transit project in Ottawa as he tries to win over voters in the nation's capital, days after saying he would not.

Ottawa currently has a Bus Rapid Transit system – one of the biggest in North America – but it has struggled with to keep up with ridership. The $2.1-billion LRT project will include 13 station stops to replace a large portion of the BRT, including 2.5 kilometres of underground tracks through downtown Ottawa.
Apparently, Ottawa, unlike Hamilton, actually deserves this sort of provincial investment. Even Hudak has changed tune to support Ottawa's LRT, but still won't support Hamilton's.
Post a Comment
You must be logged in to comment.