Notes from James Street South Jane's Walk
Some people asked for my notes from this past Saturday's Jane's Walk along James Street South. I added some photos for those who would like to follow the tour from Gore Park to Ballinachinch.
By Ryan McGreal
Published May 05, 2014
Cities need old buildings so badly it is probably impossible for vigorous streets and districts to grow without them. ... Old ideas can sometimes use new buildings. New ideas must use old buildings.

— Jane Jacobs, The Death and Life of Great American Cities
I was honoured (and rather terrified) to be asked to lead a Jane's Walk in Hamilton last Saturday. My walk focused on James Street South and started on Saturday, noon, at the Gore Park Queen Victoria statue.
I was told the walk should take an hour or so, but I had no idea how many people would show up or how long it would take to walk it, so I decided to err on the side of having too much information rather than too little.
The walk had an amazing turnout and there was indeed more than an hour's worth, but we collectively decided to call it a day at around the 1.5 hour mark (we had reached St. Joseph's Hospital) as the rain that had been falling since just after the start of the tour seriously intensified.
As promised, here are my notes from the walk, including the stops past Charlton which we didn't get to see. I took some photos at lunchtime today so anyone walking the route can follow along more easily.
Three Tales of a Street
Amid all the observations, anecdotes and asides
Three distinct stories about James Street South:

Successive waves of development

1850s - stone, row houses, Gothic/Italianate churches
1880s - brick, Victorian/Second Empire/Queen Anne
1920s - Art Deco, Moderne, industrial, streamlined
1950s - Car-oriented
1970s - Tower-in-a-park, surface parking

Durand vs Corktown

Durand

Affluent neighbourhood
Started in 1791
Land owned by wealthy speculators like George Hamilton
James Durand never owned any property in Durand
Affluent residents organized to protect heritage
Important heritage victories

Corktown

Named after Irish City of Cork
Working class immigrants
More heritage destroyed
More blocks demolished

Remaking street for cars, not people

Converted to one-way 1950s
Off-street parking
Demolition for surface parking

19th to mid-20 century optimism, followed by belief that new development will be worse than old
Victorian Era
Drastic changes in technology, economy, culture
Major changes in civic infrastructure: water and sewer, telegraphy, telephony, electricity, bicycles, streetcars, buses, automobiles
Municipal role expanded significantly
Victorian era gave us humanitarian nonprofits, e.g. YMCA, SPCA, CAS, VON
James Street South is very much a Victorian street
Hamilton is very much a Victorian city
Gore Park
Most cities have a civic square, we have a civic triangle
George Hamilton owned a wedge of land downtown and Nathaniel Hughson owned the other wedge, which together would have made a Town Square.
Hamilton donated his part but Hughson reneged. That's why Hamilton got a whole town named after him and Hughson just got a street. :)
Instead of a park, nearby merchants used it as a parking area and open dump.
"The Gore on King Street"
First called a "park" in 1860 during beautification
Comprehensive and often hilarious history on on hpl.ca
The City's tendency to abuse Gore Park, chop down its trees, restrict public access and use it as a dumping ground goes back nearly 200 years.
Pedestrianization Plan launched in 2007
Gore Summer Promenade - people enjoy a park when it is enjoyable
Current plan to raise street to top of curb b/w Hughson and John
Shuttered buildings behind hoardings don't help!
Queen Victoria statue
Casts a long shadow over James Street
"Model wife and mother"
Coronated June 28, 1838 and died Jan 22, 1901 - reigned 63 years
Statue first proposed in 1860
Serious plan introduced Jan 26, 1901 by a group of Hamilton women
Designed in 1906 by Louis-Philippe Hebert of Montreal
Estimated cost: $10,000
Cornerstone contains:

City and telephone directories of 1901 and 1907
Copies of the Times, Spectator and Herald

Herald owner Billy Carroll started Around the Bay Road Race in 1894

Copies of city by-laws and financial statements
Coins and stamps
Union Jack and Canadian Flag
List of city council, school board and advisory members
Bible

Statue unveiled in 1908
22,000 people attended unveiling
Presided by Governor General Albert Henry George Grey, Earl Grey (of Grey Cup fame)
1958: cleaned of grime and treated to reduce corrosion
1988: cleaned again to remove green oxidization, and had another unveiling, this time with Governor General Jeanne Sauve
Lion's tail broke off in 1967, restored later in 1988
1996: cleaned again to remove pigeon guano
Gore Park Fountain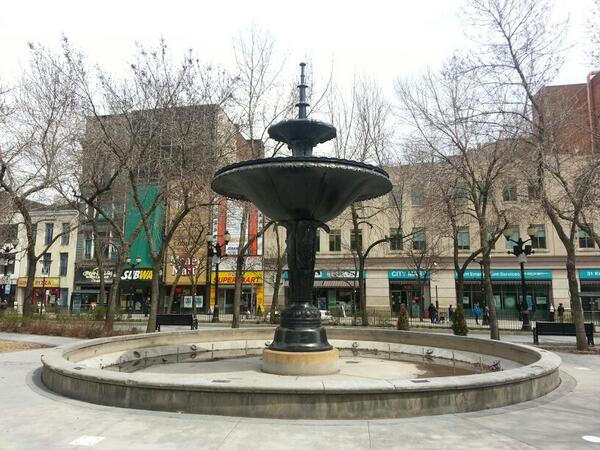 Gore Park Fountain
Built in 1860 to celebrate the city's first water system
Dismantled in 1959
Kinsmen financed a new statue for $10,000, opened in 1960
Widely criticized for looking strange ("flying saucers") not working well
Another replacement built in 1970
1990s, Head-of-the-Lake Historical Society called for recreation of original fountain
Recreated original fountain installed in 1996 for Hamilton's sesquicentennial 150th anniversary
18-28 King St E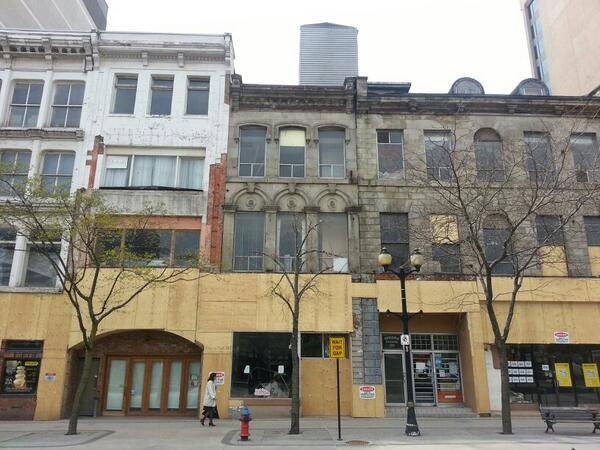 18-28 King St E
#18-22, "Kerr Buildings" wholesale dry goods store, later ready-to-wear clothier
Designed in 1840 by William Thomas, one of the most celebrated architects of the 19th century
Thomas also designed:

St. Paul's Presbyterian (we'll see soon)
"Ballinahinch" mansion James and Aberdeen (we'll see soon)
"Arkledun" mansion John St S at escarpment
"Inglewood" mansion for Archibald Kerr on Inglewood Ave
Bank of British North America on King Street (demolished in 1953, replaced with Scotiabank)
Orphan Asylum and Aged Women's Home on Wellington (demolished 1959)
"Undermount", a villa for John Young on John Street South (demolished 1966)

#24, built 1876-6 for crockery merchant James Skinner
#28, built 1874 for furriers William H Glassco & Sons
$24-28 are good representative Victorian buildings
#30 demolished in May 2011 as a kind of 'trial run'

Supposed to be an outdoor cafe patio, but that never happened

December 2012, Blanchard applied for a demolition permit for 18-28
Vague proposal to build some kind of new development on most of the block
$120M but no detailed plan, no funding, property owners arguing during press conference
Wants a large-footprint retail use so only have to collect 1 rent cheque
Blanchard's own market research shows there's a stronger market for small-scale urban retail
Big-footprint new build only good for major chains
Buildings not designated under Ontario Heritage Act
Council didn't want to designate them b/c afraid it would deter investment
Owner stripped off facades
City spent months trying to work with property owner
City offered $1M heritage grant, developer said they need $2M
Same company demolished 20 Jackson St W
Property tax went from $77K a year to $7K - council was mad
Designated 18-28 last December
Issued property standards order to comply with exposed facades
Darn buildings refuse to fall down!
Commerce Place I and II (CIBC buildings)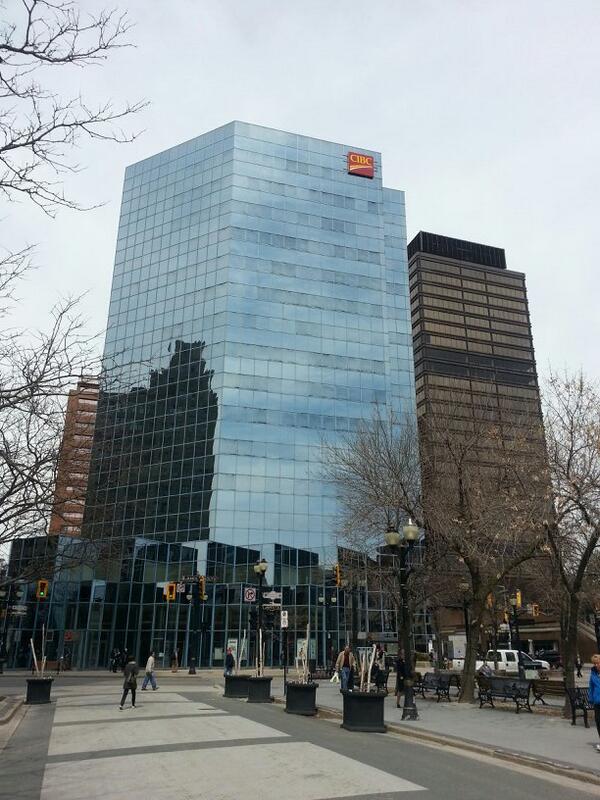 Commerce Place I
Octagonal steel and glass towers
Built in 1987 (east) and 1990 (west)
Almost 400,000 square feet of Class "A" office space
Cost $30M to build both towers
Head office of the Bank of Hamilton in 1872
Bank of Hamilton opened 128 branches across western Ontario and western Canada
Merged with Bank of Commerce in 1924
Owned for a while by Fercan Developments

same company that owned former Molson Brewery in barrie with $30M grow op
also owned Hamilton City Centre (former Eaton Centre)
City Centre built for $70M in 1990, Fercan bought it for $3.6M in 2000
Sold to Barrie developer in 2011 for $25M
Traded this past February to Partners Real Estate in property swap

Bought by Effort Trust in 2005 for $21.6M
Sold in 2009, managed by Wilson Blanchard
Renovated in 2011
Vacancy dropped from over 35% 5 years ago to single digits today
Vacant Lots, west side of James
Lots between Commerce Place and Pigott
18-24 James St S - Robinson's (demolished 1990s, now a parking lot)
28-32 James St S - Royal Bank (demolished after 1999 - not a parking lot)
Scarfone Hawkins Building
Canada Life Assurance Building designed by Richard Waite (Ontario Legislature), built in 1883
Oscar Wilde called it the most beautiful building in North America
Severely damaged in a fire in 1929
Henry Birks and Sons restored it in 1930, adding copper roof and Birks Clock
Clock designed after "The Clock of the Charging Horsemen" for Wells Cathedral in Somerset, England
Demolished in 1972 to make room for an office tower
Birks moved to a new store in Jackson Square
Clock attached to the Scarfone Hawkins building in 1974

Later moved to Jackson Square at King and James
Now restored and hanging inside the Farmers' Market
Canada Permanent Building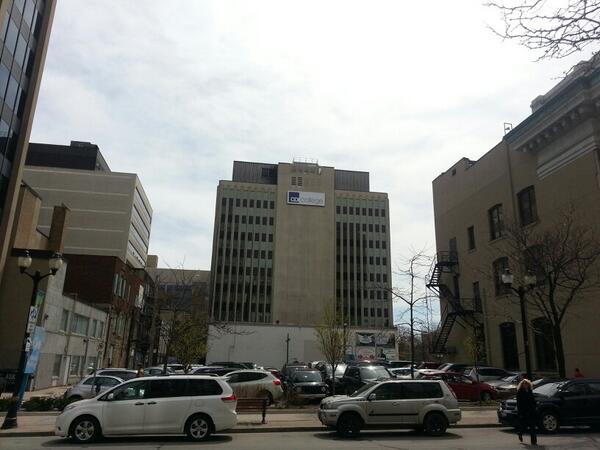 Site of Canada Permanent building
Between Scarfone Hawkins and Landed Bank
Built in 1961, demolished in 1999 and turned into a parking lot
Council passed so-called "Blanchard Bylaw" - can't demolish a downtown building and turn it into parking
Pigott/Sunlife building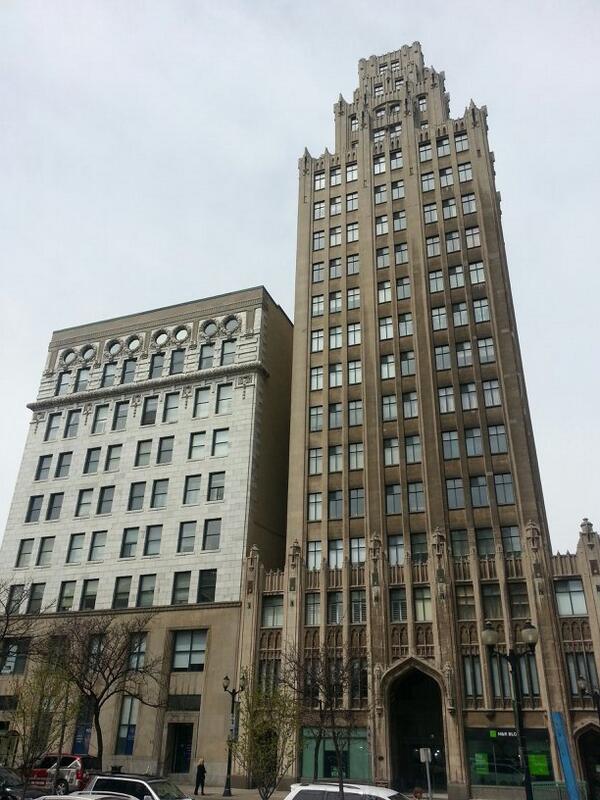 Pigott/Sunlife building
Built in 1929 for $1M
Hamilton's first steel-frame skyscraper
Tallest building in the British Empire (race on at the time)
18 floors, 64m (210 ft) tall
Art Deco and Gothic Revival elements
Fell into disrepair in the 1970s
Windows, door handles etc. were removed and sold off
Willie Thompson was the last tenant, living in a basement apartment
Designated as historically significant in 1984
A Mr. Pupolin bought it in 1986 and started renovating it
Sold mid-construction to Toronto Development Company
Stained glass windows were found in an antique shop and bought for $12,000, reinstalled in lobby
Stained glass windows depict:

Pigott under construction
Carpenter
Mason
Engineer - J. M. Pigott (I have this on good authority)

Combined with Sun Life building for a 109 unit condo
92/109 units were sold within 8 months
Landed Banking and Loan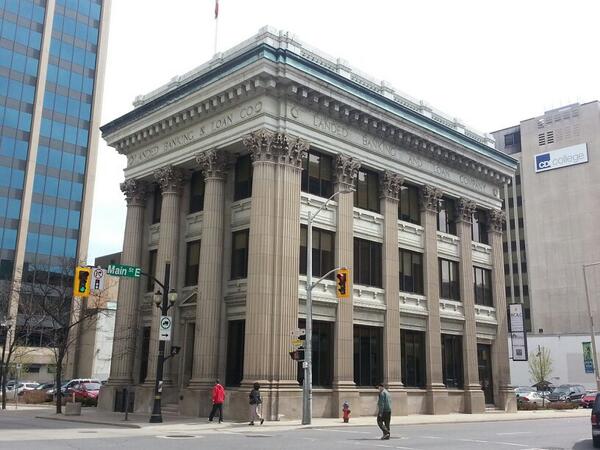 Landed Banking and Loan building
Built 1908
Designed by local architect Charles Mills
Inspired by Knickerbocker Trust and Safe Deposit Bank in NYC (now gone)
Oldest remaining bank building in Hamilton
Heritage Designation in 1986
Main Street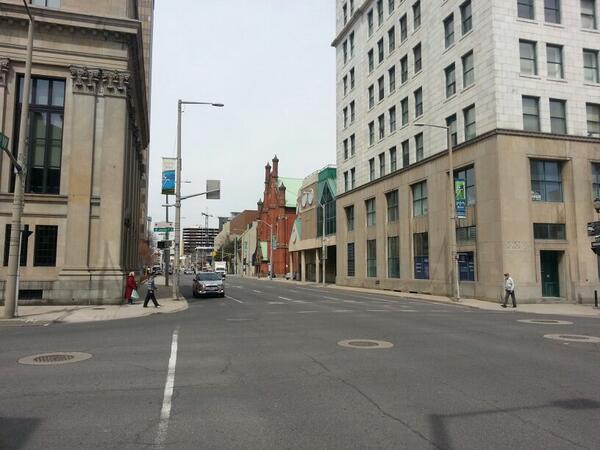 Main Street at James
5 lanes of one-way traffic
One of the biggest obstacles to urban revitalization
We have to choose: streets for cars or streets for people?
Cities that choose people have thriving downtowns
Bank of Montreal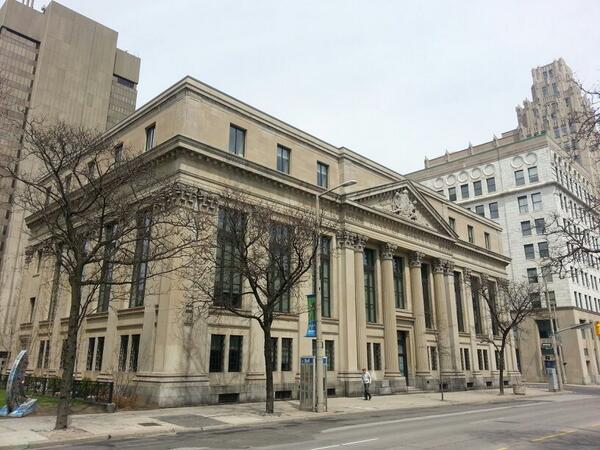 Gowlings/Bank of Montreal building
Designed by Kenneth G Rea, built in 1928 by Pigott Construction
Designated under the Ontario Heritage Act
Made into a dance club in the 1990s
Now Gowlings LLP
St. Paul's Church - Doors Open site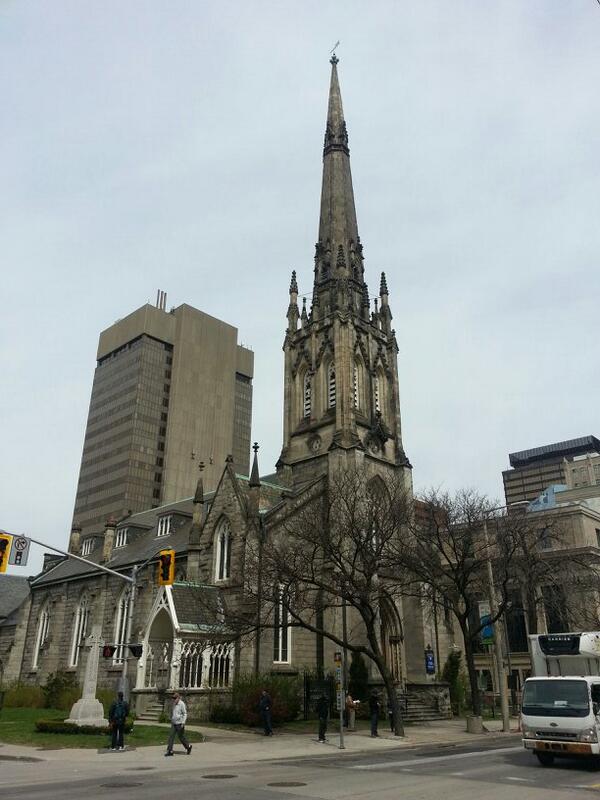 St. Paul's Church
Designed by William Thomas, built 1857
55 m (180 ft) spire the only one of its kind in Ontario
Originally called St. Andrew's
Changed to St. Paul's in 1873
Original bell was the first Hamilton town bell
Replaced with 11 bells, installed in November 1906
Bells weigh between 136 kg (300 lbs) and 955 kg (2,100 lbs)
Celtic Cross of Sacrifice (SE corner) carved in Scotland
Cross installed 1921 to commemorate congregants who had died in battle
Whitehern - Doors Open site
Rare surviving walled garden estate
Home of Calvin McQuesten

Physician and pharmacist in upstate New York
Moved to Hamilton in 1830s
Established a foundry - factory that makes metal castings
Foundry was at James and Merrick, where City Centre now stands

Bought "Willowbank" in 1852, renamed it Whitehern
Son Isaac took over from Calvin and lost the family fortune - bad investments, drinking
Grandon Thomas Baker was councillor, Public Works Chair, MPP, Public Works Minister
T.B. McQuestin High Level Bridge named after him
McQuestins lived in Whitehern until 1968, then willed it to City
Became National Historic Site of Canada in 1962
Restored in 1971 and made into a historic house museum
Bell Telephone Exchange
Art Deco style, built 1929
Named Baker Exchange after Hugh Cossart Baker, Jr
First exchange in British Empire (second in North America)
Original exchange building still stands: LIUNA 837 office at 44 Hughson St S
James Street Baptist Church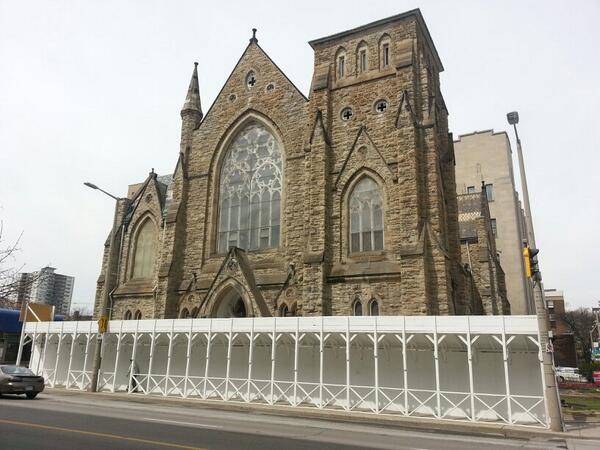 James Street Baptist Church
Designed in 1878 by Joseph Connolly, a Catholic architect, and built in 1882
Connolly also designed St. Patrick's Church at King and Victoria
Designed in the classic Gothic style
Meant to compete in appearance with St. Paul's
Adapted from design of Church of Our Lady in Guelph (also by Thomas)
Polished pink granite pillars
Designed with prominent transept with nave and aisles
Baptist churches usually amphitheatre with seating in a radius around pulpit
Played a role in moving Toronto's Baptist College to Hamilton - now McMaster University
Was Hamilton's oldest surviving Baptist Church until it was sold
Designated under the Heritage Act
Bought by Stanton Renaissance, Toronto developer run by Louie Santaguida
Owner says foundation is structurally unsound and can't be saved
Pipe organ was removed:

20,000 lbs, 2,000 pipes
Dismantled and taken by Northern Organs
They must donate it to another church and charge only for their labour

Technically not a demolition but a "building alteration"
80% of building will be altered out of existence
East facade will be saved, owner will try to save some other features
No redevelopment plan or details yet
YMCA Downtown Hamilton
Yes, it's an ugly building - but people in the 1970s thought Victorian buildings were ugly
Company at 81 James St S in 1884 made wooden boxes for the original Bell telephones
TH&B Hunter Street GO Station - Doors Open site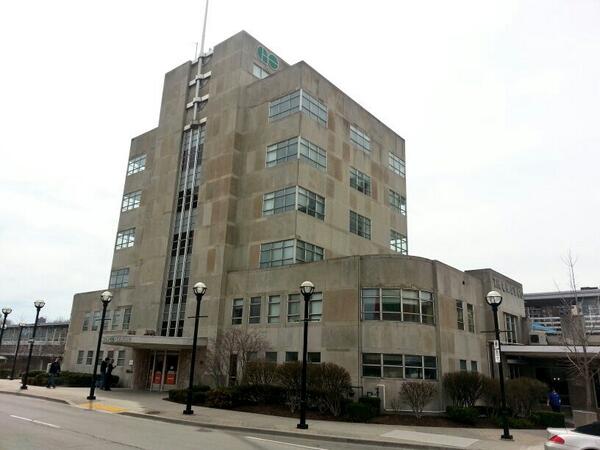 TH&B Station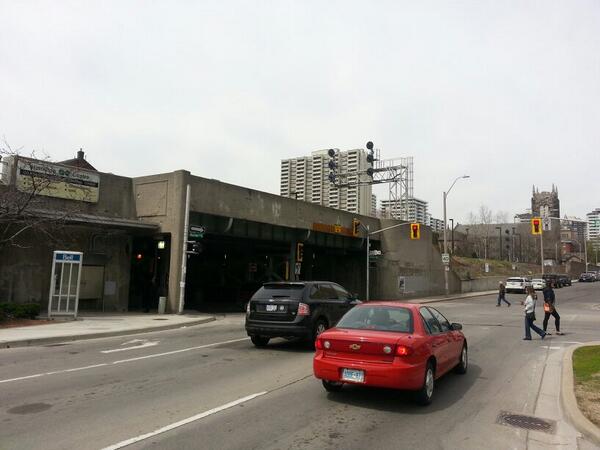 James Underpass
Toronto, Hamilton and Buffalo line
Linked Canadian Pacific with American lines
Competed with Grand Trunk Railway (now CN)
Operated from 1895 to 1990
Started out as passenger rail, later moved to freight
Tracks used to be at street level
James, John moved to underpass in 1930s, Hughson made discontinuous
Line ran under Hunter Street through Durand - affluent
Line ran at grade with a rail yard through Corktown - working class
Original station on NE corner of James and Hunter
Streamlined Moderne station and headquarters built 1931-3
TH&B bought by CP in 1987, closed in 1990
Building restored, GO Station opened in 1996
MacNab Church - Doors Open site
Unknown who designed it, built 1857
Cornerstone laid by Isaac Buchanan, who built Auchmar
Fantastic acoustics inside
Mural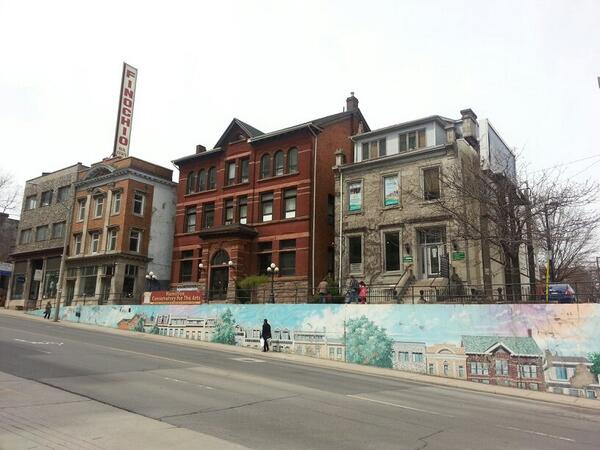 James South Mural
Painted by artist Graham Muir
Organized by James Street South District Street Beautification Committee
$6,000 cost funded by several local businesses
Unveiled in November 2006
Hamilton Conservatory for the Arts
Designed by A. W. Peene, built in 1905
Originally Hamilton Conservatory of Music
Closed in 1980
HCA opened in 1998
Heritage designated
James Street Bookseller
Owner Monique Doepel moved here from Toronto's Queen West
Started in basement under Dungeon Divas, who later needed the dungeon
Was called James Street Book Cellar
Changed one letter of name after moving
Beautiful inside and out
Chateau Royale
Converted from an office tower
Upscale condo apartments/hotel opened in 2006
230 feet (70 m) tall
Two-Way
James converted to one-way in 1950s
Plan by Wilbur Smith and Associates traffic engineers
Increase vehicle flow on Victorian street grid
Paired one-way streets
Great for automobile traffic flow
Terrible for street life
Downtown started to go into decline almost immediately
Not the only cause but a major cause
James/John North converted back to two-way in 2002
Predictions of chaos and disaster never materialized
James/John South converted back to two-way in 2005
More predictions of chaos and disaster, also never materialized
Steady incremental revitalization
New restaurants and other businesses
Still 2 lanes in each direction
Needs curbside parking priced for turnover:

Slows traffic
Protects sidewalks
Boosts business
Meter revenue invested in sidewalk improvements

Also needs more and better pedestrian crossings

Intersections with no crosswalk
Ped crossing buttons don't work
No crossing allowed at some corners
Bold sidetour
Peter Hamilton Terrace
Fantastic mid-19th century Scottish Freemason stonework
Check out Masonic Lodge at King and Queen
Block originally subdivided by Peter Hamilton (George's son)
Hereford House, now Turkstra Mazza Law

Built 1862 - architect known only as "Balfour"
Isaac McQueston bought it in 1875
McQuestons sold it in 1969

Pasadena Apartments #27

Built 1914
13 apartments, 32 residents
Heritage designated, beautiful
One of the first apartment houses in Hamilton
Destroyed in a fire earlier this year
Fire started in boiler room
James South Stone Terrace #140-160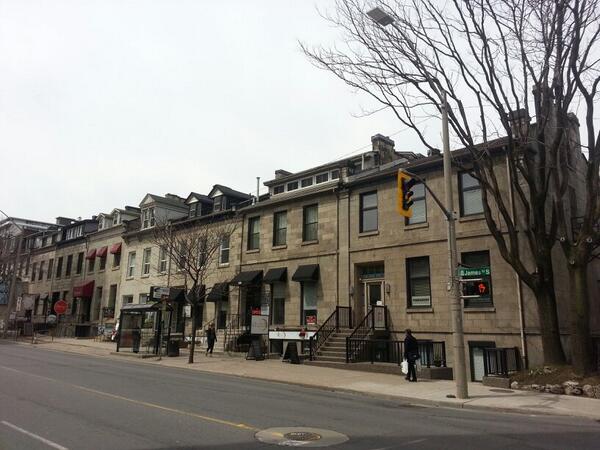 James South Stone Terrace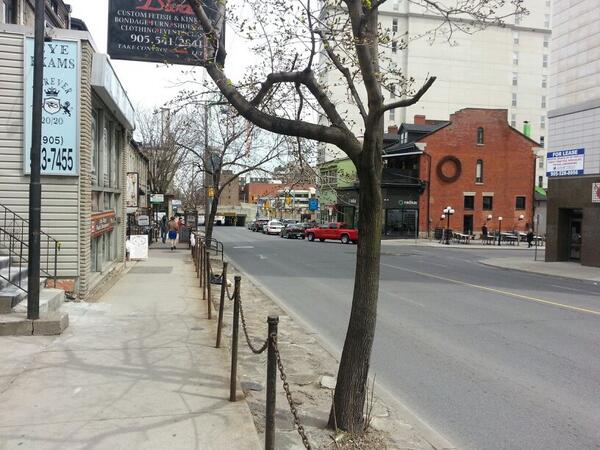 Two-tiered sidewalk
Built in mid-18th century
Coffee House easily overlooked

Great spot, tiny outdoor seating
Recently changed name, maybe owners

Bistro Parisien a great French restaurant
Saigon Soul Food makes awesome spring rolls
2 erotica shops: Dungeon Divas and Spoterotica
Boo's Bistro another great fusion restaurant

Chef Vibulan "Boo" Aria from Malaysia

Weird two-level sidewalk with fencing makes street less walkable
Healthy urban places encourage jaywalking
James South torn between roles as CBD and commuter thoroughfare
Radius
Don't forget about Steve's Open Kitchen - great all-day breakfast
Named for commitment to local food
Cafe on left, restaurant on right
Outdoor patio on Augusta
Rooftop patio overlooking James
In restaurant, sit at window facing outward
Really good duck grilled cheese sandwich
Owned by Paven Bratch

Some food comes from family-owned Tally Ho Farm in Carlisle
Father, Yogi, owned IDA pharmacy on south corner

Isaac Buchanan used to live there after Auchmar
Building for sale as of February, listed at $2.9M
Augusta sidetour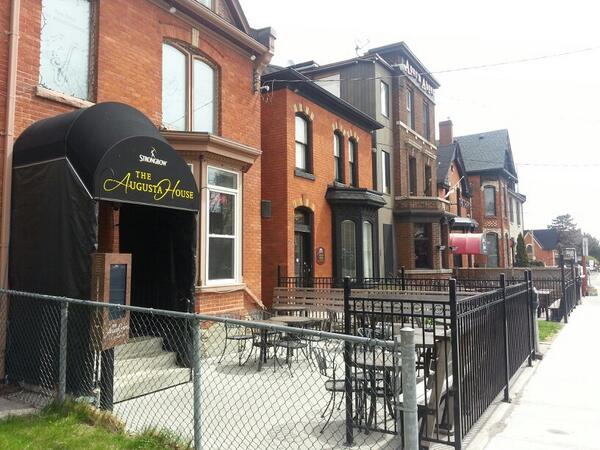 Augusta House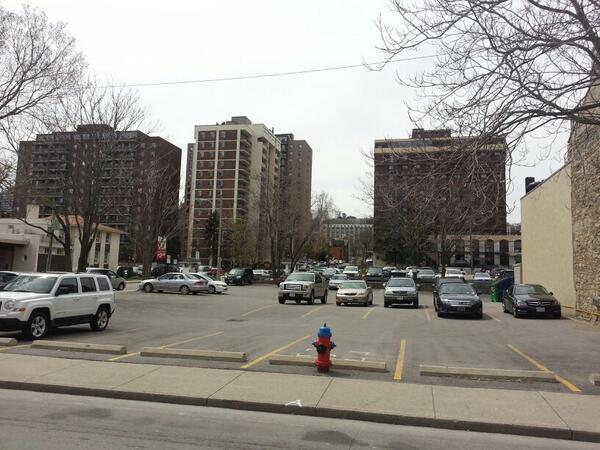 Surface parking
Lots of surface parking from demolished buildings
Do we want to encourage people to drive to the bar to drink?
Corktown got hit harder than Durand
Pubs on Augusta
#17 Augusta House

built 1895, heritage designated
stained glass transom windows

#20 Pheasant Plucker

Great stone house
Surrounded by parking now

St. Charles Garnier Catholic church

Built 1961, modernist Catholic architecture
Amphitheatre design, not like Gothic churches
Duke sidetour
One Duke stone building
Amisfield Mansion

Jacobean Revival mansion built in 1840
Almost demolished in 1950s
Plaza built in front of the mansion

Sandyford Place, Duke and MacNab

Built 1858
Designed after Scottish stone terraces with elaborate stonework
Nearly demolished in the 1970s for an apartment tower
Designated a heritage site in 1975
Restored in 1982
Early victory of the Durand Neighbourhood Association
Strip Mall between Duke and Robinson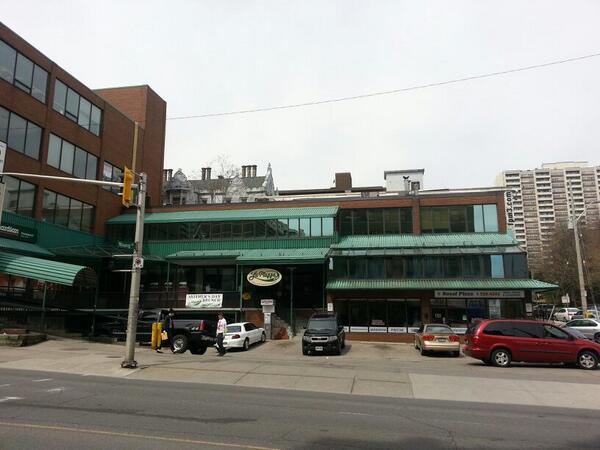 Amisfield hidden behind strip plaza
Early example of car-oriented development
Never expect people to walk up a flight of stairs today
Built in front of Amisfield
La Piazza Allegra great Italian, nice braised rabbit
Button Crosswalk at James and Young - takes a long time to activate on weekdays
Medical Arts Building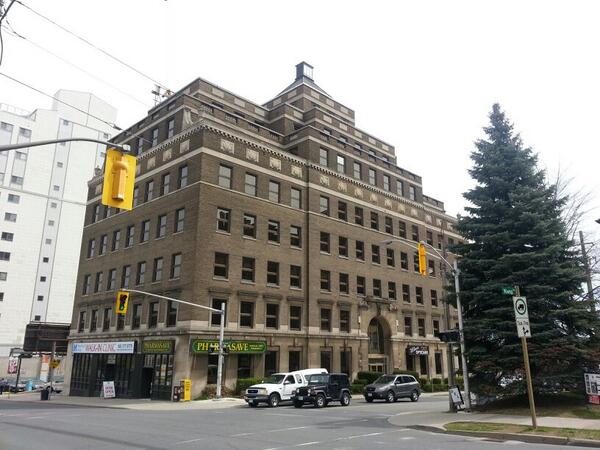 Medical Arts building
8-storey, built in 1930s
Note the demolished surface parking lots around it
Forest sidetour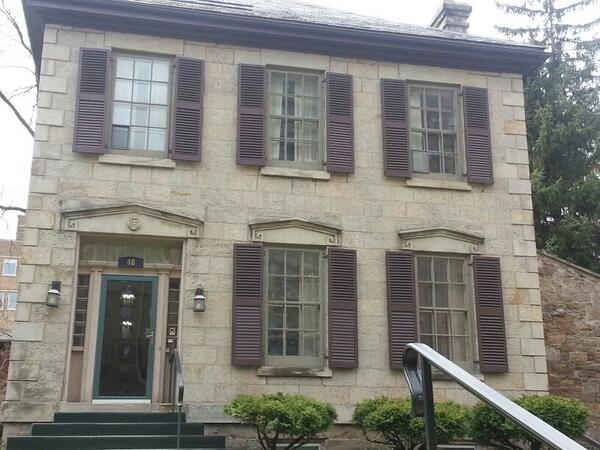 Frederick James Rastrick House
Wass Ethiopian - yum
#46 Frederick James Rastrick House

Thank goodness for lawyers saving old buildings!
Frederick James Rastrick was an ironworks engineer
Became an architect, studied under Charles Barry in London
Moved to Hamilton in 1853
Designed this as his residence
Italianate palazzo style
ALso Designed Young, Law & Co warehouse (Coppley Apparel on York) in 1854
Might have designed Sandyford Place
2 of his sons became architects, office in old Lister building (pre-1923 fire)
Applied for job of architect for Dept of Public Works

Make note of Church of the Ascension

#64 Forest at John
Gothic Revival style
Designed by Frederick Cumberland and Thomas Ridout
Built 1850-51
Frederick Rastrick designed Sunday School in 1872
St. Joseph's Hospital
Sisters of St. Joseph started in Hamilton in 1854
Founded St. Joseph's Hospital in 1980
25-bed hospital on John Street
Nursing school opened 1911
Medical School with McMaster in 1969
Firestone Institute for Respiratory Health
Father Sean O'Sullivan Research Centre

Established 1993
Chest & lung, drug therapy, urology, nephrology, musculoskeletal research
Fr O'Sullivan born in Hamilton in 1952
Worked for Ellen Fairclough in 1963 (she lost)

Fairclough was first female member of Canadian Cabinet
Secretary of State, Minister of Citizenship and Immigration, Postmaster General
Has an ugly building on King Street West named after her

O'Sullivan was PM John Diefenbaker's executive assistant 1971
Elected MP for Hamilton-Wentworth in 1972 at age 20
Re-elected in 1974
Left politics in 1977 and joined the priesthood
Personal sidenote: he was my parish priest in Ajax
Found out he had leukemia in 1983, died in 1989

Juravinski Innovation Tower
Annual budget of $500 million
Two-way James and John

Amid the predictions of doom, ambulances would be gridlocked
Turned out to be a wash
Slightly slower during rush hour, but can approach either direction
Charlton and Beyond
No pedestrian crossing at Charlton on south side
Victorian houses just the right size for a boutique law firm
Lintack Architects

New commercial building at James North and Vine
Condos at 61 Robinson
25 Hughson St S next to courthouse
Ferguson Station parkette
Annex renovation at 11 Rebecca
Hamilton Energy Centre next to Sir John A MacDonald High School
#224 Lawry House (James and Charlton)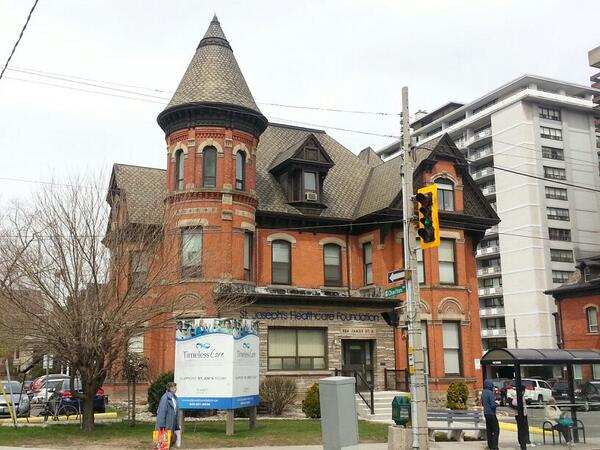 224 James St S
Built 1904 for businessman Thomas Lawry
Note the tower
#15 Herkimer
mid-19th century stone terrace
No pedestrian crossing at Herkimer on south side
#250 James - Balfour House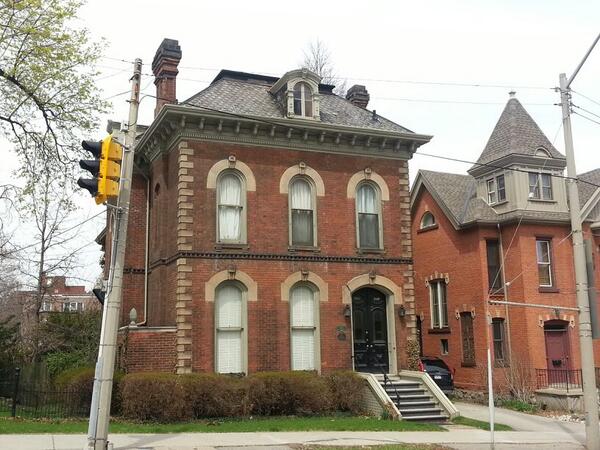 250 James St S
Second Empire style

slate mansard roof, arched windows and doors
but with brick, not limestone

Built 1880 for Hamilton Real Estate Association
Design by James Balfour (built 1889 City Hall)
#252 - Griffiths palatial home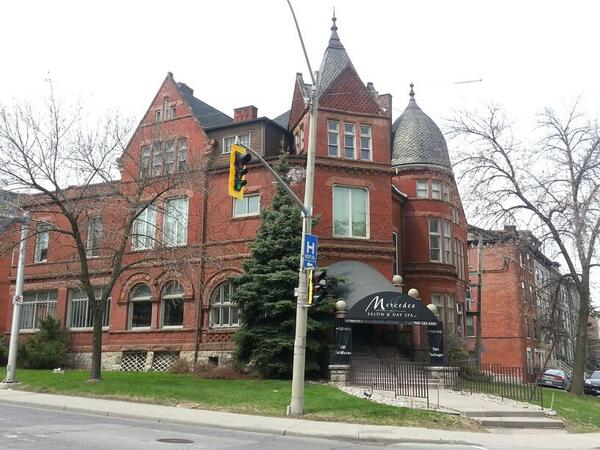 252 James St S
Late Victorian style
Designed by W. A. Edwards, buit 1891
Built for Tunis B. Griffith, manager of HSR
Later owned by Lt. Governor John S. Hendrie
Converted to apartments in 1940s (?)
#262 - Coburn Queen Anne Revival home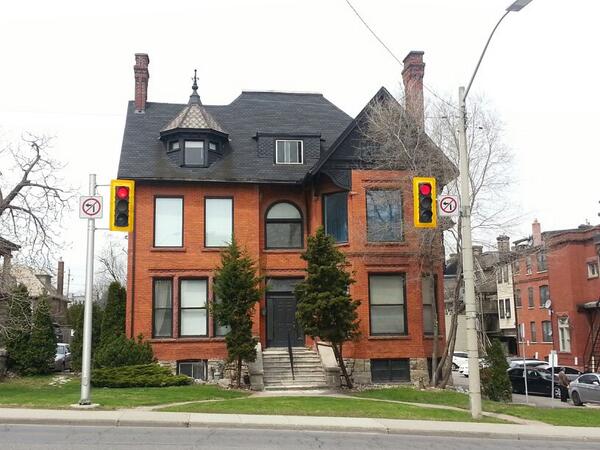 262 James St S
Built 1892-3
Restrained Queen Anne style - gables, octagon bay, hipped roof
Converted to apartments in 1941
#268 - James Counsell home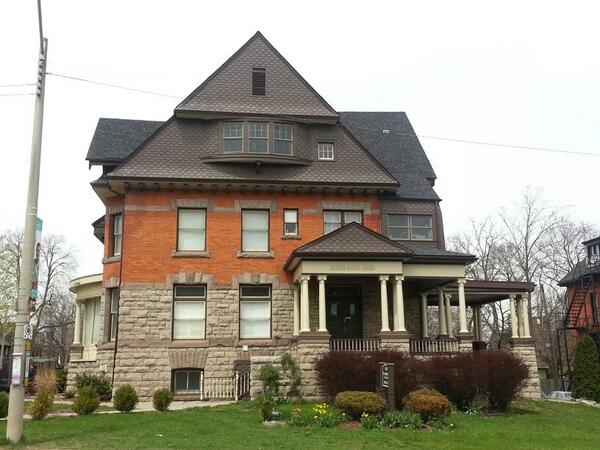 268 James St S
Designed by James Balfour, built in 1894-5
Queen Anne style
Built for investor James Counsell
Escarpment Stairs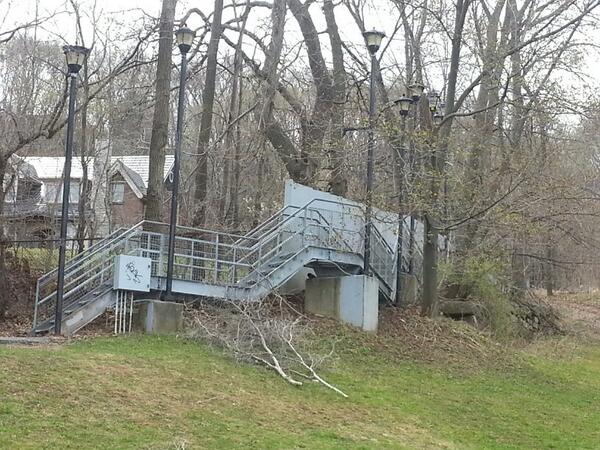 James Street Escarpment Stairs
Stairs there since at least 1860
Original stairs replaced in 1987
227 steps
Comes out at Southam Park at the top of the Claremont Access
Other stairs:

Chedoke Stairs, 289 steps, golf course parking lot to Scenic and Upper Paradise
Dundurn Stairs, 325 steps, top of Dundurn to Garth at Beckett
Wentworth Stairs, 498 steps, Wentworth and Charlton to Upper Wentworth
Kenilworth Stairs, 229 steps, Kimberly Dr to Mountain Brow Blvd, crosses Escarpment Trail
Unofficial: Uli's Stairs, 305 steps, Greenhill to Fennell and Mtn Brow

Stairs at John and Ferguson no longer exist, removed when Jolley Cut was built
#316 Ballinahinch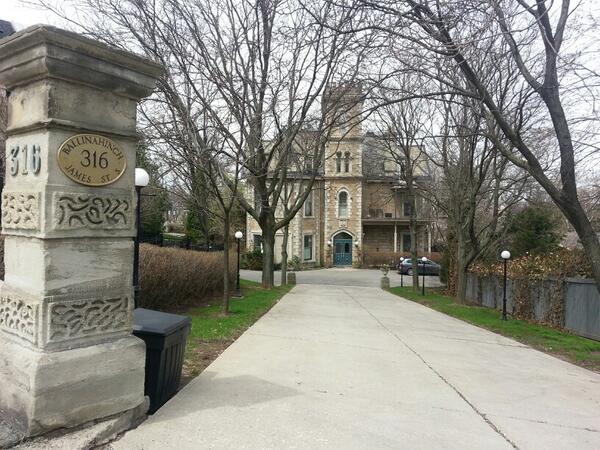 316 James St S
Designed by William Thomas, built in 1849-50
Combined Gothic and Italianate styles
Called "The Wilderness"
Damaged and rebuilt in 1953 after fire
Named Ballinahinch in 1870 by Edward Martin after grandfather's estate in Ireland
Later owned by publisher William Southam
Converted into apartments in 1944
Condos in 1980
Sources
Hamilton Library Archives
Collections Canada Archives
Library and Archives Canada
City of Hamilton
Historical Hamilton .com
Canada's Historic Places Register
Hamilton Spectator
CBC Hamilton
Raise the Hammer
Post a Comment
You must be logged in to comment.