Sign Litter
Mobile signs are ugly, tacky, and distracting to motorists. The current by-law is not the problem; enforcement is.
By Trey Shaughnessy
Published December 14, 2005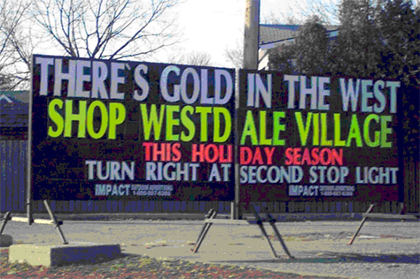 Mobile sign at Longwood and Main
Let's hope the City's revised sign by-law is effective in cleaning up our streetscapes. Not only are these signs horribly tacky, but also, drivers need to concentrate on driving, not being persuaded to buy something.
With 21 motor vehicle deaths so far this year in Hamilton, we should be looking to mitigate accidents wherever possible. These signs also obstruct sightlines endangering pedestrians and cyclists.
Some give no consideration to this hazard, as indicated by the double mobile sign at a busy intersection used by Westdale students.
The current by-law is not the problem; enforcement is. If all the mobile signs in the city currently in violation (like the sign above) were removed, we would see an instant removal of many mobile signs.
The by-law (section 14 A, B) states that mobile signs can only be on certain properties for a maximum of 60 days per year. This sign at Longwood and Main has been there for over a year straight.
I sent an email to the Clerks Office on July 13, informing them of a certain other violation. As of December 13, the sign is still there.
Unfortunately, the current situation is from a lack of enforcement and abuse from the industry, and it has now come to the point where the city hopes to hire two full-time people dedicated to sight pollution.
So, Mobile Sign People, does 'self inflicted' mean anything to you?
Read more information on the city's website.
Post a Comment
You must be logged in to comment.