Gore Property Owner Accidentally Gets Demolition Order
Wilson-Blanchard received an Order to Comply for 18-28 King Street East instructing them either to fix the property standards violations of their vacant heritage buildings ... or apply for a demolition permit.
By Ryan McGreal
Published February 07, 2014
Heritage advocate Diane Dent had a meeting today with David Blanchard of Wilson-Blanchard, the company that owns 18-28 King Street East, to discuss the fate of the buildings after Council voted last December to designate them under the Ontario Heritage Act.
Blanchard surprised her by saying he just received a notice from the City to demolish the buildings.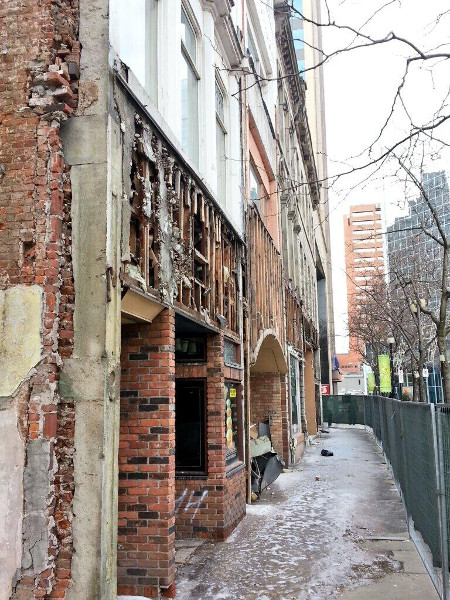 18-28 King Street East (RTH file photo)
Dent sounded the alarm, contacting Ward 2 Councillor Jason Farr to ask what was going on. Ed VanderWindt, chief building official for the City, quickly clarified, "The City has not issued a demolition permit for the property."
Soon after, Farr explained what had happened in an email reply.
A Municipal Law Enforcement (MLE) staffer inspected the vacant buildings in mid-January and issued a standard "Order to Comply", which states that that property owner must either fix the identified violations or request a permit to have the building demolished.
The staffer who inspected the buildings did not know that they had recently been designated. Farr confirmed that the property owner would have to apply for a permit before proceeding with demolition. "At that stage, the error would have been flagged by our Building Department."
Farr apologized for the mishap. "We are sorry for any confusion that this issue has caused and can assure you that at this time both bylaw and Heritage staff are working in tandem as it relates to these Property standards issues."
Background
Wilson-Blanchard applied for a demolition permit for the buildings in December 2012 after announcing a proposal to construct an unspecified new development on the block bounded by King, Hughson, Main and James.
After a year of campaigning by heritage advocates and a gradual breakdown in negotiations between the property owner and the City, Council unanimously voted in December to designate the buildings and revoke the demolition permit.
The property owner stripped off much of the buildings' facades last year while the buildings were still under a valid demolition permit. They do not appear to have done anything since then to secure the exposed fronts from the elements.
Post a Comment
You must be logged in to comment.