Mixed-Use Development Makes Better Neighbourhoods
Retail on the main floor with condos, apartments and offices above: this is the best and most sustainable way of adding modern new retail spaces and higher densities into our old neighbourhoods.
By RTH Staff
Published February 04, 2014
This article on the rise in mixed-use development in Toronto is a great read in yesterday's Star:
"This is absolutely the way the city is going," said veteran urban planner and architect Ken Greenberg.

"We're moving massively away from any form of single-use development to mixed-use development. ... All the developers that I'm aware of are embracing this."

The number of mixed use projects in the city has more than doubled over the past five years, from 5.4 per cent of all proposals in 2009 to 11.7 per cent in 2013. Downtown, the increase was from 16.7 per cent to 20 per cent, or from one in six projects to one in five.

"It embodies all of the elements a community needs," said development consultant Barry Lyon. "It's all about compactness. It's all about the antidote to sprawl. It's all about fighting congestion."
Retail on the main floor with condos, apartments and offices above: this is the best and most sustainable way of adding modern new retail spaces and higher densities into our old neighbourhoods.
With dense, walkable streets surrounding our 'main streets' we can start to see people able to walk to their local grocery/retail/cafe/bakery shop instead of having to drive to big box plazas all the time.
It is also absolutely the way of the future. I would love to see Hamilton adopt some development guidelines to encourage this, instead of discouraging it.
Mixed Use in Hamilton
The old City Motor Hotel is a perfect candidate to begin with, and according to Ward 4 Councillor Sam Merulla, mixed-use is exactly what the City has in mind.

City Motor Hotel (Image Credit: Cick Cordeiro/Wikimedia Commons)
More details will be made available at the next Ward 4 East Hamilton Community Meeting on February 20. Merulla writes, "we need to encourage input from all interested stakeholders."
Similarly, Ward 2 Councillor Farr notes with approval that the City is also planning for mixed-use redevelopment of the West Harbourfront/Barton Tiffany areas of the North End.
According to Glen Norton, the city's manager of downtown renewal, "In the conversations that I am having with developers here, I would say 75 percent of those planning to build any significant sized development within the urban areas are planning on mixed use." He notes that due to surplus office space on the market, the mixed use leans more to retail and residential.
Make Mixed-Use the Norm
Of course, there might be some push-back from nervous residents who are afraid of changes to the status quo. But once it's built - if it's built right - people will quickly become believers as they experience the convenience and benefits to their neighbourhood.
We should be pushing hard to ensure that mixed-use becomes the basic model for infill. Think of the new building at Aberdeen and Dundurn - how much better would that corner be if the street level was a coffee shop instead of a parking garage?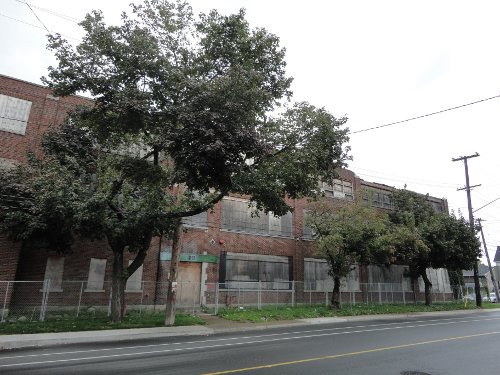 220 Dundurn Street South (RTH file photo)
With a bit more love, Dundurn Street could be a great secondary retail district bridging Locke Street with McMaster Innovation Park. When 220 Dundurn South (across from the LCBO and Beer Store) is redeveloped into apartments, it should have street-level retail to help activate that stretch and reduce the need for its residents to drive.
Same with the old Asian fish market on Locke: the plan is to build a new mid-rise building with six ground-floor retail units, which is exactly what we need to extend that same lively energy of Locke South toward Main Street.
It's exciting news that mixed use is gaining in prominence, but we need to make sure we follow through and ensure that those plans are carried out to completion. As well, Council needs to make sure our zoning and planning regulations encourage mixed use instead of blocking it. Our prosperous future of healthy, diverse, mixed neighbourhoods depends on getting this right.
with files from Jason Leach and Ryan McGreal
Post a Comment
You must be logged in to comment.