Forget Santa. Slam Poetry Is Coming To Town!
The spoken word, in this context, is certainly both alive, well and, at times, very loud, funny and irreverent.
By Margaret Lindsay Holton
Published December 19, 2013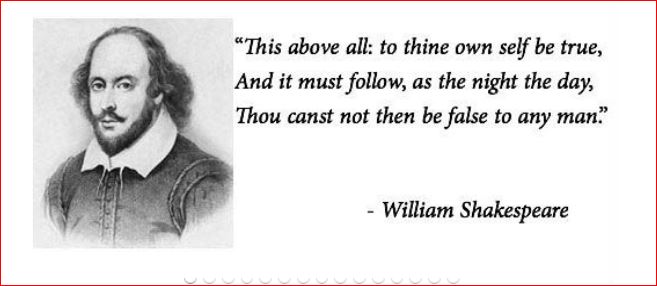 Shakespeare's Words Ring True.
Chicago-based Marc Kelly Smith, a.k.a. Slam Papi, born 1949, is credited with founding what is now a trending poetry movement, the Poetry Slam. Instead of reading from a poetry book in dulcet measured tones to a dear desired one, poetry is gregariously performed at a microphone, prop free, in front of a live audience. The poetry is then judged in real time. Poets thus instantly know if their words, and delivery, are a hit or a bomb.
How's that for sharpening a poet's edge?
Slams are actively attempting to re-engage a disengaged audience. As Smith said soon after the launch of the first 'open mic' slam in Chicago in 1984, "The very word 'poetry' repels most people today. Why is that? Because of what schools have done! The slam gives it back to the people. We need to talk poetry to each other. That's how we communicate our values, our hearts, the things that we've learned that make us who we are."
In Canada, the slam has grow significantly since the inaugural 'Spoken Word Olympics' in Ottawa in 2004. Today, energized nodes of mostly young poets and poetry lovers have popped up in major urban centres. To boot, these effervescent collectives fully embrace all forms of social media to broadcast their 'open mics' as well as their competitive poetry slam events. Their venues on Youtube, Facebook, Twitter and Tumblr have, on average, 2-3000 enthusiastic followers per site.
A cross-country sampling follows: Vancouver, Winnipeg, Toronto and Montreal. Increasingly, satellite communities likeBurlington have jumped on the slam wagon, as has Hamilton with its Hamilton Youth Poetry Slam.
The Burlington Slam Project was founded by the irrepressible Tomy Bewick of #ambitioushamont fame. On Saturday, January 4, 2014, the Burlington Slam Project will host the QEW Regional Poetry Slam at the wonderful Burlington Performing Arts Centre. Admission is $17 (inc tax). Doors open at 7:30 PM.
If it's anything like the slam I attended this past fall, expect a rocking, poignant affair and a fiercely competitive poetry free-for-all.
Poetry contestants from six to eight teams from all along the QEW will belt out their words of wonder and woe to win the cash prize and the coveted title of QEW Champion. Teams from Buffalo, Hamilton, Mississauga, Burlington and Toronto are confirmed and ready to joust.
This particular slam won't be for the faint of heart. When the vibe is right and the words ring true, the audience will show their appreciation by snapping their fingers. When the vibe doesn't jive, boos and friendly cat-calling will spontaneously erupt (especially from competing teams of poets!). In this regional tournament, where a verbal knock-out is required, there is little room on stage for slam 'newbies'.
That said, 'newbies' have a standing invitation to participate at the next Burlington Slam on the third Thursday of every month ($5 cover) in the Fireside Room at the Black Bull Pub, 1124 Guelph Line in Burlington. It's an ongoing performance event that is guaranteed to warm sluggish winter blood.
The spoken word, in this context, is certainly both alive, well and, at times, very loud. Often funny and irreverent, the high-octane performances run three minutes and are then 'judged' by five randomly selected audience members. The highest and lowest scores are discarded. The remaining audience are encouraged to participate. The listening crowd can, and do, influence the judges by cheering or booing the 'scores'. Several rounds continue until a clear winner is chosen. It's fiercely entertaining.
For those who prefer their poetry to be less-competitive and noisy, don't fret: there's room for all in the surprisingly burgeoning poetic sphere. Canada has many notable 'non-slam' contemporary and historical poets. Likewise, the well-known internationally recognized Canadian Griffin Prize for Poetry now offers global accolades and prizes of $65,000 to two gifted poets per year.
Poetry ain't dead yet, Santa!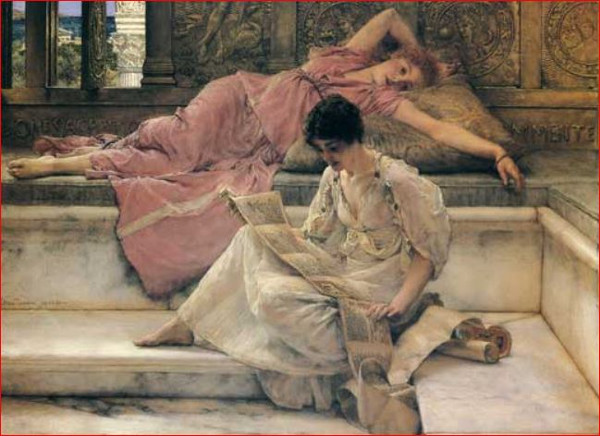 Slain & Seduced: 'The Favourite Poet' by Sir Lawrence Alma-Tadema
To my ear, slam poetry does seems to favour a stylistic 'barking' that often undermines the inherent linguistic beauty and potent intricacies of the tone of language. Still, often the 'issue' - be it the realism of race relations, sexism or social injustice - does fully warrant a full-on attacking slam with language that is blunt, ironic, hard-edged and frequently foul. It is precisely because of this current dominating style that poetry slams are not to everyone's taste.
Aesthetic differences aside, poetry slam monthly meetings are convivial gatherings that encourage all to step up. Performances may appear 'aggressive', even 'hostile' at times, piqued as they are with indignation and anger, but, as noted, it's primarily a youth-filled forum. Many poets traditionally rant, vent and rage against the sins of the world.
Worth noting, subsequent to the much anticipated January 4th annual regional 'poetry slam', the League of Canadian Poets is honouring Canada's best performers of the spoken word on January 15. The winner of the 8th annual Sheri-D Wilson Golden Beret Award will receive a cheque for $1,000.
Finally, to give more of an overall taste of this particular style of performance poetry, consider this very popular poetry channel on YouTube, Button Poetry. There are many American samples there. Plus, here are two noteworthy 'slams' by American-born Neil Hilborn, a grand slammer if there ever was one. Watch and listen to his OCD and The Future performances on Youtube.
The QEW Regional Poetry Slam is happening Saturday night, January 4, 2014 at the Burlington Performing Arts Centre. Box Office: 905-681-6000.
Support our local slam. The more, the merrier!
Season's Best to All.
---
Margaret Lindsay Holton has had two chapbooks of poetry published in Canada: 'On Top of Mount Nemo' in 2002 and 'Bush Chord' in 2006. Samples from both publications can be read at Canadian Poetry Online.
Post a Comment
You must be logged in to comment.