An Open Letter to Councillor Lloyd Ferguson
Downtown does belong to everyone, and our one-way, high-speed thoroughfares are holding it back from realizing its potential.
By Justin Jones
Published December 03, 2013
Let me begin by saying thank you for supporting the excellent work that City Staff did to secure the Bike Share program. I am confident that the money invested in this program will have amazing rewards for Hamiltonians of all ages, and in all areas of the city.
It's also one of those win-win-win projects where the $1.3 Million being spent by Metrolinx will provide new transportation options and will also ensure several jobs to operate the system be created and maintained for the duration of the program.
The primary reason for my email is to engage you in a discussion around the two-way streets topic. While I understand that you and I may not see eye-to-eye on this, I know that we both want what is best for this city, but perhaps we disagree slightly on how to get there.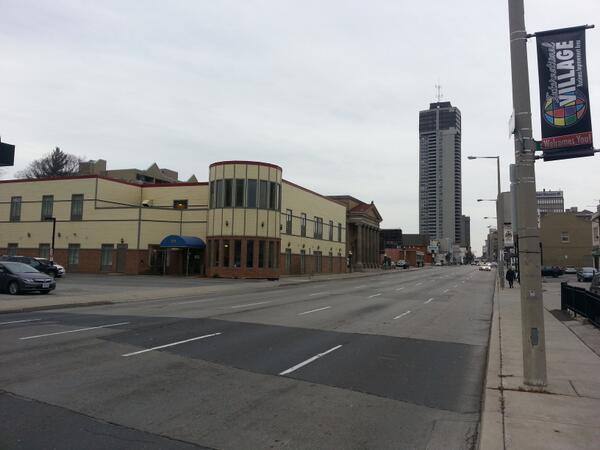 Main Street, downtown Hamilton, in the middle of a weekday (RTH file photo)
First, I'd like to invite you to attend the event being held tonight at Liuna Station at 7:00 PM, where Toronto's Chief Planner, Jennifer Keesmaat will be talking.
This is another event held by The Hamilton Chamber of Commerce encouraging civic leaders to think about how we can best move our city forward together, and I feel that all councillors would very much benefit from hearing from such a well-respected expert.
Keesmat is one of the best planners in Canada, and an excellent speaker to boot. I am confident that she could address any of your questions regarding two-way streets much more effectively than I could.
But that said, I'd like to address a couple of points that were made in today's Spectator article. Now, I know from experience that quotes are edited for brevity, but to my mind the staff at The Spec normally do a pretty good job of making sure that the spirit of your quote is maintained.
If anything I'm quoting you on does not reflect your feelings, then I hope you will clarify your position for me.
When you say that "Major arteries belong to the city, not to a particular neighbourhood", I am left very much wondering what you mean by that.
We all pay our property taxes, we all pay gas tax and we all pay income tax which goes into infrastructure budgets to pay for roads. So all residents of Hamilton very much have an "ownership stake" in every roadway that the City owns and operates.
Yet it is unheard of for residents of Ward 3 to demand a say in how a street in ward 13 would be designed, even if that road was a major arterial in Ward 13.
When it comes to the roads in the lower city, things seem to be different. When we talk about these roads, these areas, it becomes a city-wide issue.
I understand that many of your constituents commute, and that many of them will see two-way streets, increased spending on cycling facilities and increased support for transit as something that merely gets in their way as commuters.
I am encouraging you, as a civic leader, to elevate that discourse and encourage people to think a bit more about what is good for the city as a whole, and what is going to be good for them in the long term.
At the end of the day, these streets do belong to a particular neighbourhood. They are the streets where their children walk to school, where they go to do their shopping, and where they live out their lives. They live there 24 hours a day, seven days a week, 365 days a year.
Your comments in the Spectator make it seem like you care more about the concerns of people who spend 20 minutes a day driving by these neighbourhoods at 70 km/h than you do about the safety and livability of these neighbourhoods.
How do you respond to the fact that Hamilton is 43 percent more dangerous than the provincial average for pedestrians? That it is 81 percent more dangerous for cyclists? That five of our six pedestrian deaths this year were senior citizens, and one was killed by an alleged drunk driver coming around a curve that had already been flagged by the neighbourhood as dangerous?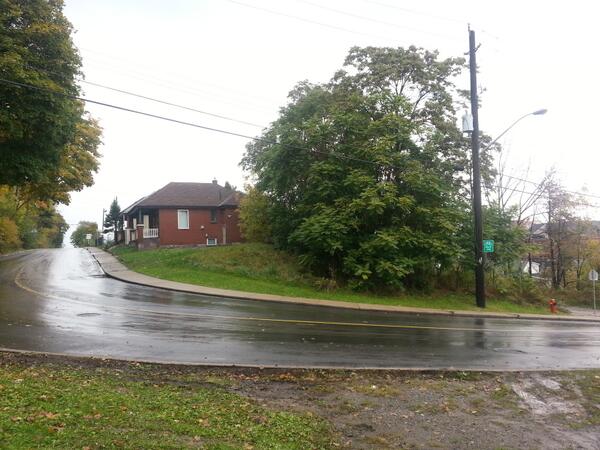 Charlton Avenue and Wentworth Street (RTH file photo)
The way we are designing our streets, and the culture of automobile dependence and absolute superiority is, to speak to your earlier comments concerning the Strathcona Master Plan, a "public safety" issue.
Yes, residents of the entire City use these arteries to commute, but they do not belong to them. They also belong to the people who live, work and play in that area, not just to those who drive through them.
Further to the idea of who the downtown "belongs" to, I would agree with you in part that yes, the downtown area does "belong" to the entire city. It is the economic and cultural heart of our great city, it is what draws tourists to Hamilton, and is indeed where the bulk of our economic activity occurs.
And yet, while the downtown is improving year over year, we keep hearing from planners and architects like Ken Greenburg, Dan Burden and Gil Penalosa that our high-speed thoroughfares are preventing our city from reaching its true potential.
They're holding property values down, creating a culture where a car is the first and, in many cases, the only option and creating communities where people don't feel connected and don't feel safe.
Earlier this year, our own Chamber of Commerce agreed with these assessments. Chamber CEO Keanin Loomis stated in a Spectator op-ed, "the prioritization of rapid automobile movement across the city has had an enormously detrimental effect on the health of downtown", highlighting the depressed property values along the corridors that should be the lifeblood of our downtown, not the preferred method to escape it.
What arguments, do you offer to these experts and these assessments to justify your position?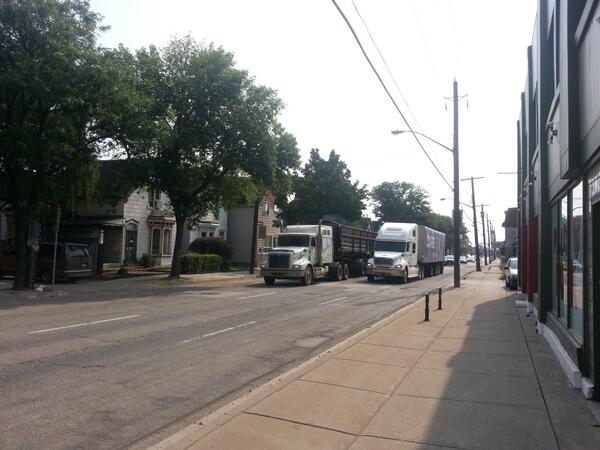 Transport trucks barrel down Cannon Stret (RTH file photo)
The final point I'd like to address is your observation, "A lot of cities are spending a lot of money trying to fix congestion and gridlock. We seem to be spending money doing things that will create congestion".
To be clear, in most places where gridlock and congestion are issues, the money that is being spent is being spent on transit and active transportation infrastructure, not on building more road capacity.
I am confident that you will be hard pressed to find a municipality that has successfully cured congestion by focusing on providing more room for single occupant vehicles. As you build more road capacity for that type of travel, it just tends to get filled.
What is your preferred solution to gridlock, keeping in mind that under the Places to Grow Act, Hamilton's population is expected to grow by more than 200,000 people by 2030?
If we maintain our current mode share, with the bulk of our trips being taken by single-occupant vehicles, by 2030 the type of gridlock nobody wants to see will certainly become a reality.
Our infrastructure deficit will continue to grow, and we will have missed out on the opportunity that is already being seized by some of our neighbouring communities like Guelph and Waterloo to build safer, more connected, more age-friendly and more desirable communities where people have choices in how they move around.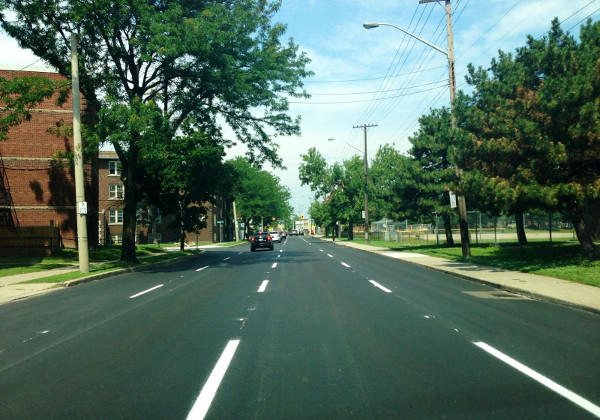 King Street East recently repainted: still four one-way lanes (RTH file photo)
While I acknowledge the fact that yes, converting our one-way streets into two-way streets means traffic will not barrel along unimpeded at 60-70 km/h, I would argue that doing that is exactly the point.
We can still move people through the core effectively, even if it adds five minutes to their commute. I, along with many who live downtown, feel that the safety and livability of the people who make their homes along those arteries is worth that small sacrifice by commuters whose only interaction with these neighbourhoods is driving past them.
But more importantly, this is about making it harder for residents to do the kinds of things that we don't want them to do, and making it easier to do things that work better for the community and for our municipal tax base as well.
We know that the rising dependence on automobiles has caused increasing obesity, contributes heavily to poor air quality, causes a heavy burden on municipal taxes to pay for road infrastructure and costs residents many thousands of dollars a year to own and operate a car.
We also know that as long as driving remains the easiest option, most people will continue to do so.
So unless we take some steps to make walking, cycling and transit use a little easier and driving through our downtown core at 70 km/h a little harder, we're going to face the same mode share numbers moving forward. That spells real traffic chaos 10, 15 and 20 years down the line.
Unless we start getting rid of things like sidewalks and buildings downtown, we can't build any more road capacity.
So it's of vital importance that we start thinking about how we can move more people with our existing infrastructure, and the answer to that question is never to continue to rely on automobile transportation.
I'd like to thank you for taking the time to read this lengthy letter. I understand that there are always demands placed on a Councillor's time, and I appreciate your attention to this important matter. I pride myself on maintaining a high level of civility and respect in these dialogues, and hope that this is the first of many correspondences that you and I share on this topic.
I look forward to your response.
Post a Comment
You must be logged in to comment.