Welcome to Locke Street
Locke Street is exemplar of a specific change in Hamilton: a meshing of sustainability, business, and the social environment.
By Steven Watts
Published November 27, 2013
The city of Hamilton has undergone countless changes throughout history. The people, infrastructure, priorities, and public image are constantly moving in several directions at once. It is difficult to define the city of Hamilton because of the vast diversity in residents, beliefs, and lifestyles.
The streets of Hamilton have witnessed many changes that have shaped the city. Often, each major street has come to represent a "pocket" within the larger Hamilton community.
Hamilton's streets are the links that fasten our city together. Whether it is the local vendors, the industrial sector, or the cultural industry, the streets of Hamilton hold important elements of the city's identity.
Locke Street, in particular, has experienced significant changes over time, leading it to become one of the most vibrant streets in Hamilton today. Home to many niche businesses and services, Locke is proof that cities must adapt as citizens' needs shift.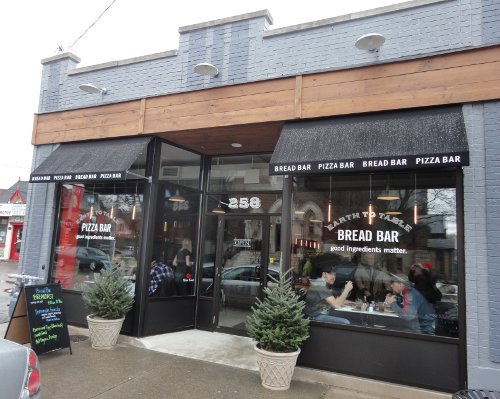 Several restaurants, like Earth to Table Bread Bar, have opened in recent years (RTH file photo)
In the 1980's and early 1990's Locke encountered desperate times. With lack of investments, poor livability, and little aesthetic appeal, the area's value was far from what it is today. Now a popular cultural, social, and economic district, Locke offers Hamiltonians an important public sphere.
But what sparked the revival of Locke? Was it a cultural shift? Did it have something to do with changing priorities?
Once labeled as a "steel city," Hamilton's cultural shifts have no doubt changed the city's image. The many businesses inhabiting Locke Street today seem to have a similar vision of Hamilton.
Locke Street is exemplar of a specific change in Hamilton: a meshing of sustainability, business, and the social environment. In saying this, not every Hamiltonian views Locke as a desirable location. Although the commercial and social success of Locke is evident in Hamilton, it remains a complicated space.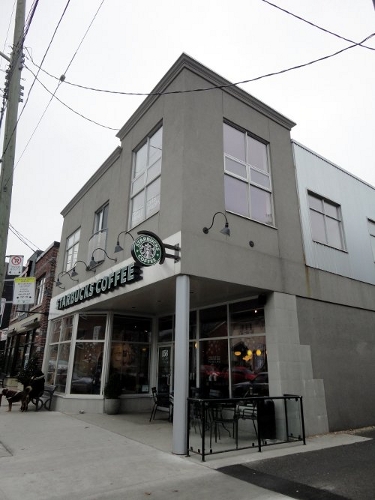 Starbucks only moves into markets that can support an upscale coffee shop (RTH file photo)
Some businesses on Locke strive to expose Hamiltonians to a sustainable lifestyle. Despite Locke Street exuding a certain aura, the hope is that it can be a place for all Hamiltonians to enjoy.
No matter one's occupation, social status, beliefs, etc., Locke should ultimately serve as a place of communal bonding. Businesses must juggle finding a spot within the mosaic Hamilton has become, while staying confident in their beliefs.
The connection, and almost familial attitude, between the businesses is the epitome of what Locke Street represents today. The network of individuals working towards creating change, attempting something unique, and bettering the community is incredible to see in Hamilton.
A sharing of common beliefs and enthusiastic collaboration has fuelled the success of Locke. Although Hamiltonians may have differing beliefs, there is an ideal that we must remember: this isn't just my city, it is our city. How can we make it better for everyone?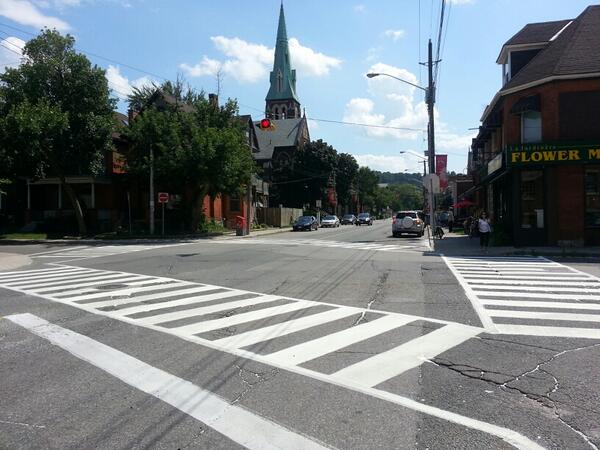 The recent addition of zebra-style crosswalks has improved walkability on Locke (RTH file photo)
So go ahead, take a stroll down Locke Street and see what the area has for you. There are a ton of amazing, ambitious, and unique places to visit. Tour the shops, check out some interesting spaces, grab a coffee, chat with other Hamiltonians.
It is easy to spend an entire day touring Locke Street and experiencing all it has to offer. The draw of Locke is evident in every corner, both inside the shops and on the street. Be sure to keep all of your senses open and take in as much as you can- enjoy this gem Hamilton has to offer.
Post a Comment
You must be logged in to comment.