'Courtesy Crossing' Signage Not Finalized Yet
The City should be trying to educate drivers that they do have to yield to pedestrians crossing legally at an uncontrolled intersection.
By Ryan McGreal
Published November 08, 2013
Last week, the City released a new proposal for a Pedestrian Signal Program [PDF] that includes a "Courtesy Crossing" pilot project to provide more visible crosswalks at uncontrolled intersections. Incredibly, the proposal suggested putting up signs for pedestrians that read, "Caution - Vehicles Not Required to Stop".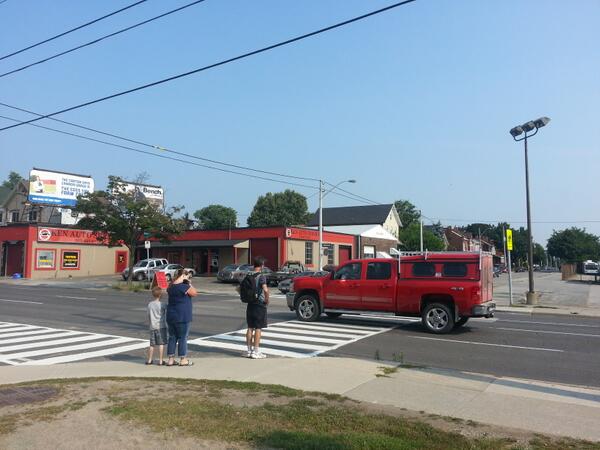 Uncontrolled intersection on Cannon at Elgin (RTH file photo)
However, this wording has not yet been finalized. According to Kelly Anderson, spokesperson for the Public Works Department, "There will be a significant amount of planning before anything is implemented. No specific wording has been finalized at this point."
The proposed signage wording comes from a recommendation by the city's Legal and Risk Management staff, "based on their interpretation" of the Highway Traffic Act.
I struggle to understand what interpretation of the Highway Traffic Act could have led to a sign telling pedestrians that motorists are not required to stop for them. As the Act specifies and an Ontario Transportation Ministry (MTO) spokesperson recently clarified for RTH, motorists absolutely do have to yield to a pedestrian who has started crossing an uncontrolled intersection. Likewise, pedestrians have to wait for a gap that is large enough that motorists have time to stop.
Anderson notes that City staff will consult further with Legal and the MTO before finalizing and implementing the project. She adds that the project "will involve a comprehensive education strategy."
Misleading and Dangerous
It's good to hear that the wording has not yet been finalized, because the current proposed wording is misleading and dangerous.
The city should be trying to educate drivers that they do have to yield to pedestrians crossing in an uncontrolled intersection. As a model, the City should consider the signs in place at the McMaster and Mohawk campuses, which are directed at motorists, not pedestrians: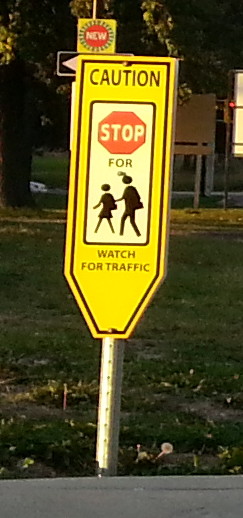 'Stop for pedestrians' sign at Mohawk College Fennell Campus (RTH file photo)
For a long time, the city's Legal department has been myopically risk-averse and liability-oriented. I've been given to understand their interpretation of the HTA led the traffic department under Hart Solomon to abandon maintenance on uncontrolled intersections altogether as a way of reducing the City's potential liability in the case of a pedestrian collision.
This produced the confusing phenomenon of 'ghost crosswalks' in which it is not clear whether pedestrians are even allowed to cross, effectively denying pedestrians the right to cross the street.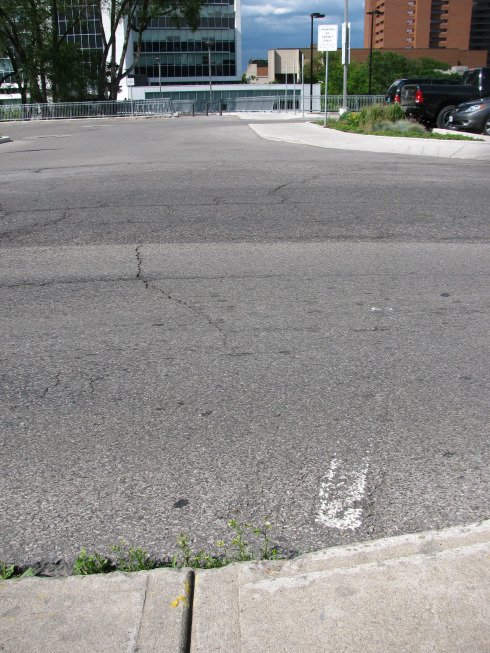 Ghost crosswalk on Hunter near City Hall (Image Credit: Undustrial)
As a recent SPRC report indicates, the legacy of Hamilton's approach to pedestrian safety has been a dismal, shameful pedestrian safety record. In other words, the City's efforts to reduce its liability risk have actually increased the risk of injury to pedestrians!
I strongly encourage City staff to recommend signage that focuses on reminding drivers about their legal responsibilities, rather than scaring off pedestrians to avoid liability.
I shudder to think of the legal ramifications for the City if a motorist runs over a pedestrian after wrongly concluding from an official sign that they don't have to stop.
Post a Comment
You must be logged in to comment.