Supercrawl 2013 in Pictures
All in all, it was another fantastic festival celebrating an amazing city.
By Ryan McGreal
Published September 15, 2013
this article has been updated
Friday
Friday night was cold, but the weather was not enough to keep the crowds away. Thousands of people crowded James Street North to enjoy live music, street performers, food, art exhibits and installations, arts and crafts and - perhaps most important - the awesome vibes of a great city waking up and feeling its strength.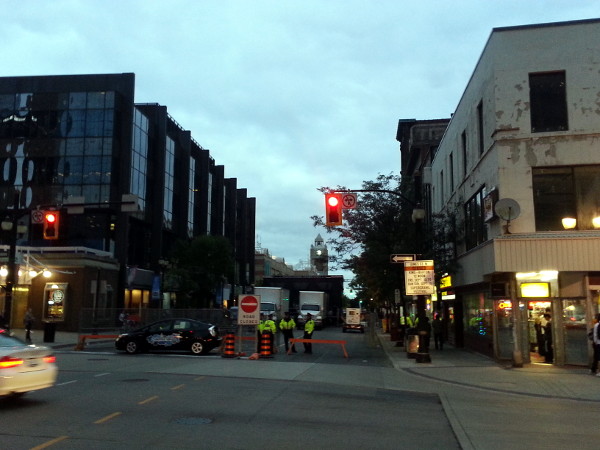 James North is barricaded at King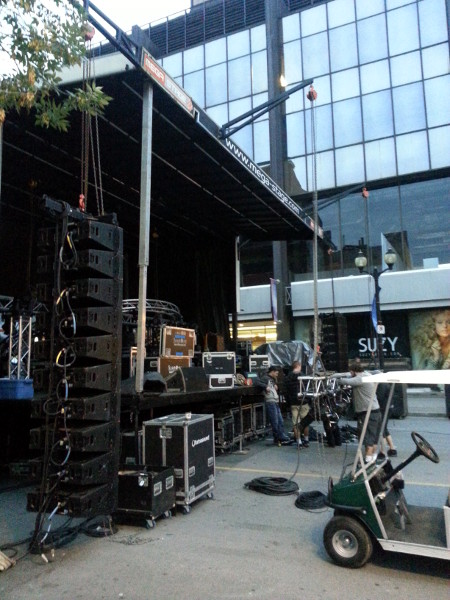 Setting up the main stage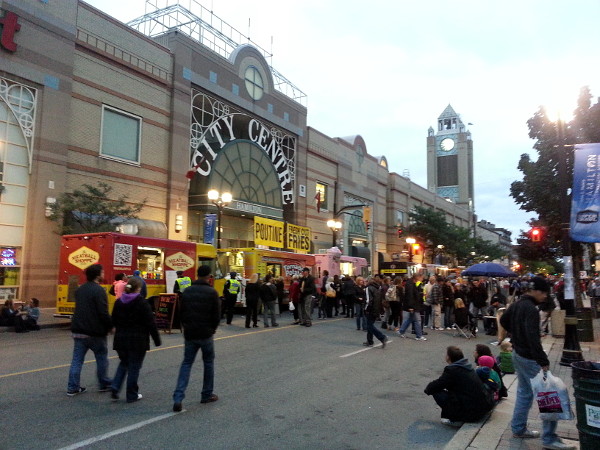 Food trucks outside City Centre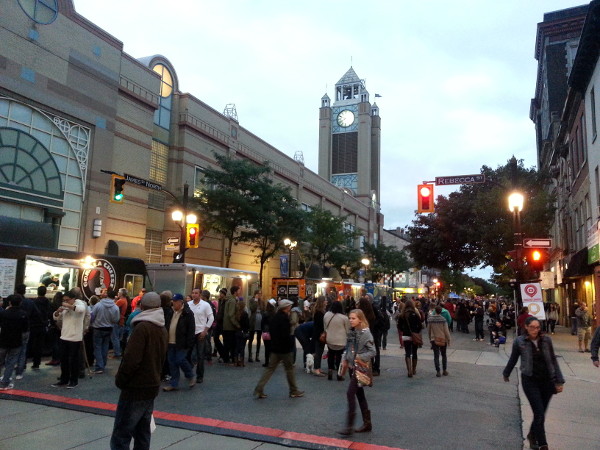 More food trucks
One of the coolest art installations was the BGL Carrousel. Designed by the BGL collective - Jasmin Bilodeau, Sébastien Giguère and Niolas Laverdière - the carrousel is a working, human-powered merry-go-round built out of grocery carts, chains, aluminum tubes and a lamppost.

BGL Carrousel
The monthly Art Crawls draw several thousand people to James North. With the street closed and several stages featuring live music, the numbers this Friday must have been much higher.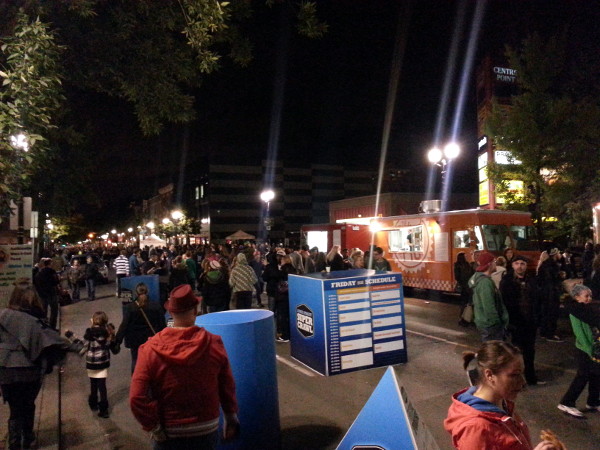 Crowds by the CBC Hamilton and AGH Annex building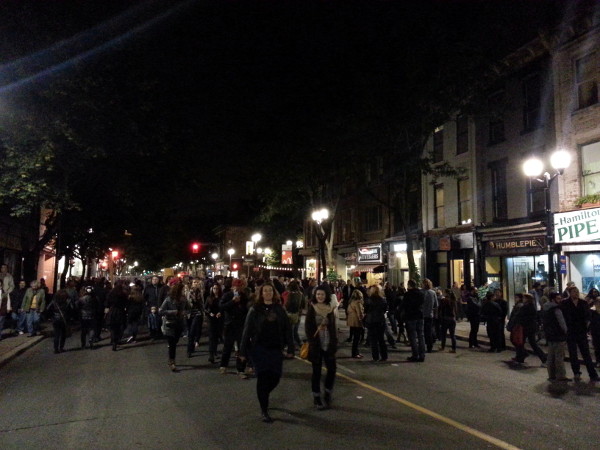 James North was crowded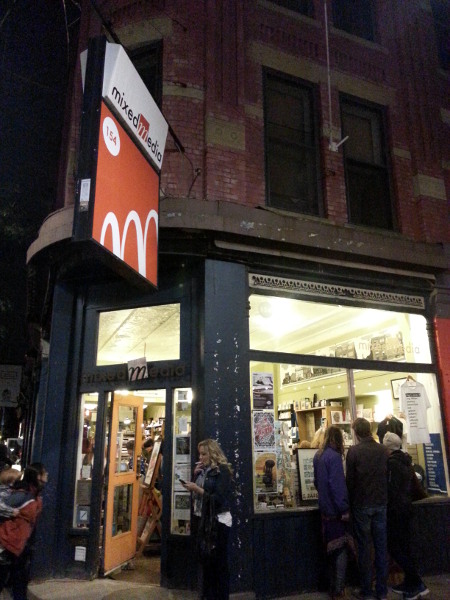 Mixed Media, James and Cannon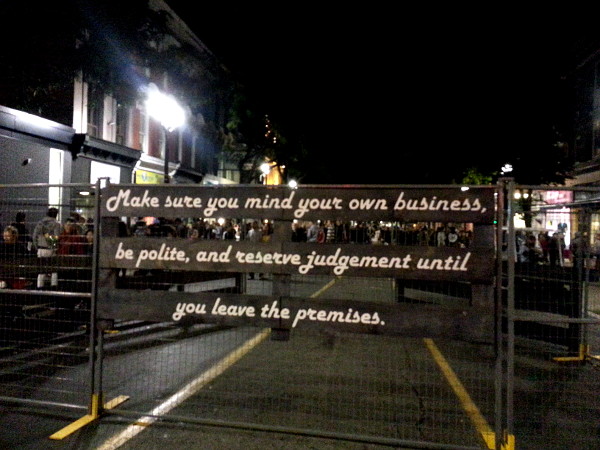 Inspirational messages on the fencing at Cannon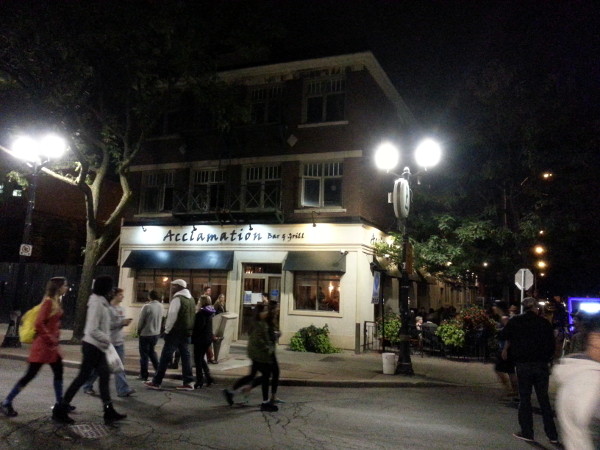 Acclamation Bar and Grill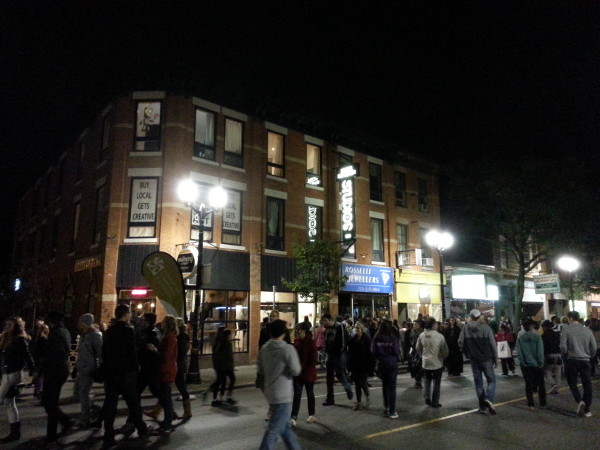 Mulberry Coffee House and The Brain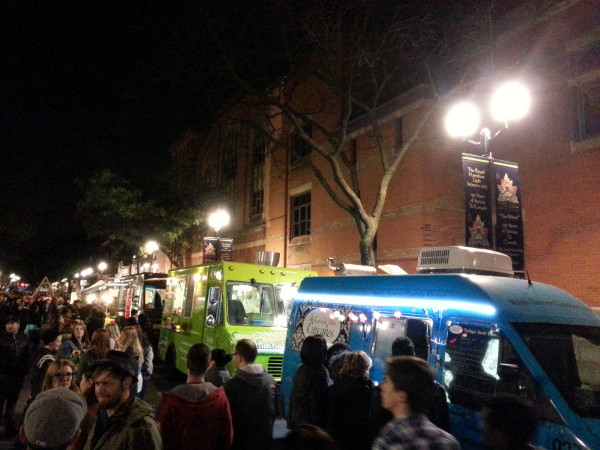 Yet more food trucks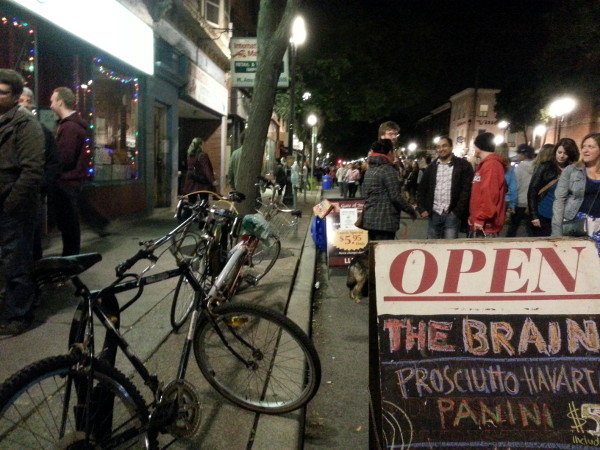 The best way to get around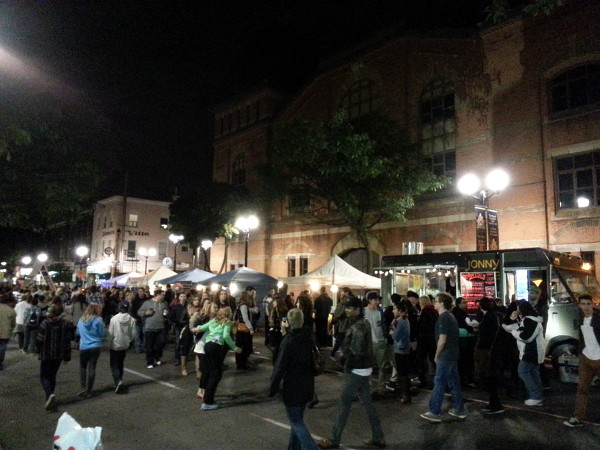 In front of the Armouries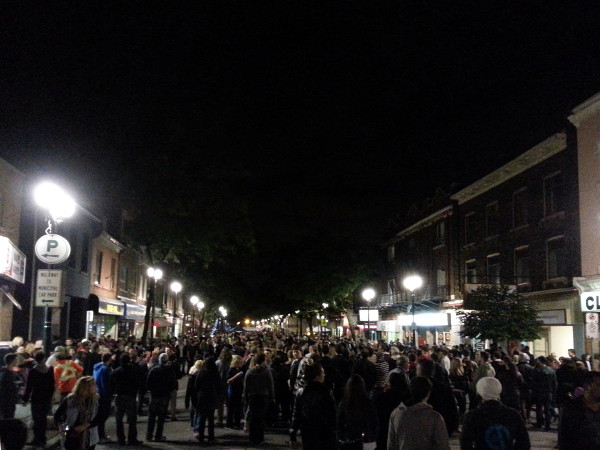 The crowds just kept building all evening

Dancing in the streets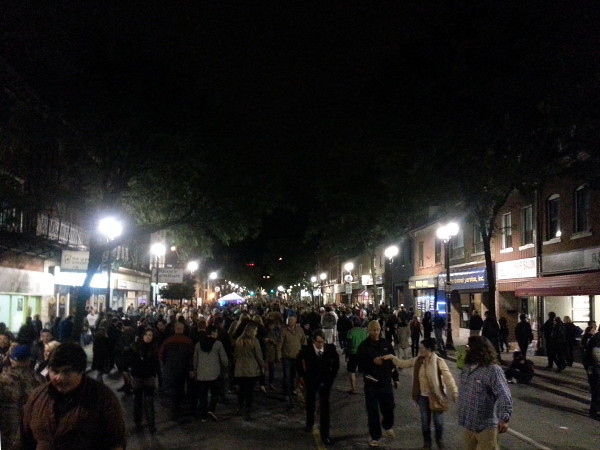 Big crowds everywhere
I didn't make it to as many concerts this year as I did last year, but Wintersleep played a great show on the Colbourne stage.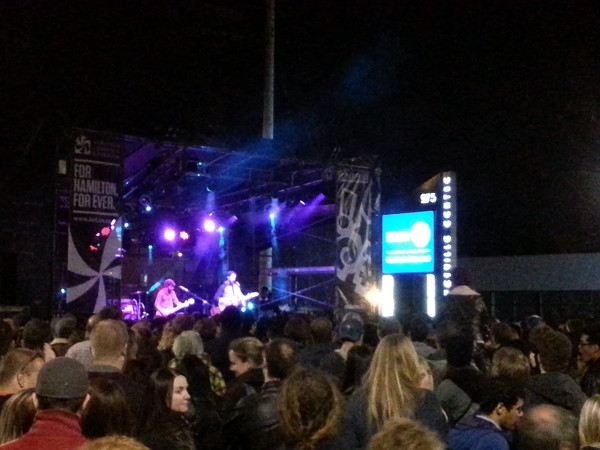 Wintersleep at the Colbourne stage
Saturday
Saturday was beautiful: blue sky, warm sun and fresh air. The organizers couldn't have asked for better mid-September weather, especially after how volatile temperatures were last week.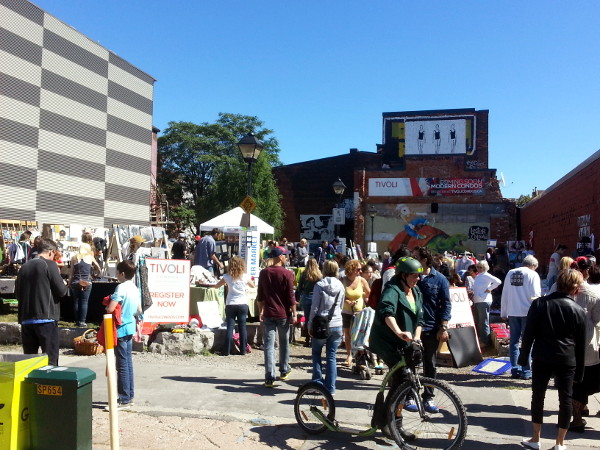 Art and murals at the Tivoli
It didn't take long for the crowds to start growing in early afternoon.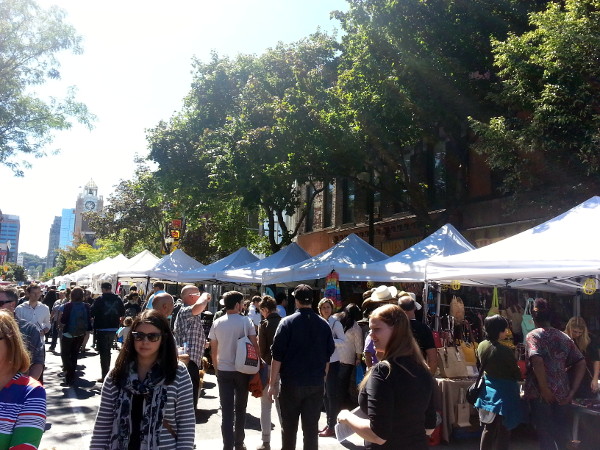 Artisan tents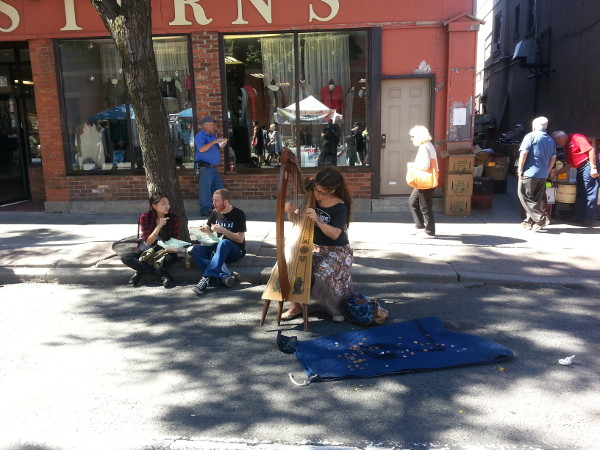 A harpist performed in a spot of shade
Innovation was the order of the day at Supercrawl. One vendor used a cordless drill to spiral-cut potatoes onto skewers and serve them french-fried with a selection of flavoured ketchups, including dill pickle ketchup and bacon ketchup.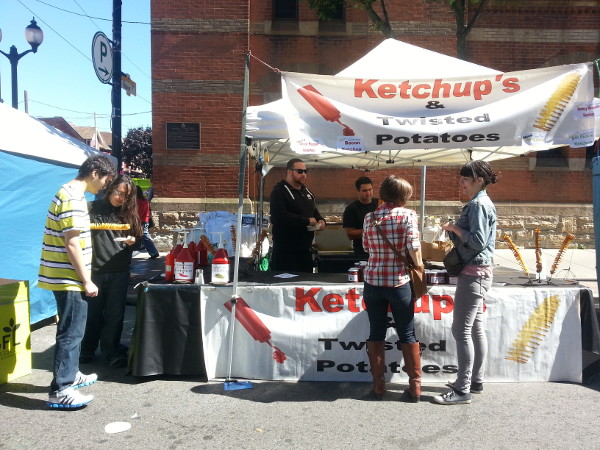 Ketchups and Twisted Potatoes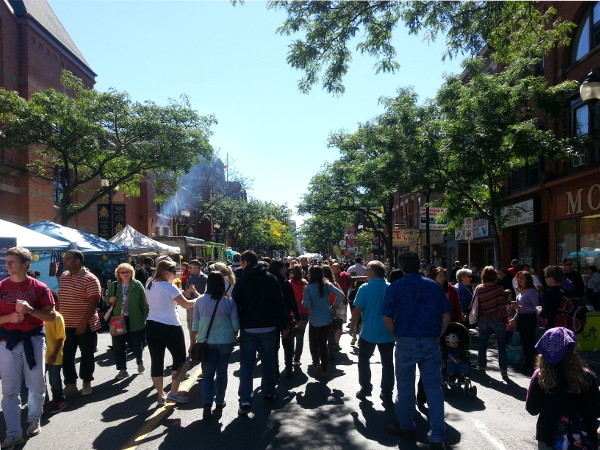 Street filled in front of Morganstern's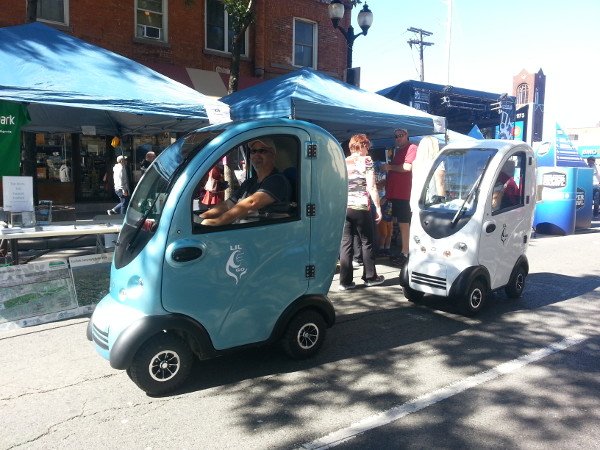 These Lil Eco mini-cars scooted down the street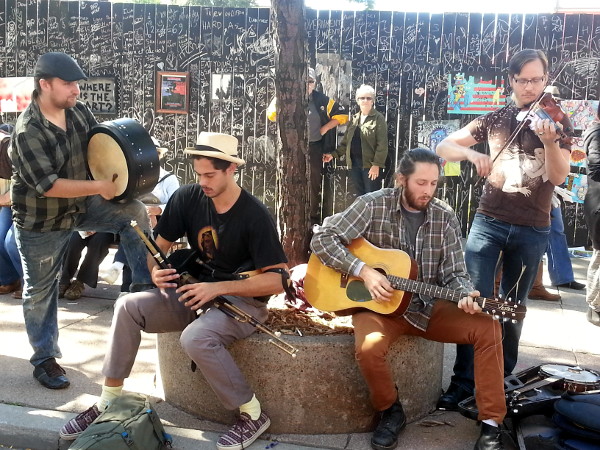 Hamilton's Basking Shark played a lovely Irish jig

Easiest pay duty ever: Hamilton mounted police maintaining order
This year, Supercrawl extended west on York and east on Wilson. Part of the design of the York Streetscape Master Plan was to make it easier to close for special events, so it was nice to see it used for some wonderful family activities.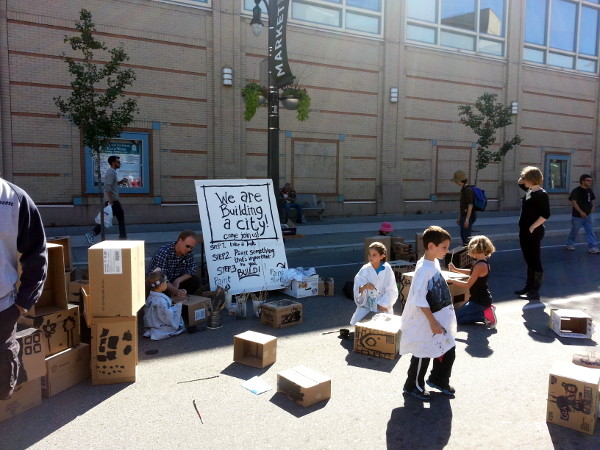 Children helped build a city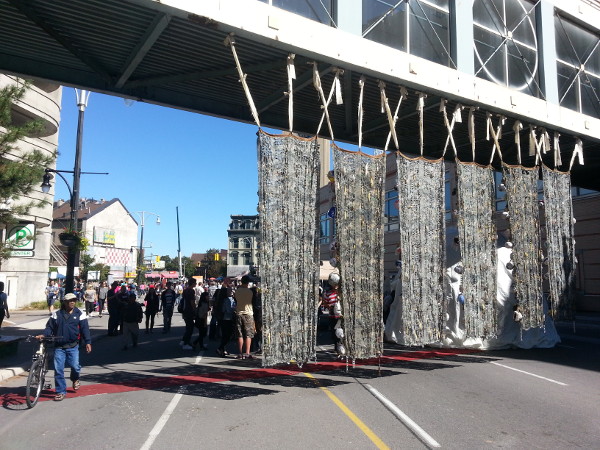 Art tapestries hung from the pedestrian overpass connecting the old Eaton's Parkade with City Centre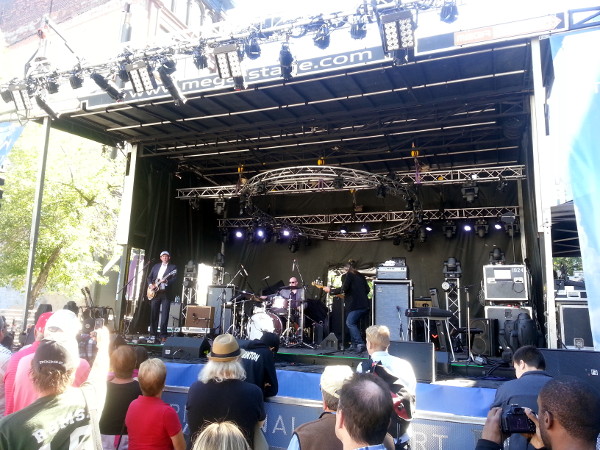 Hamilton blues master Steve Strongman played a fantastic set on the Main stage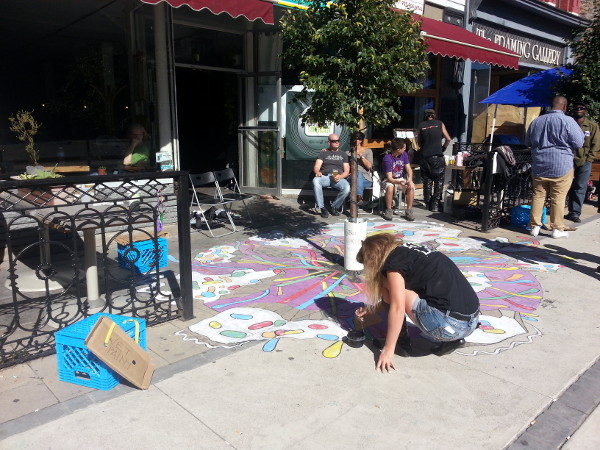 Artist Kiki LeFont painted a sidewalk mural outside Homegrown Hamilton on King William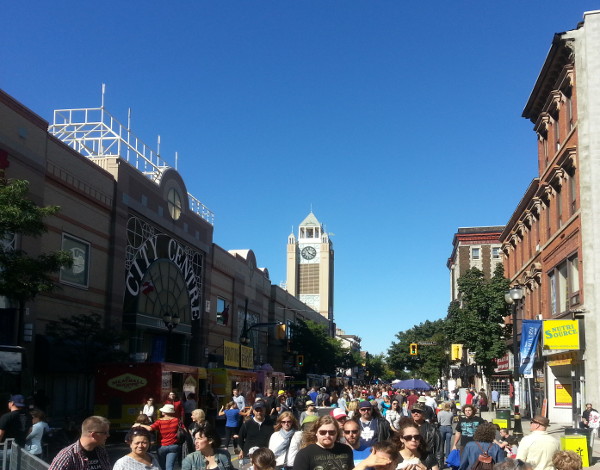 The crowds continued to build over the afternoon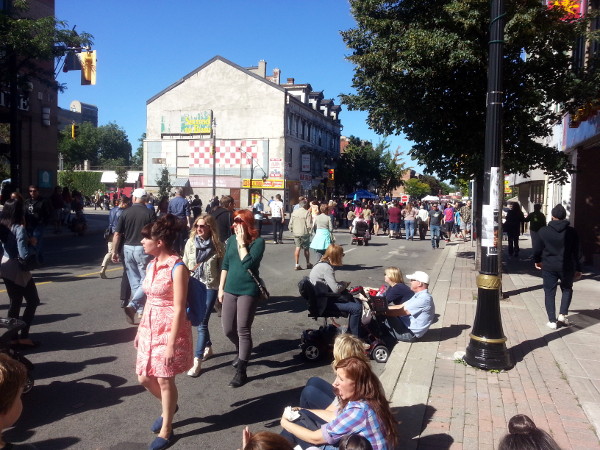 Downtown Hamilton felt wonderfully alive
At Supercrawl 2012, the Hamilton Philharmonic Orchestra played an awkward set with beat poet CR Avery, whose posturing and hostile attitude were off-putting, so I was surprised to learn the HPO was trying it again this year.
Fortunately, they chose to collaborate with Hamilton beatbox Hachey the Mouthpeace, whose talent was matched by his kindly stage presence. Hachey was joined on stage by the HPO Brass Quintet, and they performed some inspired covers of Stevie Wonder, Lady Gaga and Radiohead.

Hachey the Mouthpeace and the HPO Brass Quintet
One vendor sold bubble guns, and clouds of bubbles floated over the street all afternoon.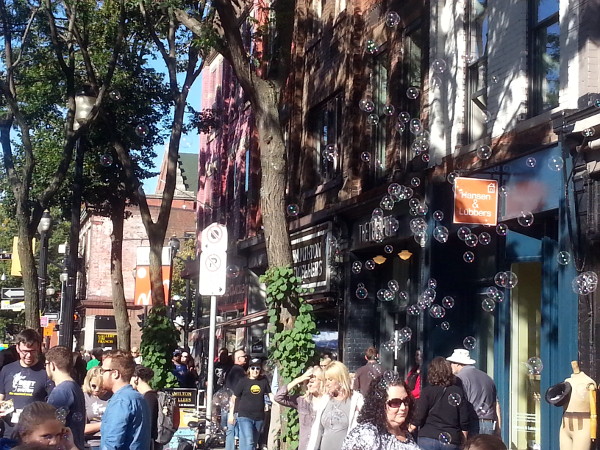 Bubbles
I never did find out what this scaffolding on the roof of Mixed Media was for.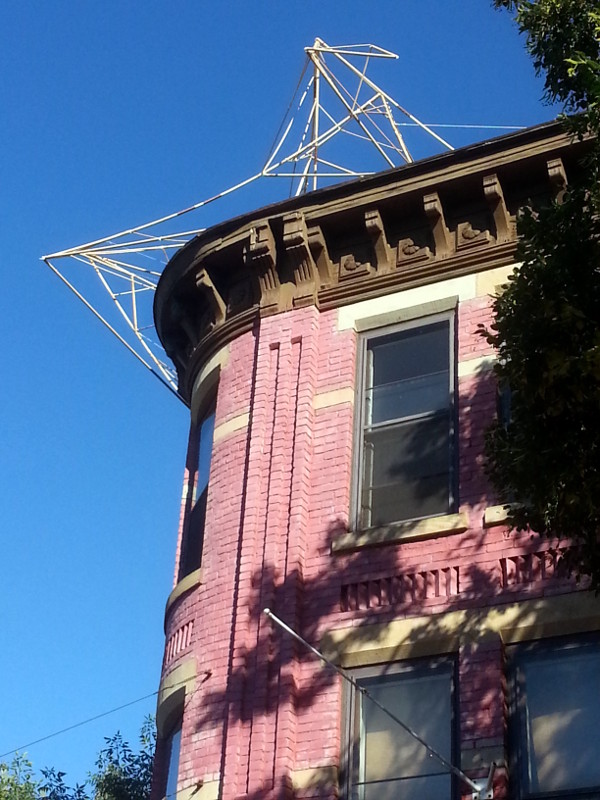 Scaffolding over Mixed Media
Cannon Street was a ribbon of awful bisecting the festival. Fortunately, it was down to two lanes across James so the cross-traffic didn't feel quite as oppressive as usual. Also, even with the lane restrictions it was free-flowing, which should reassure anyone who is worried about the planned installation of protected bike lanes on Cannon.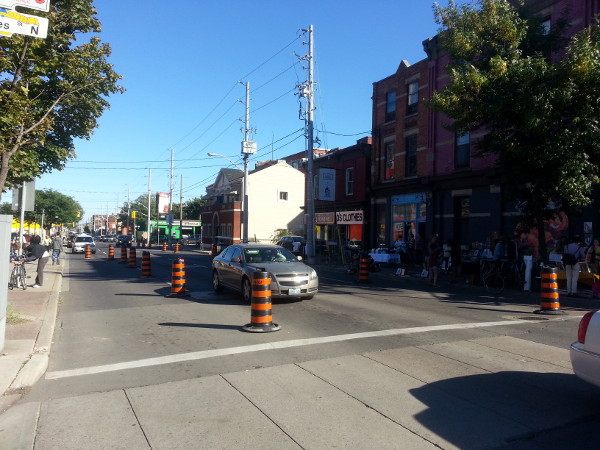 Cannon Street
The No Downtown Casino committee had a lively booth with volunteers asking people to sign a petition against a downtown Hamilton casino. Council kinda-sorta voted against a downtown location earlier this year, but in Hamilton, no contentious issue is over until it's over - and even then it's still not over. Good on the CasiNO folks for keeping this in play.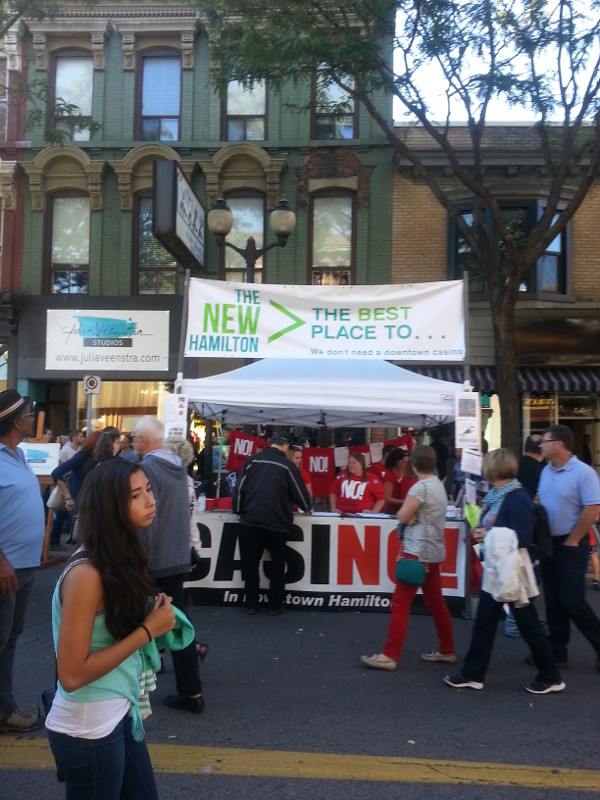 CasiNO!
If you didn't make it to Supercrawl this weekend, it may be hard to appreciate just how many people were everywhere up and down the street. There were at least several thousand on Friday night, and there had to be many tens of thousands on Saturday. I look forward to the official estimates.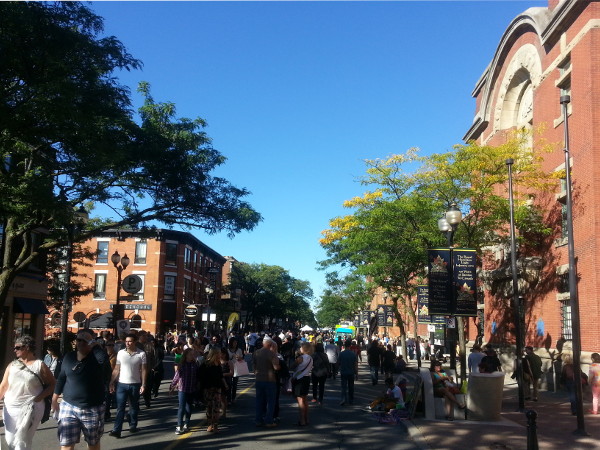 People everywhere
When CBC moved to Hamilton to open a new digital service, they couldn't have picked a better spot than the gorgeous restored building on James across from Vine Street. They were in the centre of it all this weekend, and were obviously having a great time of it.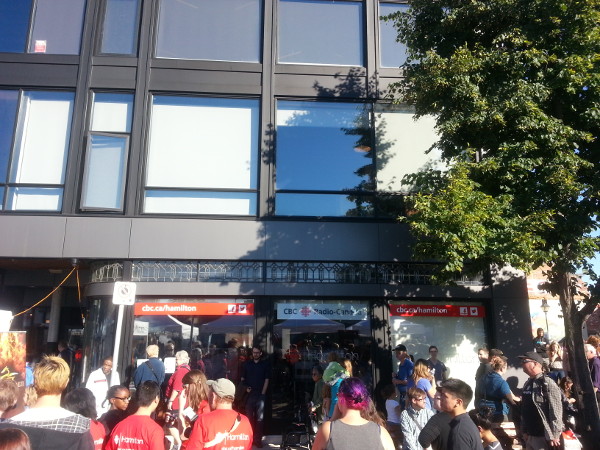 CBC Hamilton
There were lots of bicycles at Supercrawl, each one an anecdote of the new urban, human-friendly culture taking root in our city.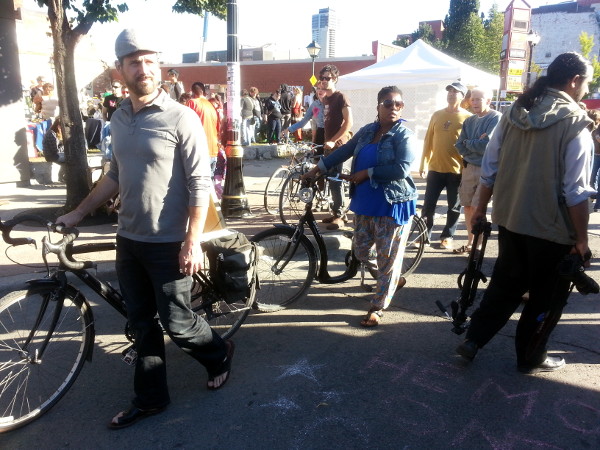 Bicycles
One of the best indicators of a city's bicycle-friendliness is its gender breakdown of cyclists. In bicycle-unfriendly cities, the overwhelming majority of cyclists are male - particularly young, risk-seeking males. In contrast, a city in which a young woman feels comfortable cycling in a skirt is a city where cycling is starting to become normalized.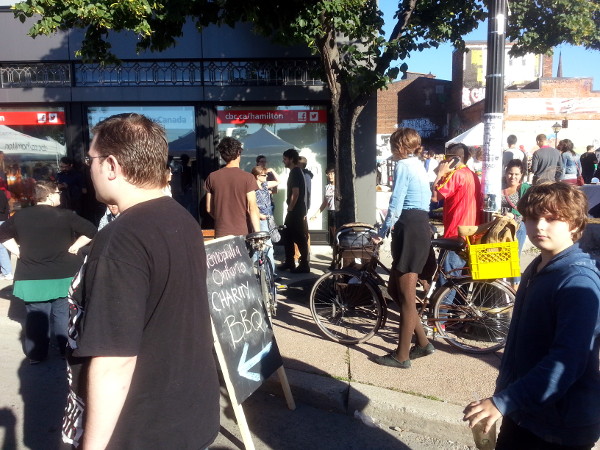 Woman cycling
On Wilson Street, acrobats did flips on a pair of trampolines while Allegories (Adam Bentley and Jordan Mitchell, formerly of The Rest) played a haunting, melancholy set at the Dr Disc stage.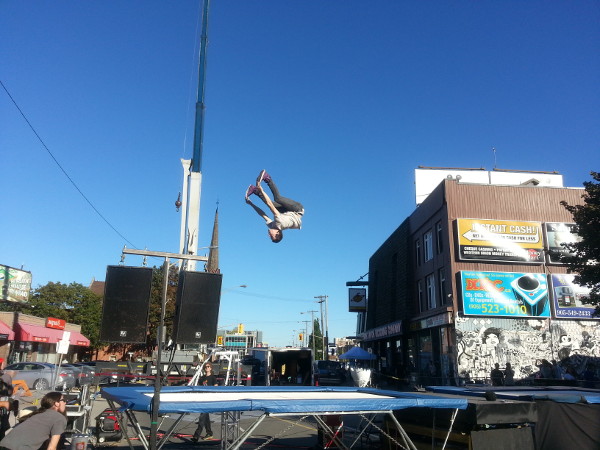 Trampoline
I'm a huge Said the Whale fan, and they played a fantastic set on the main stage for their third Supercrawl performance.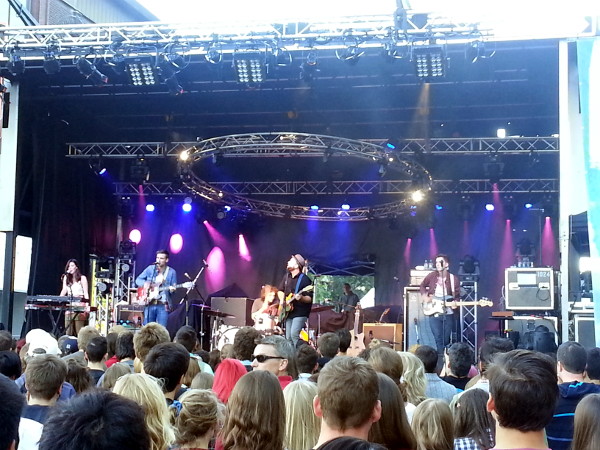 Said the Whale
When James Street North was converted to two-way in 2002, critics claimed that it would be the death-knell of a street that was hanging on by its fingernails. Two-way traffic would simultaneously cause gridlock and finally drive everyone away from the street. I'm reminded of the Yogi Berra malaprop: "Nobody goes there anymore. It's too crowded."
We finally saw some of the gridlock we were warned about all those years ago: there were so many people on the street that it was actually hard to make progress in any direction.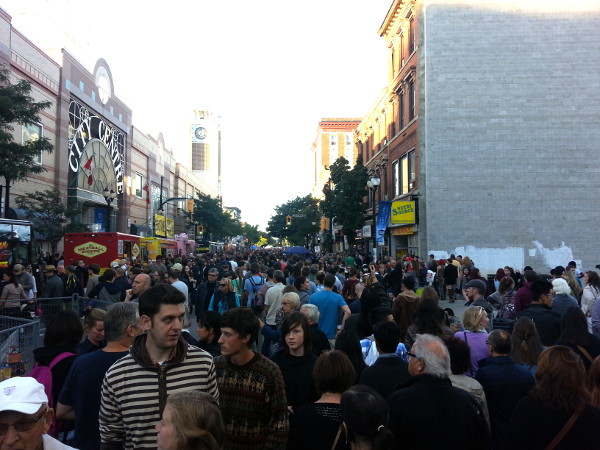 Finally, some gridlock on James North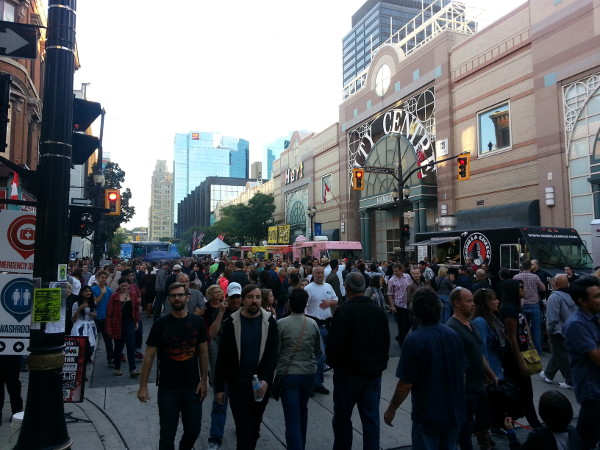 The food trucks must have made a killing
Paintings, posters and messages covered the wall in front of the empty lot next to Acclamation Bar and Grill. A new condo development, Acclamation Lofts, is planned for construction in 2014.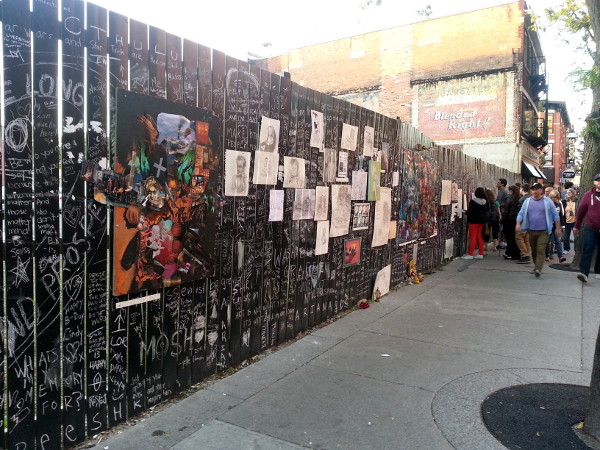 Messages on the wall
On the Colbourne stage, Chelsea Light Moving frontman Thurston Moore (of Sonic Youth fame) started the set not with, like, a song but rather with an extended bout of exposition. Those alternative rock icons, always subverting our expectations.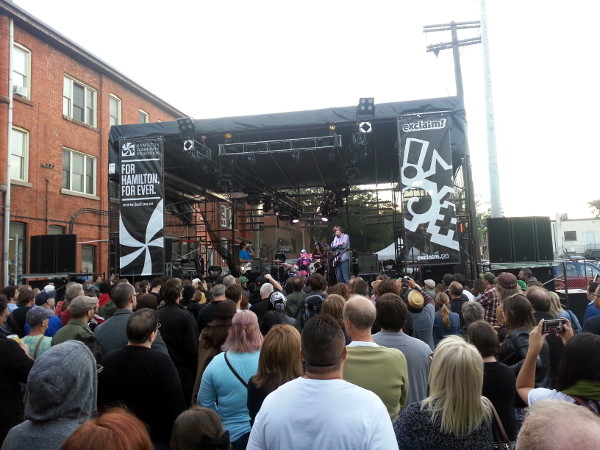 Chelsea Light Moving
Did I mention there were lots of people? Seriously, there were tons of people everywhere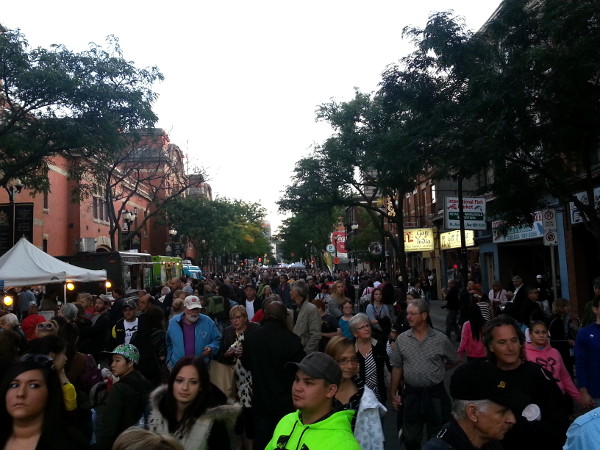 Tons of people everywhere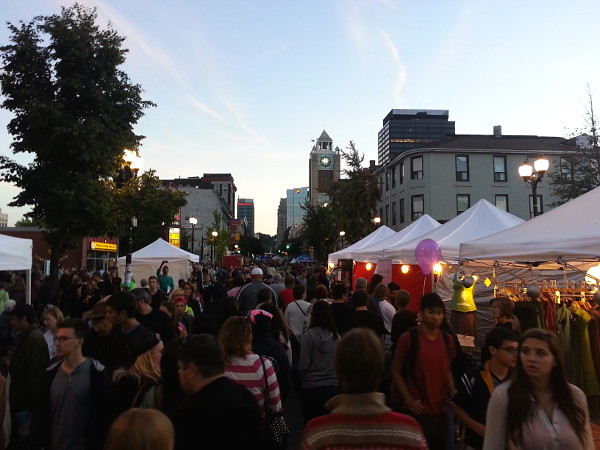 So many people
The moon and the Circus Orange crane overhung the street, seen here behind the Tivoli.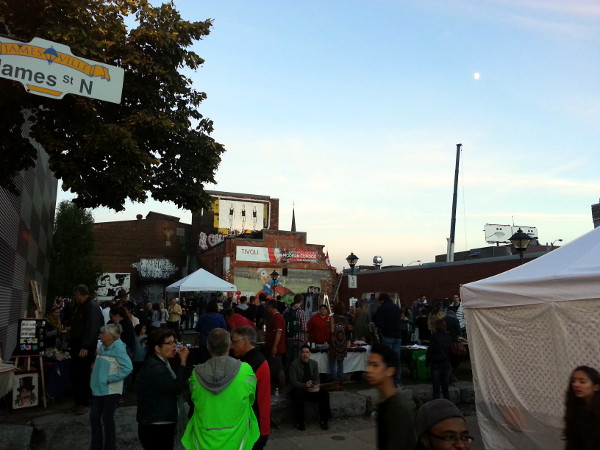 Moon and crane
On the Dr Disc stage, the Ascot Royals played a lively, upbeat show.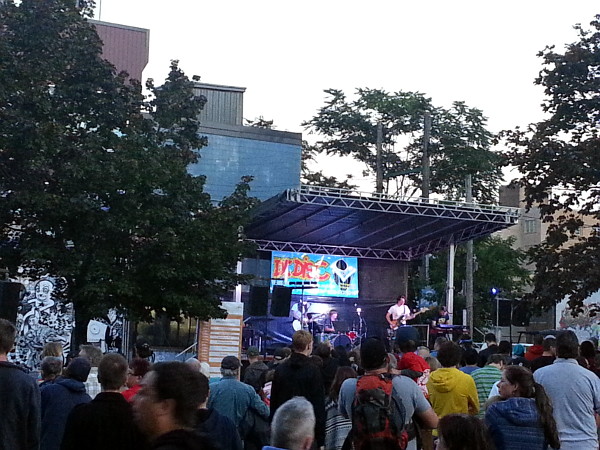 Ascot Royals
After they finished their set, the Circus Orange performance began. Unfortunately, this is where my camera battery died so I can't share any photos, but they really cranked up the superlatives after last year's beautiful aerial acrobatics show.
I'm actually reluctant to go into any detail about the performance, which was as head-scratchingly random as it was staggeringly entertaining. I'm trying to imagine how the writing process went: "All I know is, it's gotta have bagpipes. And a helicopter. Oh, and a flamethrower!" If you saw it, you will know what I mean. If not, you should really arrange to be there next year.
Sadly, we had to supercrawl our way home partway through Yo La Tengo, and so we missed Passion Pit. But all in all, it was another fantastic two-day festival celebrating an amazing city. Every year, Supercrawl brings me to fall in love with Hamilton all over again.
See also:
---
Update: thanks to intrepid Supercrawlers Sue Yarwood and Anita Thomas, we have some fantastic photographs of Saturday night's Circus Orange performance!

Opera singer, helicopter and fireworks (Image Credit: Sue Yarwood)

Fire fingers (Image Credit: Anita Thomas)

Bagpipes (Image Credit: Anita Thomas)

Helicopter (Image Credit: Anita Thomas)

Flamethrower and trampolinist (Image Credit: Anita Thomas)
Big thanks to Yarwood and Thomas for sharing these great shots!
Post a Comment
You must be logged in to comment.