Art in Hamilton
Think of how dreary life would be without art, movies, theatres, operas, symphonies, and literature.
By Trey Shaughnessy
Published November 10, 2005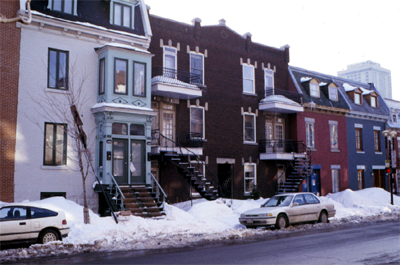 This downtown Montreal neighbourhood is the most creative area in Canada
Hamilton hosted its first Small Press Fair on November 6 at the Downtown Cultural Centre, 28 Rebecca Street. The event was a success by any measure, with over 70 vendors from Hamilton, Kitchener, Toronto, and Niagara, and over 300 attendees. There was a stage where people read from their books, sang songs and read poetry, accompanied with fine bongo drumming from Dave Gould.
It made me proud to be a Hamiltonian. There was a definite vibe, an almost unexplainable sensation of being part of something bound to become more of an integral part of this fine city. According to organizers Frances Ward, David Devries-Kuruc, and Kerry Schooley, we can expect another next year.
I have attended many "professional" artist functions, being a registered graphic designer and working at an advertising agency. I had decided that I didn't like artists, at least, not the kind that have to try to be creative; you know, the all-black-turtle-neck-outfit-wearing-everything-is-fabulous types.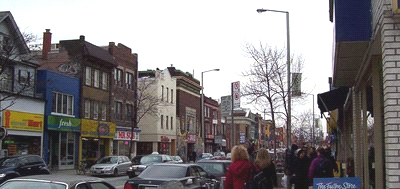 The Annex neighbourhood (home to Jane Jacobs) is the most creative area in Ontario
The Hamilton Small Press Fair was artsy, but not pretentious wannabe-artsy. It was filled with the kind of artists who don't try to be artists. Some of these people had given up being 'normal' a long time ago.
If there was ever a crowd that allowed you to be yourself, this was it. I love these people. In fact, I think Ben Bull loved them more. He wouldn't let this woman leave us, whose 'thing' was to publish poetry and illustration on a six-sided 3D hexagon thingy.
Contributions of the Arts
According to a study funded by Canada Council for the Arts, the Department of Canadian Heritage, and the Ontario Arts Council, and conducted by Hamilton's very own Hill Strategies (Research for the Arts), "The arts contribute to the quality of life as well as the social and economic vitality of communities".
Imagine that: something as simple as artists can do so much. Kelly Hill from Hill Strategies goes on to say, "The arts may also attract talented people, jobs and investment to communities. On a neighbourhood level, investments in arts facilities may contribute to changes in local economics, social environments, neighbourhood character and demographics. However, gentrification may also occur as a result of neighbourhoods being considered 'artsy' or 'trendy'." 1, 2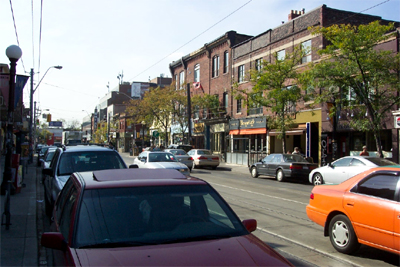 Little Italy, one of Toronto's artistic hot spots: other than the streetcar tracks (ouch!), this could be James St. North in Hamilton
On a personal level, the arts can stimulate, inspire and entertain. Canada's "creative" class, those people who work for a living in a field classified as artistic - is 0.8 percent of the workforce. 3
That seems surprisingly small for a field of employment that can consist of glass-blowers, graphic designers, musical performers and copywriters. Then again, how many people do you know who pay the bills with their artwork [My next door neighbour - Ed.]?
Concentration of Artists by City
Montréal is the most artistic city in Canada by far. Canada's top three most creative postal codes are in downtown Montréal (H2W, H2J and H2T), of which you can expect eight out of every 100 people you meet made their living in some form of the arts, followed by 6.1 percent and 5.6 percent respectively. 4
Montréal held five of the top ten most creative postal code regions in Canada. 5 Toronto had three: The Annex (M5R) at 5.4 percent, Queen West (M6J) at 5.2 percent, and Little Italy (M6G) at 5.1 percent, all downtown Toronto areas. 6
Vancouver's V6A region had 5 percent and Saltspring Island (V8K), across the Strait of Georgia, also had 5 percent of the workforce employed in the arts.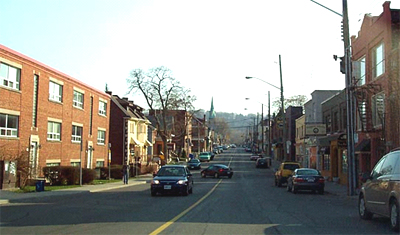 Locke Street neighbourhood in Hamilton has double the national average concentration of artists
In Ontario, the top seventeen most creative regions are in Toronto. Ottawa is home to the 18th to 22nd most creative regions. North-Central London is home the 23rd spot and finally Hamilton holds the 24th most creative area in Ontario: L8R, our very own North Central Hamilton, at 1.9%. This is followed by L8P, West-Central Hamilton, with 1.6 percent.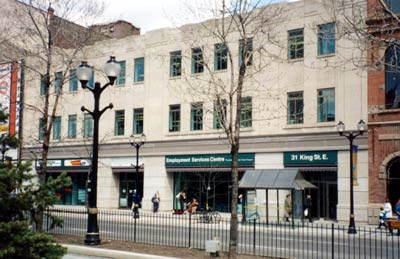 31 King St. E., the rumoured site for the Hamilton Health Science workers
I find this somewhat surprising: London has an area of that has a higher concentration of artists than Hamilton. Also Toronto has the top seventeen creative regions in Ontario, given the cost of living for Toronto is substantially higher than the rest of Ontario.
Artists are Drawn to Cities
The study also points out that artists prefer to live in real urban areas. Only two suburban GTA regions have a higher than average work-force employed in creative arts - Mississauga's L5H and Uxbridge's L9P.
It is interesting that some northern remote regions have higher than national average concentration, such as Bracebridge, Parry Sound and Manitoulin Island. (This means Burlington can deservedly be called Borington.)
Anyone who visits Montréal can appreciate where the excitement and vitality comes from - artists. After all, Montréal's logo is designed with a stained pair of 'kissing' lips.
"Thank you dawwwr-ling, you're so mawwwr-valous."


Pucker up: Montréal welcomes you
Montréal truly is a fabulous city. It's affordable, yet provides everything a world-class city can offer with the advantages of being Canadian.
This study only reinforces the need for Hamilton to remain and encourage being an urban, diversified, eclectic, artistic city. I ask you to think of where you went the last time you went out for the night - other than when you went to a friends house. It probably involved either listening, viewing, tasting, or experiencing someone's artwork.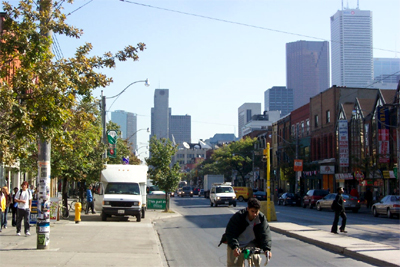 Queen West in Toronto has the highest concentration of advertising and graphic design employees in Canada
The next time you want to pass off artists as flakes, radicals or weirdoes, think of what they offer you and your environment. Think of how dreary life would be without art, movies, theatres, operas, symphonies, and literature. Then appreciate it for what it is: art makes life interesting.
Notes
1 - The best-known proponent of this is Richard Florida, in his book The Rise of the Creative Class, Perseus Books, 2002. See also Volume 2, No. 10 of the Arts Research Monitor, a special issue devoted to the debate over "creative class" theories. Volume 3, No. 10 examined a variety of reports on the topic of creative people, classes, neighbourhoods and cities. The Arts Research Monitor is available at http://www.hillstrategies.com.
2 - In Beyond Anecdotal Evidence, Toronto Artscape showed that investments in three urban arts facilities were associated with increased education and incomes, decreased unemployment, increased property values, and an increase in new businesses in the neighbourhoods studied.
3 - Descriptions of the nine arts occupations Source: 1991 Standard Occupation Classification, Statistics Canada http://www.statcan.ca/english/Subjects/Standard/soc/1991/soc91-menu.htm
4 - Hill Strategies Research Inc. (October 2005), "Artists by Neighbourhood in Canada", Statistical insights on the arts, Vol. 4 No. 2, pp. 2-4.
5 - Ibid.
6 - Ibid, pp. 16-19.
Post a Comment
You must be logged in to comment.