Two-Way Study Group Audits Queen Street
As the City continues to move forward in exploring how to address transportation planning, this participatory approach may be of great help to a Council looking to engage more directly with its citizens.
By Dave Heidebrecht
Published April 10, 2013
Late last year, I published a piece summarizing a meeting that took place at Hamilton City Hall to discuss plans to create study groups to explore the conversion of Queen Street and Cannon Street from one-way to two-way streets. This past weekend, local residents who volunteered to take part in the Queen Street Two-way Study Group met to do an initial audit.


One-Way Two-Way Study Group Queen Street Citizen Audit Survey
The one-way/two-way debate in Hamilton is nothing new. Just ask anyone who lives or works in Hamilton and they're sure to have an opinion. Earlier this year, CAA South Central Ontario released the results of a survey taken in late 2012 that asked Hamiltonians their opinions on two-way conversion.
While 57.8 percent of respondents were opposed to the two-way conversion of major east-west corridors such as Main and King Streets, a slight majority of respondents (54 percent) supported the conversion of secondary north-south streets, such as Queen Street.
The movement towards complete streets, designed to provide safe modes of transit for all users-cars, transit, bicycles, and foot traffic-has been gaining steam of late, and with positive results such as those seen on James Street North, support for such shifts is growing, especially amongst Hamilton's younger citizens.
A recent piece by Jason Leach discussed potential for the success of Queen and Cannon Street conversions based on similar examples from Toronto, while Raise the Hammer has an entire section dedicated to covering walkable/complete streets in Hamilton.
With this crucial urban debate in mind, and as City Hall continues to review its Transportation Master Plan, residents were invited to join Councillors Brian McHattie (Ward 1) and Jason Farr (Ward 2) to initiate a participatory audit - exploring the potential conversion of Queen Street from one-way to two-way.
Part of a larger initiative during which Cannon Street will undergo the same treatment, the Queen Street study group brought together local stakeholders to do a street-level audit that will help City Hall think through what a conversion might entail.
Participatory Audit an "Innovative" Approach
Meeting beforehand, Councillor McHattie made it clear that the goal of this approach was to engage directly with those who live in the area, as a means of identifying how a conversion might improve the neighborhood while also serving all modes of transit.
During the brief discussion session, urban planner Paul Shaker of the Centre for Community Study (CCS) noted that this participatory approach to planning is very innovative for the city and provides an exciting opportunity to learn from going forward.
Working with the City of Hamilton, the CSS is helping to analyze available traffic data in order to ensure that any proposed changes would accommodate for current traffic flows, potential future growth, parking, and other unforeseen issues.
Using such innovative techniques as overhead video footage of traffic flows through entire neighborhoods with the help of Hamilton tech firm PV Labs, the data is allowing Shaker and the City of Hamilton to better understand not only traffic flow through specific intersections, but the routes that are being most used beyond those intersections.
As Queen Street currently changes from two-way to one-way at Herkimer Street, such data will allow for a better understanding of where traffic is currently flowing, and where it might flow if Queen Street were to become two-way from Herkimer Street to King Street.
While such audits can help gather the statistics needed to ensure conversion takes traffic flows into account, the street-level approach encourages local residents and citizens to take a deeper look at what specific changes might be needed at the ground level, helping with infrastructure planning, budgeting, and community building efforts.
Street Level Audit
As the Queen Street Citizen Audit Survey states, it's been designed for the purpose of "gathering basic information on what changes to the streetscape would be necessary if Queen Street was converted to two-way traffic from Herkimer Street to King Street."
With this in mind, participants split into four groups to walk the street from Aberdeen Avenue to King Street West, making note of potential issues to consider.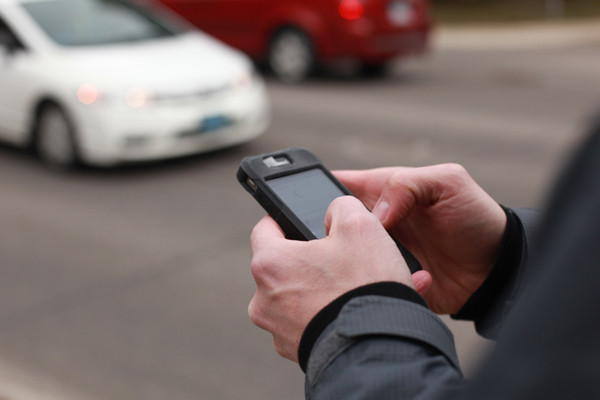 Participants were able to use their smartphones to fill in a mobile version of the Queen Street Citizen Audit Survey.
Displaying the shifting sands of the City of Hamilton's approach to engagement, participants were encouraged to access the survey online in an easy-to-use mobile format, meaning that anyone with a smartphone could register notes wirelessly.
For others, a survey sheet was provided, with inputs for location/intersection, and a checklist of potential interventions needed (e.g. removal of a road median, sign change, traffic signal change, etc.).
Diligently making their way up and down the street, discussing potential challenges and opportunities along the way, the Queen Street study group made note of a number of issues to be considered in any proposed conversion.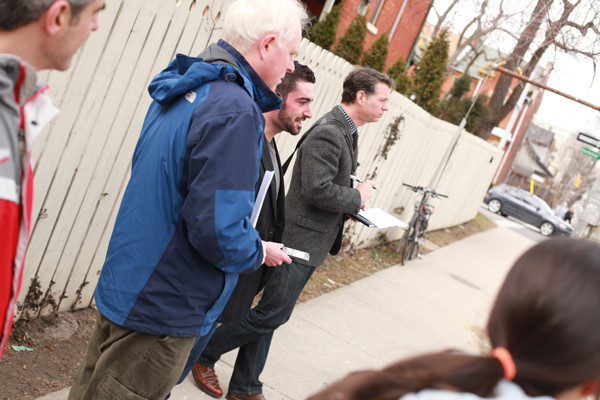 Ward 1 Councillor Brian McHattie observes traffic along Queen Street with study group participants.
Drivers, cyclists, and pedestrians alike, the group dynamic allowed for engaged discussion with fellow citizens and local representatives, a true participatory democratic undertaking that may be a sign of things to come as Hamiltonians seek a more responsive City Hall that listens to their issues and concerns, and responds in kind.
Building a Useful Data Set
As the information from the audit comes together, city staff will be well-positioned to both budget and plan properly, and to foresee what potential shifts in traffic flow will do for the Queen Street area and the larger mountain and downtown areas that traffic flows to and from.
As the City of Hamilton continues to move forward in exploring how to address transportation planning in a way that considers the voices of local residents (in all areas of the city) and how any changes will have an impact on the greater city-wide system, such participatory approaches may prove to be of great help to a City Council looking to engage more directly with its citizens.
Despite the Our Hamilton fiasco that took place earlier this year, more public engagement on major issues such as transit will surely gain traction over time, and hopefully, despite the disagreements and debates that come with any major shifts in culture and policy, we'll all be better off for it in the long-run.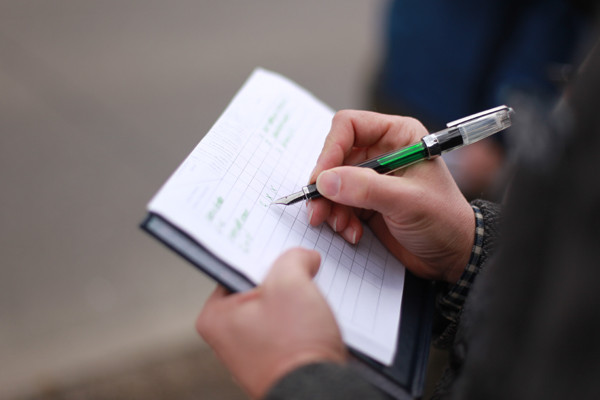 Information gained from the Queen Street Citizen Audit Survey will be used for future planning and conversion projects, encouraging public engagement in the data collecting process.
This article was first published on Dave Heidebrecht's website.
Post a Comment
You must be logged in to comment.