Supercrawl Funding Splits Council
Councillors were split evenly along urban/suburban lines for yesterday's Supercrawl funding request.
By Michael Black
Published March 08, 2013
this article has been updated
A vote at yesterday's general issues committee meeting by Hamilton city Councillors on the funding of Supercrawl, an annual downtown arts and music event, resulted in a tie vote that will now postpone the decision until the next Council meeting, where it may be reversed.
According to the city clerks' office, the vote breakdown was as follows:
Yeas: Jackson, Collins, Merulla, Farr, McHattie
Total Yeas: 5
Nays: Pearson, Ferguson, Pasuta, Partridge, Johnson
Total Nays: 5
Absent: Bratina, Clark, Powers, Whitehead, Duvall, Morelli
Total Absent: 6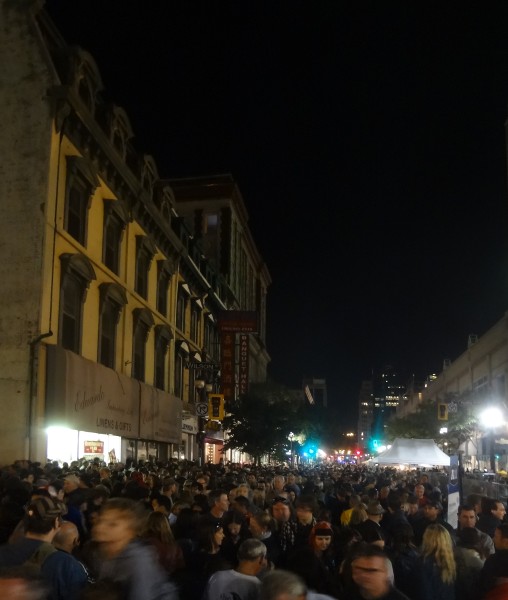 Crowds filled James Street North for Supercrawl 2012 (RTH file photo)
Ward 4 Councillor Sam Merulla was disappointed in the result.
"I think it's unfortunate that we made a decision that I believe is very regressive in nature," said Merulla. "What we have in the city of Hamilton is an opportunity to build upon Supercrawl and its success from a branding perspective, from a coast-to-coast basis."
In 2010, Supercrawl saw an estimated 20,000 unique visitors. That grew to 80,000 in 2012. Last year, organizers requested $100,000 from council and were granted $60,000; this year they are requesting $125,000.
"For that coast-to-coast rebranding of this city as a vibrant, hip community, the cost of $125,000 for an event that brings in tens of thousands of people, that is an investment, not a cost," Merulla stated. "I am very disillusioned."
Mark Furukawa is the owner of Dr. Disk in downtown Hamilton and was shocked that the motion for funding did not pass.
"There are all these intangible benefits to promoting arts and culture, even getting way from the money aspect of it," said Furukawa. "It's a healthy indicator of the mental state of a particular population, I would not want to live in an area that did not actively support arts and culture."
"This council is hopefully going to see the light, and I think they are going to okay the funding, I don't think that's an issue," said Furukawa. "Just the fact that it had to go to the second round of debate before council, to me it is mind-boggling."
Merulla expects that council will pass the motion for funding once they resume talks on the 20th.
"Once we get the full council there of sixteen, I'm confident we will get the nine votes to move forward on it."
This article was first published on Michael Black's website.
See also:
Update: updated to include the recorded vote tally provided by the city clerks' office. You can jump to the added paragraph.
Post a Comment
You must be logged in to comment.