Whitehead: Downtown Commercial Area is Not a Neighbourhood
Councillor Whitehead says that the downtown core exists to provide the service and entertainment needs of the rest of the city, and all Hamiltonians should have a say in what happens to it.
By Ryan McGreal
Published December 11, 2012
this article has been updated
Downtown Hamilton is ablaze over a recent comment by Ward 8 Councillor Terry Whitehead over the proposal to allow a new casino in the downtown core.
Whitehead, who supports the casino, was discussing the matter over coffee with Matt Jelly, a downtown resident and social activist, when Whitehead reportedly argued that the commercial downtown core is not part of a neighbourhood.
In an email to RTH, Jelly provided the context. "When discussing the impact of people in proximity to a Casino, backed up by many studies and the expert advice of Medical Officers of Health for both Hamilton and Toronto, Terry essentially began to argue that not many people actually live here."
Jelly pointed out that many people live in the downtown core: "high-rise apartments on Market Street, apartments above shops on King Street, Condos across from City Hall on Bay, etc."
According to Jelly, Whitehead argued that the downtown commercial area "is not a part of anyone's neighbourhood. I informed him that the commercial areas of the downtown core actually do, by the city's own definitions, reside within the Beasley and Central neighbourhoods."
Whitehead Response
In email response to RTH, Whitehead wrote, "There are neighborhood plans that clearly outline the neighborhoods in the lower city."
For the record, the downtown core - the area bounded by Queen Street, Cannon Street, Wellington Street and Hunter Street - is entirely encompassed in four adjacent neighbourhoods: Central (northwest from Main and James), Beasley (northeast from Main and James), Corktown (southeast from Main and James) and Durand (southwest from Main and James).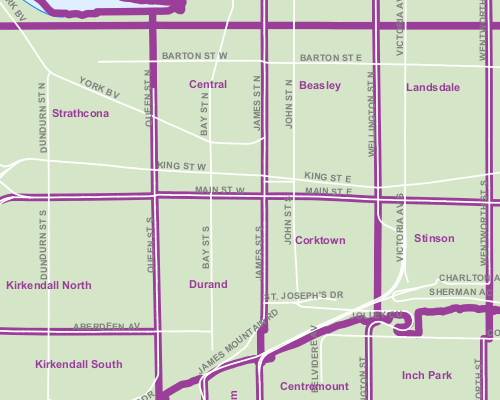 Hamilton neighbourhood map (Image Credit: City of Hamilton [PDF])
Whitehead also defended his belief that a casino should go downtown. "Downtown is also the Center of Governance, Entertainment Conventions, Hotels, Plays, Art Gallery, Festivals etc. These investments were not expended just to service the downtown neighborhoods. It is to establish the downtown as a destination. If this purpose is changing then all Hamiltonians should have a say."
However, the argument against a downtown casino is not that downtown should not be the location for entertainment facilities, but rather the evidence-based conclusion - summarized recently in public health reports for Hamilton and Toronto - that a casino disproportionately targets vulnerable low-income families and that the risk of harm increases with proximity. In other words, that the best place in Hamilton to put a casino is far away from vulnerable populations.
In response to this, Whitehead argued that if a downtown casino was really harmful, the Province would "step in and exclude all downtowns from consideration for a casino."
Whitehead claimed that problem gambling is not concentrated in low income communities but "equally impacts people from all social economic backgrounds." However, the Toronto report by Dr David McKeown found that youths, seniors, First nations people and people with low incomes are over-represented among problem gamblers.
Whitehead noted that Hamilton's public health report did not actually recommend against a casino, through it did recommend that if one is built, it should come with a number of restrictions to limit harm.
He also noted that people can already take buses from downtown to casinos outside the core, like Flamboro Downs. "Access to gambling is a bus ride away." Again, the evidence documented in the Toronto and Hamilton casino health studies finds that the risk of problem gambling goes up with proximity.
Similarly, he pointed out that people also have access to gambling on the internet and other venues, including lotteries and illegal gambling locations. However, as Dr McKeown pointed out in a recent interview on The Agenda with Steve Paikin, internet gambling has been found not to contribute significantly to problem gambling:
Internet gambling, although it's widely available, turns out to be one of the least common forms of gambling - at least, the kind that lead to problem gambling. Most problem gamblers that seek clinincal treatment, for example, have trouble with slot machines and table games - exactly the kind of things that you find in a casino. And the closer to a casino, the more convenient it is, the more likely people are to gamble in a way that causes health problems.
Whitehead concluded by promising that his final position on a downtown casino "will be an informed one" and that he is asking questions of OLG and the Province about the health studies from Toronto and Hamilton.
Whitehead Letter
Whitehead has been feeling the heat from his remarks. Over the weekend, he sent a written response to several residents who objected to his position, which begins, "The commercial area of downtown is not in your neighborhood."
In the letter, Whitehead argued that the "function of downtowns" is "to serve all of the community" with various services. He claimed that downtown is "heavily subsidized by all taxpayers" and that those taxpayers have a say in how the city manages it and a right to "continue to drive taxes down" with a new casino.
The letter noted that Flamboro Downs generates $800,000 in taxes, provides 350 jobs and contributes $4 million to the city's revenues through a slots revenue sharing arrangement with Ontario Lottery and Gaming Corp (OLG). He also noted that 50,000 Hamiltonians leave the city each year to gamble in other communities.
Whitehead pointed out that casinos have become socially acceptable in Ontario and have been promoted under provincial governments composed of the NDP, Progressive Conservative and Liberal parties. "It is here in Ontario and I be damned if the other communities benefit at our taxpayers' expense."
He also pointed out that Brantford mayor Chris Friel originally opposed the Brantford casino but now supports it. (Paul Wilson recently wrote about this on CBC Hamilton.)
In terms of downtown as a neighbourhood, Whitehead wrote, "The down town has more people working there than live there. They are affected by many decisions that are made on behalf of local neighborhoods."
He also pointed out that his ward is home to "one of the largest forensic psychiatric institutions for the criminally insane in Ontario" and "more group homes than any other wards," including a shelter that takes "destitute street people off the downtown streets and put them in a shelter that serves them alcohol." Whitehead notes that he supports this "because it was the right thing to do" even though local residents opposed it.
Whitehead concluded, "We all make sacrifices for the greater good, are you prepared to do the same?"
Public Harm
In a recent Facebook post, Jelly responded to Whitehead's arguments.
He argued that we should accept a casino even if we don't want one, because residents of Ward 8 generate more taxes than we do. He forgets the last 40+ years where many of the taxdollars generated by residents of the lower city subsidized all of the sprawl south of Mohawk. He forgets the last 40 years of us moving investment out of the core through our planning processes. He forgets 40 years of failed megadevelopments we've built, rather than focusing on providing a base level quality of life for the residents who live here.
Jelly also objected to Whitehead's contention that the opportunity to realize a very small decrease in taxes for Ward 8 residents trumps the harmful public health implications of putting a new casino in close proximity to vulnerable, impoverished communities.
Dr. McKeown's Toronto report recommended against allowing a casino on the basis that it would increase the rate of problem gambling in Toronto, with the negative health implications that go along with it. Dr Richardson's Hamilton report drew similar conclusions about the public health implications of a downtown casino, though it stopped short of recommending against a downtown casino.
At the public health board meeting on December 3 in which Dr Richardson's report was introduced, Whitehead immediately moved to receive the report and refer it to the gaming subcommittee - and not to discuss it, even though Dr. Richardson was on hand to answer questions.
'Move to the Mountain'
Jelly says Whitehead told him he "should move to the mountain" if he does not "want to live near a casino." This recalls comments made in the summer by Toronto deputy mayor Doug Holyday, who said that families with young children should not live downtown.
It betrays a startling lack of understanding about what makes an urban environment healthy and successful: the dense mix of uses that characterizes downtown must include people living there. To let downtown become a place where people would not want to live is to condemn it to a downward spiral of decline and despair.
Property developer Harry Stinson made this point in a written response to Whitehead, which he sent on Sunday afternoon. Stinson wrote:
[T]he downtown neighbourhoods are amongst the most important elements of the City of Hamilton, and enhancing their health is critical to the city's future.

Having been directly involved in the renaissance of various city-core neighbourhoods, I cannot stress strongly enough the massive positive impact on the image AND the finances of the City that will be generated through recognizing and encouraging centre-city residential communities.
The real irony here is that suburban development does not pay for itself. The lifecycle costs of building far-flung civic infrastructure are higher than the city collects in development charges and tax revenue, and low-density, separated land use does not support high levels of innovation and economic development.
Hamilton simply cannot afford to be a collection of suburbs without a successful, highly-performing centre. Yesterday's suburbs were funded through urban economic vitality and simultaneously served to sap that vitality. As long as we continue to regard downtown Hamilton as a dumping ground rather than a community, we will continue to miss the opportunity to reverse the long trend of sprawl and decline.
---
Update: updated to add a paragraph of context to Whitehead's statement, "We all make sacrifices for the greater good, are you prepared to do the same?" This was after noting that he supported a homeless shelter in his ward. You can jump to the added paragraph.
Post a Comment
You must be logged in to comment.