Lincoln Alexander State Funeral
At 2:30 PM today, Hamilton will play host to a state funeral for Lincoln Alexander.
By Joey Coleman
Published October 26, 2012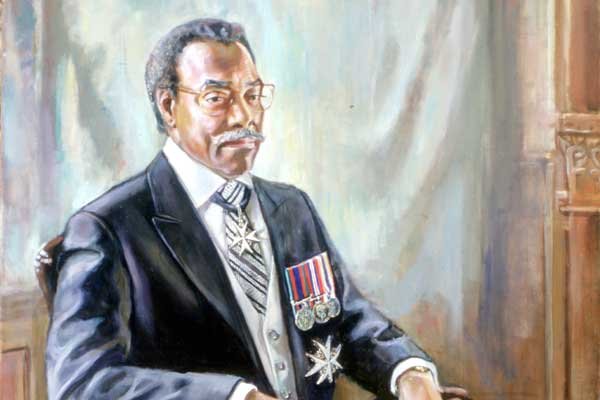 Official Portrait of Hon. Lincoln M. Alexander, PC, CC, KStJ, O Ont, QC, BA, LL B, LL D DSLitt (photo: Archives of Ontario)
The only state funeral in living memory, and possibly the first ever, in Hamilton occurs today as we honour our Greatest Hamiltonian - Colonel The Honourable Lincoln M. Alexander, PC, CC, K St. J, O. Ont, CD, QC, BA, LL. B, LL. D (Hon), D.S. Litt. (Hon.).
Alexander died last Friday at age 90. His body lay in repose at City Hall from Tuesday to Thursday.
The first black partner in a Canadian law firm, Alexander would go on to become the first black Member of Parliament in 1968 (watch the CHCH vintage footage), the first black Minister when he briefly served as Minister of Labour in the Joe Clark government, and the first black person to serve as a viceregal in Canada when appointed Lieutenant Governor of Ontario in 1985.
On retirement as Lieutenant Governor, Alexander involved himself in many activities, especially in Hamilton, that made him even more beloved. (Read The Spectator's 2002 profile of Linc by Bill Dunphy.)
Livestreams
CBC, CTV, and Global are all offering webstreams.
CTV's stream link is live here: http://toronto.ctvnews.ca/video?playlistId=1.1011631
State Funeral Timeline
12:15 PM - Main Street will close to all traffic at Bay Street and remain closed until John Street. King Street is to close at John Street to Bay Street as well.
12:30 PM - Lincoln Alexander's coffin will be carried from City Hall to an awaiting hearse. The hearse and funeral procession will travel along Main Street to John Street, John Street to King Street, King Street to Summer's Lane. The procession will not stop at the Cenotaph as previously suggested by organizers.
1:00 PM (approx) - The procession is scheduled to arrive at Hamilton Place. Details of ceremonial aspects has not been released.
1:15 PM (approx) - City of Hamilton staff will distribute tickets to members of the public lined up in Commonwealth Square on a first-come first-served basis.
1:15 PM - Doors at Hamilton Place open to the public.
2:00 PM - Doors at Hamilton Place close to the public
2:30 PM - Service begins
Service details
Minister
Unitarian minister Allison Barrett will officiate the service.
Readers
Teena Smith, Alexander's first cousin
Dr. Peter George, president emeritus McMaster University
Speakers
Keith Alexander, Alexander's son, rika Alexander, and Marissa Alexander, Alexander's granddaughters
Colin Millar, retired chief of police, Hamilton-Wentworth Police Service (now Hamilton Police Service). Alexander was honourary chief of the Hamilton Police Service.
Alastair Summerlee, president and vice-chancellor of the University of Guelph. Alexander was chancellor of University of Guelph from 1991 until 2007, the longest service in the university's history.
David Peterson, 20th premier of Ontario (1985 to 1990). Alexander was Lieutenant Governor of Ontario during the Peterson premiership.
Michael "Pinball" Clemons, vice-chair of the Toronto Argonauts.
Music
Hamilton All Star Jazz Band
Hamilton Police Pipe Band
Burlington Welsh Male Chorus
Choirs from McMaster University
Members of the Burlington Teen Tour Band
This article was first published on HamOnt.ca under a Creative Commons Attribution-ShareAlike 2.5 Canada (CC BY-SA 2.5).
Post a Comment
You must be logged in to comment.