Demolishing the Future
If we keep making decisions that turn young people away, we will ultimately empty the city of everyone who promises to be a productive contributor to our culture and our economy.
By Sean Burak
Published October 25, 2012
The recent announcement of a development proposal by David Blanchard (through Wilson-Blanchard) has motivated me to consider what constitutes "good development" in our urban environment.
For background on the proposal, please see the first and second articles on the matter by CBC Hamilton's Paul Wilson, and the first and second stories by the Hamilton Spectator.
The summary is that Mr. Blanchard envisions a condo development on the block bounded by King, James, Main and Hughson Streets. The development would include a two-level grocery store on King, facing Gore Park. Above the grocery store would be a multi-level parking garage.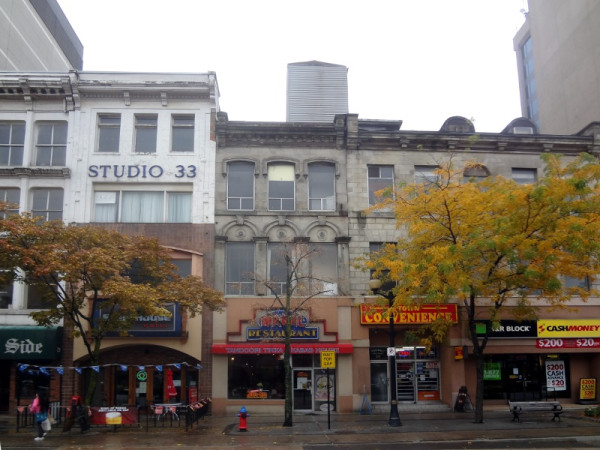 King Streetwall on the south side of Gore Park (RTH file photo)
After the first announcement, social media networks lit up with discussions about the pros and cons of such a development, with some people hoping for preservation of the facades of the row of historic buildings currently facing King (where the grocery store would eventually stand).
These thoughts were quickly stifled by the followup story at CBC Hamilton:
The developers who own a stretch of historic buildings that face the south side of Gore Park can't predict the future yet. They're not sure what they want to build, or what it's going to look like.

But they are certain of one thing – they want a fresh canvas on their piece of King Street East and truly hope the wreckers can get to work on the first day of next June.
The article goes on to quote another partner in the development, David Miles. When asked about saving the facades, his response was, "You want the real answer, or you want us to fluff it?"
Perhaps it's time we answered a question like that with some questions of our own:
Why must the current buildings come down so quickly?
Where are the renderings?
Who is financing this development?
When will construction start?
What commercial tenants have shown interest?
Until we get answers to these, the current buildings should not be touched.
Looking Forward
I have another question of my own, which overshadows all of these and can be applied to all development proposals and major decisions in Hamilton:
Will this decision make Hamilton more attractive to the younger generation?
By this I mean the people finishing high school, college or university. The people just starting down the road of life. The ones opening new businesses or looking for their first "real" job. The ones taking over their family's business.
In other words, the people who are about to make some major decisions about where they will spend most of their lives.
If we keep making decisions that turn these people away, we will ultimately empty the city of everyone who promises to be a productive contributor to our culture and our economy.
The thing is, this generation is looking for something quite different than their parents and grandparents. They are looking for livable cities. Interesting places to live. Historic architecture. Efficient lifestyles. Balance between work and play. Walkability. Cycling infrastructure.
They are looking for safe, lively urban environments that can service them from youth through raising a family through to retirement.
If the city approves a demolition permit here, it's just another chip at the demographic that represents all future hope for this city.
Cheap real estate is only going to attract a limited number of young professionals. If we don't make this city livable - and this includes treating our built heritage with respect - we will never climb out of the hole we are in.
Broken Promises
A problem with proposals like Mr. Blanchard's is that they are built on promises of construction that are often broken. We have seen others try, but somehow, the projects stall at the stage immediately following the razing of the current structures, leaving us with another parking lot.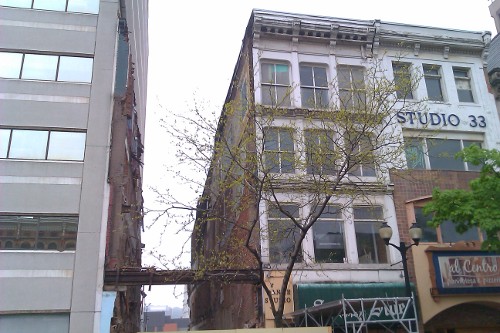 The easternmost building of the 19th century streetwall was demolished last year (RTH file photo)
Each time this happens, it makes it a little bit harder for the next development to succeed.
If we let Wilson-Blanchard go down the demolition road, we are taking an enormous risk. Without a promise that they will deliver, we'll be left with another gap in the streetwall - another reason for people to abandon Hamilton.
This will make the successful redevelopment of the Connaught building harder to achieve. It will push the Hamilton Grand proposal back a little longer. It will make other nearby developments less attractive. It will lessen the motivation of the owners of our vacant lots to build something.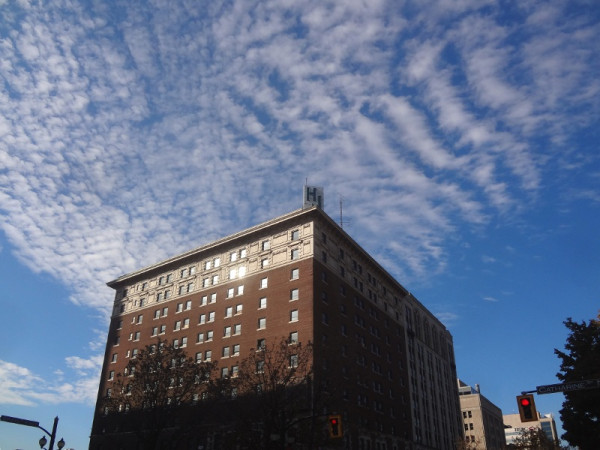 The Connaught building sits vacant, waiting for redevelopment (RTH file photo)
I would argue, in fact, that even if this proposal were to go forward 100 percent, a glass facade on the South leg of the Gore would be detrimental to the livability of the street. One of our city's greatest assets is its built heritage, and there is no other place where it is more important to maintain this asset than Gore Park.
A two-level grocery store would be fantastic, but we should insist that it replace a streetwall gap or an oppressive blank wall, rather than a row of three-storey pre-Confederation buildings.
Refreshing Strategy
In 2007, the Spectator quoted David Blanchard commenting on the vacant top floors of the Stelco building. He spoke of his development on Hunter across from the GO station, touting a refreshing strategy:
Take these good buildings, fix them up, keep the city ticking.
If he wants Hamilton to have a bright future, he'll apply the same thinking to his holdings on Gore Park.
Post a Comment
You must be logged in to comment.