Lion's Lair Showcases Hamilton Entrepreneurs
Events like Lion's Lair not only help to showcase young businesses, but also bring more attention to the potential for Hamiltonians to become entrepreneurs and start transformative new businesses.
By Ryan McGreal
Published October 05, 2012
Hamilton's resurgent enrepreneurial spirit was on full display at last night's Lion's Lair gala, a celebration of innovators and a competition for $100,000 in funding and services for the top three entries.


Lion's Lair logo
A panel of five "Lions" evaluated the ten finalists not only on the viability of their businesses but also on the potential economic impact for Hamilton if the business succeeds.
The Lions brought a wealth of their own experience in entrepreneurship and business development.
Sophia Aggelonitis launched and grew her own business selling Sauces by Sophia tzatziki before being elected as a Liberal MPP and serving as Minister of Revenue, Seniors and Consumer Services.
Mike Morreale played in the CFL for 12 years and became director of marketing and now president of the CFL Players Association.
P.J. Mercanti is the president of The Carmen's Group, which includes Carmen's Banquet Centre, the Best Western Premier C Hotel, Baci Ristorante and The Lakeview at Confederation Park.
Rami Reda is the owner and director of CanGlobal Traders, which owns and operates several local businesses, including Big Bee Convenience, Subway and Deliverizer.
Nick Bontis is a professor at McMaster's DeGroote School of Business and a globally renowned intellectual capital and business management speaker.
Lion's Lair was created by the Hamilton Chamber of Commerce and Innovation Factory, a not-for-profit Regional Innovation Centre with the mandate to foster innovative entrepreneurship in Hamilton.
Winners
Any of the ten finalists have the makings of a successful business, but the Lions selected the following three companies for the top prizes.
1. Tiny Feeder
The top prize of $50,000 in cash and services went to Dunlea Farms a family-owned business, to support Tidy Feeder, a dense boxed hay feeder for small pets that fits inside the animal's cage and reduces the mess from conventional bags of pet hay.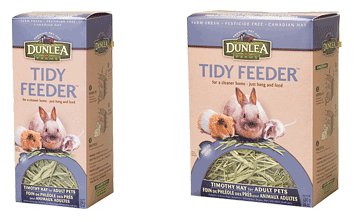 Dunlea Tidy Feeder
Proving that innovation isn't restricted to high tech, Dunlea has a real chance at capturing a significant share of the continental pet food market and growing a strong business with a tight connection to Hamilton's agricultural economy. This is a great product (I was thinking of the constant drifts of loose hay around my son's hamster cage) with slick packaging that can really benefit from a capital investment in scaling up their manufacturing and distribution systems.
This also helps to sustain the hay business at a time when horse racing is in serious decline.
2. REfficient
The second prize of $35,000 in cash and services went to REfficient, a B2B company that allows businesses to find buyers for surplus equipment with the tagline, "Go shopping in other companies' surplus inventory".


Reficcient
The business combines a commitment to environmental sustainability with an audacious ambition to become "the world's sustainable marketplace". Their goal is to divert a billion pounds of unused product out of landfill by 2017.
3. Nervu
The third prize of $15,000 in cash and services went to nascent start-up Nervu, an advertising business in which people sign up to receive text notifications when their favourite brand vendors have a sale or promotion.
The founders, ambitious McMaster students Mohamed El Mahallawy, Bilal Husain and Shawn McTigue, are from various cities around the GTA but met at school and are committed to grow their business in Hamilton.
Finalists
The other seven finalists did not win prizes, but they are all viable businesses with potentially big reach.
Dinnerlicious
A cross between catering and grocery delivery, dinnerlicious! provides pre-portioned groceries and simple recipes so that busy families can enjoy fresh, healthy and tasty meals prepared at home.
The business partners with Hamilton farmers to bring fresh local produce to Hamiltonians in an easy-to-prepare format.
Enthuzr
Enthuzr is a service that provides businesses with turnkey social marketing so that customers can easily support and recommend the business among their personal netowrks.
New Attitude
New Attitude creates custom prostheses for women with breast cancer who have undergone mastectomy. The breast prostheses are custom fitted to the woman's chest and are made of lightweight, comfortable material that matches the woman's shape and skin tone.
Ontario Bamboo
Exactly what it sounds like, Ontario Bamboo grows and markets bamboo plants that thrive in the southern Ontario climate. Bamboo grows quickly and has tremendous diverse uses, from beer and sports drinks to soil remediation and carbon sequestration.
Snappay
Snappay provides small retail businesses with an affordable way to accept credit card payments via customer smartphones. Customers sign up for free on Android or iOS devices (a Blackberry app is coming soon) and can pay with Visa, Mastercard American Express, Discover or PayPal.
Synxer
With off-the-shelf hardware and their own web service, Synxer provides you with a management system for your smart home. Using your smartphone or tablet, you can unlock and lock doors, turn lights on and off, brew a pot of coffee, start cooking a roast - the opportunities are wide open.
Libretta
Weongozi combines cognitive psychology with artificial intelligence to create Libretta, a software service that analyzes writing to determine the writer's motivation and help you craft an effective response.
Innovation in Hamilton
It was exciting to attend the event last night and feel the energy of Hamilton's emerging entrepreneurial culture.
Cities are centres of innovation almost by definition and foster economic development through the essential urban economies of scale, agglomeration, density, association and extension. However, for too long Hamilton has behaved not as a dynamic city but as a bedroom community anchored by a few legacy industries.
We're one of the ten biggest cities in Canada, and it's time we started acting the part.
Instead of trying to woo established companies to consolidate their existing operations here, we need to focus on creating the most fertile conditions to foster the young, high-growth companies that generate value and create net employment gains.
Events like Lion's Lair not only help to showcase young businesses filling this role, but also help to bring more attention to the potential for Hamiltonians to become entrepreneurs and start transformative new businesses.
Post a Comment
You must be logged in to comment.