LRT Funding Forecast Still Hazy
With so little still known about the funding details of Hamilton's LRT project, the danger is that any Council discussion at this point would be driven by confusion and fear of the unknown.
By Nicholas Kevlahan
Published August 24, 2012
Hamilton Mayor Bob Bratina's recent statement to CBC that Bob Chiarelli, Ontario's Minister of Infrastructure and Transportation, had confirmed "that there will be participation expected from the host community" for projects funded by Metrolinx is not news, and I'm not sure why the Mayor felt "relieved" to be able to report this.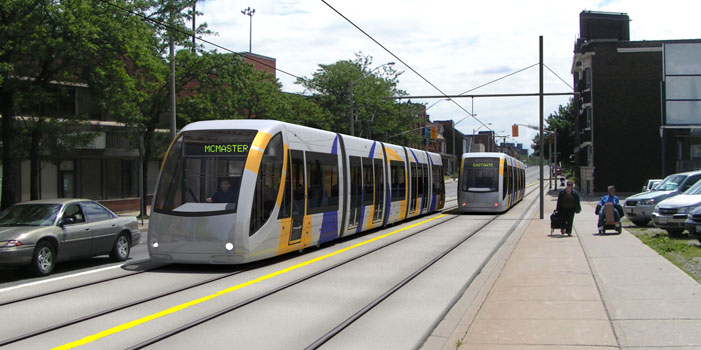 Rendering of B-Line LRT
Ever since the Liberals announced in the Fall of 2007 that they intended to fund two rapid transit lines in Hamilton, we have known that Hamilton would have to contribute at least some share of the costs.
This has been confirmed repeatedly, in November 2008 when then Metrolinx Chair Rob MacIsaac said that Metrolinx is prepared "to pay the lion's share" of the capital costs, and later when Metrolinx confirmed that they would pay 100 percent of a bare-bones LRT, but that Hamilton would need to pay for associated infrastructure upgrades and extras.
I was a member of the Rapid Transit Citizen's Advisory Committee in 2010-2011, which gave members of the public an opportunity to participate directly in the LRT planning process.
We spent several meetings learning how staff were estimating the costs that Hamilton would likely need to contribute to the LRT project.
100% Direct Capital Costs
On the basis of consultations with Metrolinx, and following the experience of other Metrolinx-funded projects, staff assumed that Metrolinx would pay 100 percent of the direct costs of the LRT (e.g. building the line, maintenance yard and buying the rolling stock).
However, Hamilton would have to pay for things like replacing water mains, power lines, rebuilding sidewalks, changing traffic layouts, replacing street furniture and possibly some of the operating costs (although Metrolinx later announced they would own and operate the system).
Of course, it is a matter of negotiation what actually constitutes direct and indirect costs, and so staff were carefully evaluating all necessary work to determine what could be justified as direct costs.
As an example, if a water main had just been replaced and needed to be changed again as a result of building the LRT, this work would be a direct cost paid by Metrolinx. But moving a 20-year old line would be an indirect cost paid by the City.
On October 13, 2011 The Spectator reported on the staff funding report that was presented to Council. This report gave some rough estimates on what the City might be expected to pay for LRT construction and operation (anything from $42 to $230 per household), but did consider new revenue sources.
Long-Term Funding
A related question, which has still not been answered, is how Metrolinx is going to fund its $50 billion MoveOntario 2020 plan.
The Province has so far only funded about 20 percent of the total cost, from general taxes, and plans that the balance will be found from new targeted revenue sources.
Unlike other jurisdictions, Ontario currently relies almost exclusively on municipal property taxes and general provincial income and sales taxes to fund transit. This makes it difficult to fund big transit infrastructure projects sustainably.
Based on what has been done elsewhere, it is pretty clear what sort of new targeted revenue sources the Province could draw on to fund transit: fuel taxes, employment taxes, parking levies, building charges, road tolls, congestion charges and sales taxes.
At the municipal level, the Province is piloting tax increment financing to allow municipalities to finance transit infrastructure by borrowing against future property tax gains, as is done in the USA.
Metrolinx will finally present a report on alternative revenue streams in June 2013 (even though two-thirds of the projects were supposed to be completed by 2015). However, it is obvious that every one of these alternative revenue sources will be politically sensitive, which is why it has taken so long for Metrolinx to come up with a sustainable financing plan.
Costs Still Unknown
So, the fact that Hamilton will need to pay something towards its LRT project is not news. It is also not news that the Province will need to look at new revenue streams to fund its portion of the new transit projects proposed in MoveOntario 2020.
What is surprising is Bratina's reaction that we "will now hear a much more focused discussion" on the LRT project.
How can Council have a more focused discussion when nothing at all about the project and its financing is clear?
We still don't know if Metrolinx is going to recommend Hamilton's B-line LRT project for funding. This decision now won't be made until sometime after the revenue report is released in 2013.

We still don't know what percentage of the total cost Hamilton will be expected to pay.

We still don't know how much the total project will cost.

We still don't know what new revenue generating powers Hamilton will be given to raise its portion of the funding.
Will Hamilton be allowed to use tax increment financing? Could we implement a local parking levy? Could we implement a local employment or sales tax?
With so little known about Hamilton's LRT project, the danger is that any Council discussion at this point would be driven by confusion and fear of the unknown.
Council Next Steps
Agreeing to contribute nothing towards building and operating our LRT system was a prudent opening position for Council, given how little we know about the project and its financing.
However, the February 2010 Metrolinx Benefits Case Analysis concluded that an investment in LRT would generate a significant net benefit.
Hamilton will gain nearly all the benefit, even though under any reasonable scenario the Province will pay the majority of the total cost. Surely Council will consider benefits as well as costs when making such an important decision?
The time to have a focused discussion is when the Province and Metrolinx have given us something concrete to discuss. Until then, as the Mayor has suggested in the past, we should continue to let the process follow its course.
Post a Comment
You must be logged in to comment.