HWDSB: Downtown HQ Task Force disbanded
Citizens will walk away feeling that many of our representatives didn't truly listen to our input, and went along with decisions they had already predetermined from day one.
By Matt Jelly
Published May 29, 2012
At last night's Hamilton Wentworth District School Board (HWDSB) meeting, Trustees finalized decisions that will see the closure of secondary schools across the entire city.
Sir John A. MacDonald, Delta, Parkview, Barton, Hill Park, Mountain, Parkside and Highland schools will be closed at the end of 2015 and replaced with three new centralized high schools: one in the lower city, one on the mountain and one in Dundas.
A map of school closures can be found here, courtesy of Matt Grande:
Last night's meeting was well-attended, primarily by students of Barton and Hill Park schools, who disagree with the Board's direction on these school closures. The meeting went on well past midnight.
At approximately 12:40 am, Trustees also voted to disband the Task Force of Trustees, Councillors and staff that was charged with finding a suitable location for a new Board of Education Headquarters in the downtown core.
Last-Ditch Effort
The board had previously agreed to sell their current headquarters at 100 Main Street West to McMaster University, which plans to demolish the 46-year-old headquarters to make way for an $85 million Downtown Health Campus.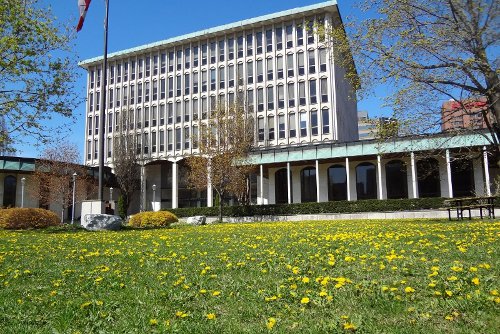 Gone to seed: 100 Main Street West will be sold and demolished (RTH file photo)
The task force was created in February, at the urging of Ward 1 Councillor Brian McHattie and Ward 2 Councillor Jason Farr.
The Board's original plan was to demolish Crestwood school on Hamilton Mountain and build a new headquarters on that site. The concern of several councillors and members of the public (myself included) was that the HWDSB headquarters should remain downtown, where the economic spinoff of HWDSB's 400 staffers would be of most benefit.
The board's favoured site at Crestwood is across the road from Lime Ridge mall, which mostly consists of chain stores and restaurants.
Another concern is the discontinuation of programming at Crestwood School, which serves children with behavioural challenges who for one reason or another don't fit in at other schools. Parents of children attending Crestwood are concerned about how well these students will integrate if these programs are relocated.
Disbanded After In Camera Meeting
The task force has been meeting over the past several months - originally it was intended to work towards a solution within a month of being created, but the board had decided to extend the time-frame to June 18, when it was expected to come back with its findings.
Instead, at last night's meeting, the majority of trustees (Barlow, Brennan, Johnstone, Hicks, Bishop Mulholland) voted to disband the task force, after they met in camera earlier in the evening, and a suitable deal between the City and the Board could not be reached.
This would seem to mean that the Board will proceed with its original plan to build the headquarters at the Crestwood location, pending a site plan approval. If this is the case, the seven acres of greenspace on the Crestwood location will be paved over for 480 parking spots.
It will mean increased car and truck traffic coming and going from the Bruleville neighbourhood. It will mean several hundred jobs being moved from the core to the Lime Ridge area. It will mean the students who rely on programs available at Crestwood School will be relocated elsewhere. It will mean that another building will be needlessly demolished rather than repaired, to make way for the board's new $31 million headquarters.
Wider Implications
It's a shame that the board has decided to walk away from this process. The decisions that the board has been making this year have implications that not only affect education, but also in how we plan our neighbourhoods.
Citizens are represented by both councillors and trustees, and on decisions of this magnitude, the Board should be willing to work in good faith with other representatives of the public in decision-making.
All in all, many of our trustees ought to feel a sense of shame, not only for the decisions that they've made surrounding the closure of schools and the relocation of the board's headquarters, but also in the absurdly poor approach to engagement and governance that have been on display over the past few months.
Schools will close, communities will be disconnected, buildings will be demolished or sold to the private sector, and many citizens, myself included, will walk away feeling that many of our representatives didn't truly listen to our input, and went along with decisions they had already predetermined from day one.
All I can hope at this point is that citizens are much more mindful of who they're voting for when it comes time to elect a new board of trustees.
I can say for certain that the general public did not vote for this in 2010. Perhaps it's time for every citizen to pay closer attention to who we elect, at all of our elected institutions.
First published on Matt Jelly's website.
Post a Comment
You must be logged in to comment.