$1.2M Incentive for 275 King West Development
The City's planning and economic development committee has approved $1.2 million in financial incentives for a development on 275 King Street West.
By Joey Coleman
Published May 02, 2012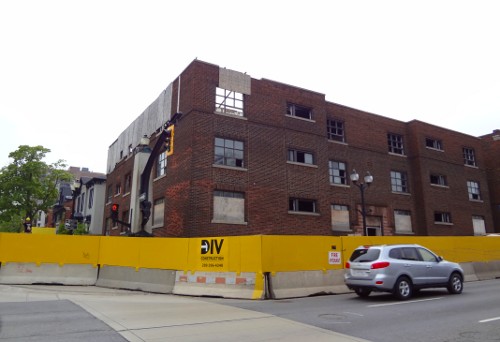 The southmost lane of King Street is blocked west of Hess in front of 275 King Street West (RTH file photo)
The Hamilton Spectator reported yesterday on a lane closure of King Street west of Hess Street, blocked by a planned construction at 275 King Street West.
I've been following the development closely the past month as two City committees discussed various applications from the development company Hess Village Real Estate, which owns the property. The company is owned by Denis Vranich, who is the son of Vrancor owner Darko Vranich.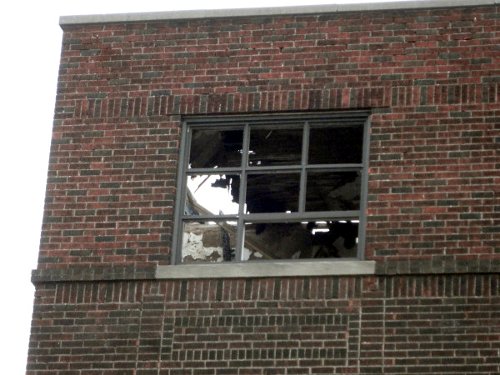 275 King Street West was seriously damaged in a fire early last decade (RTH file photo)
Financial Incentives Total $1,266,152.84
The planning and economic development committee considered two applications, one for a loan commitment [PDF link] and another for a property grant [PDF link].
A loan commitment of $932,500 from the Hamilton Downtown Multi-Residential Property Investment Program and a $333,652.84 grant under the Hamilton Downtown Property Improvement Grant Program were approved.
In total, planning and economic development approved $1,266,152.84 in monetary incentives for the development.
Variances to Allow New Units Without Parking
Hess Village Real Estate has requested variances from the city's minimum building requirements to add five new units to the building, including three small additions units on the third story in the back of the building. There will be no additional parking.
Hamilton's committee of adjustment will consider granting variances for the property. The committee meets on May 3 and rarely turns down a request.

Architect's plan for 275 King Street West showing three new units to be built in the back of the building
Next Steps
Currently, there is only one valid building permit active for the property. 10-201640 issued in April 2010 allows for renovations valued at about $200,000.
The developer will need to request a new building permit. With the existing approvals for incentives and variances based upon plans submitted, the permit should be quickly issued once the city receives the application.
While no timelines have yet been released, construction should begin in the near future and proceed quickly.
I'll update when a building permit is issued. For now, here are the building plans as presented to committee.
This article was first published on Joey Coleman's personal website.
Post a Comment
You must be logged in to comment.