Intelligence Insults Should Insult Our Intelligence
Pejorative terms based on race, ethnicity, sexual orientation or appearance are not allowed in polite company. Words that insult one's intelligence ought to be treated with the same shock and disdain.
By Michelle Martin
Published April 17, 2012
Moron. Idiot. Imbecile. Feebleminded.
No, I'm not quoting a Python skit. I'm listing some clinical classifications, no longer in use, except as socially acceptable descriptors of individuals with whom we may disagree, or whose expertise we doubt.
As in, "That's retarded."
Socially acceptable? That depends. If you're a comedy host for the CBC, apparently it is: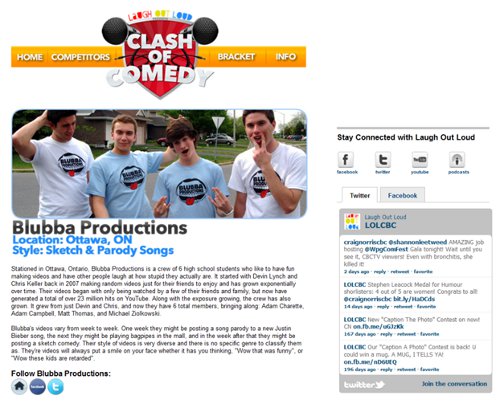 CBC: Blubba Productions (Image Source: http://www.cbc.ca/laughoutloud/clash/competitors/blubba-productions.html, retrieved April 16, 2012)
Detail:
Blubba's videos vary from week to week. One week they might be posting a song parody to a new Justin Bieber song, the next they might be playing bagpipes in the mall, and in the week after that they might be posting a sketch comedy. Their style of videos is very diverse and there is no specific genre to classify them as. They're [sic] videos will always put a smile on your face whether it has you thinking, "Wow that was funny", or "Wow these kids are retarded". [emphasis added]
I came across this epithet (I want to call it hate speech, but I feel like many readers would think this is an over-reaction, more's the pity) when I was searching the CBC website for a video clip of an interview that George Stroumboulopoulos conducted.
Last summer, he spoke to a young actor with Down Syndrome [PDF], and they had a frank discussion about the word, which included a look at a public service announcement in circulation at the time (NSFW).
Here's another one for you: the Urban Dictionary definition of "retarded". Read it and weep, I mean really weep (I sure did), especially when you check out the thesaurus list.
We like classifying people, don't we? Sometimes, we like classifying them to the point of deciding others who share their traits shouldn't even exist.
The person who coined the word "moron" as a clinical term was the first English translator of the intelligence test designed by Alfred Binet (the precursor to the Stanford-Binet IQ test that is in use today).
His name was Henry Herbert Goddard, and his view that the so-called "feebleminded" should not be allowed to reproduce made him a favourite of the early twentieth century eugenics movement, a movement that came to full fruition in Nazi Germany.
Of course it didn't take long for the word to be popularly used as an insult.
Well, we don't live in Nazi Germany, and we haven't forcibly sterilized so-called mental defectives since the 1970s. The term "mentally retarded" is no longer used as a clinical classification. We speak, instead, of functional assessments and the kinds of support a person may need in order to thrive and to be safe.
But it is still socially acceptable to sneer at a person behind his or her back, whether it be a politician whose policies we dislike or a colleague who gets on our nerves. To accomplish this, we use terms that were once used to describe some of the most vulnerable members of our society.
Lest you think I am being hypersensitive, I'll share that I have worked hard over the years on purging my vocabulary of any words like "dumb" or "stupid" even in reference to inanimate objects or ideas when I am at work, simply because I have seen people I've supported visibly cringe at those words that they heard as children, in the schoolyard, directed at them.
And lest you think we live in more enlightened times, I'll share that the high school students in our house tell me that the word "retard" is alive and well in our schools - not employed ironically, but actually directed at some of the most vulnerable students in the school.
Why should we feel superior to anyone because of our own native intelligence, which is, after all, a product of our genetic profile and the circumstances of our upbringing? It isn't any virtue or achievement on our part, though we may like to think it is.
There are plenty of aspects of ourselves that we think of as virtuous that simply are not. They are, rather, accidents of birth.
Insults based on race, ethnicity, sexual orientation or appearances are not allowed in polite company. Words that insult the intelligence of another (present or not) ought to be treated with the same shock and disdain, especially a word that was so recently in use clinically.
Post a Comment
You must be logged in to comment.