2012 Transportation Summit: More Experts for our Traffic Planners to Ignore
Expert after expert continually tells Hamilton to make its downtown streets safe and walkable, but we prioritize automobile through traffic over all other concerns.
By Ryan McGreal
Published March 28, 2012
In 2008, the City of Hamilton's Public Works Department held its first annual Transportation Summit, a one-day conference to present best practices and innovative strategies on developing the city's transportation system.
This year's summit takes place on Thursday, April 5, 2012. The theme is "Exploring Complete Streets", or streets that are designed to accommodate pedestrians, cyclists, transit users and drivers alike in a safe and accessible manner.
It features talks by former Madison Wisconsin mayor Dave Cieslewicz, pedestrian planner Peter Lagerwey and transportation engineer Norma Moores, and either a workshop on designing complete streets or an "infrastructure walkabout".
I don't know if I can bear to attend.
Encouraging Talk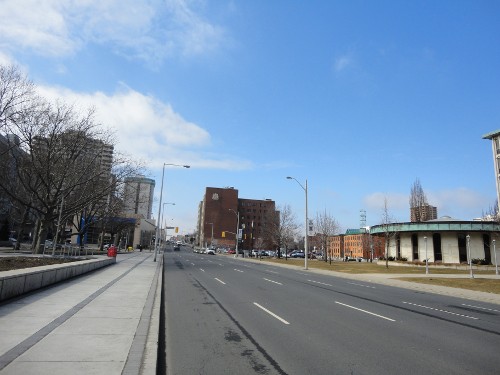 Main Street: five-lane, one-way expressway cuts through downtown
I went to the first transportation summit in 2008, and came away inspired by the exciting talks by traffic engineers and planners bluntly and unequivocally telling the attendees: convert your streets back to two-way, widen the sidewalks, plant street trees, add bike lanes, build light rail transit.
I remember being particularly impressed by the traffic engineer who explained that the city's efforts to improve air quality by making traffic flow more efficiently - timed lights, turn lanes and so on - are actually counter-productive. When it's easier to drive, more people drive longer distances more frequently and the overall air pollution goes up.
If it wasn't so easy to drive long distances quickly, people would make different decisions about where to live and where to shop. Entrepreneurs would make different decisions about where to invest and businesses would make different decisions about where and how to locate. In a positive feedback loop, the cumulative effect of those decisions would serve to make walking, cycling and transit more effective and viable.
Unfortunately, none of it seemed to make much of a difference. Despite the traffic engineers and planners telling councillors and Public Works managers and staff that the city needs to convert its downtown streets back to two-way, that option has always been off the table.
Maximize Traffic Flow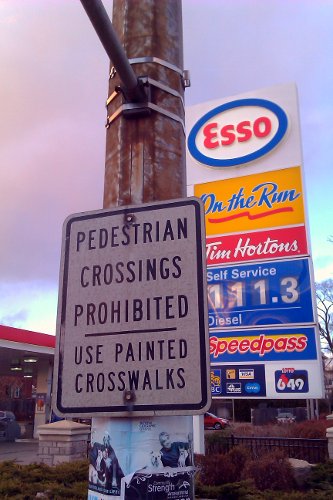 Pedestrian Crossings Prohibited sign at King and Dundurn
RTH contributor Nicholas Kevlahan attended the 2009 Summit and wrote about his frustration over the mismatch between the event's message of sustainability and balance and the institutional reality of a city that is steadfastly committed to maximizing traffic flow.
[I]n both the Cycle Plan and LRT presentations, staff highlighted the fact that decisions were constrained by the need to maximize traffic flow.

This was completely at odds with other presentations that showed how high traffic volumes have all sorts of deleterious effects (pollution, high social costs due to accidents, expressways like King/Main killing commerce), but staff just can't seem to accept that maximizing traffic flow should not be a primary goal (perhaps, not even a goal at all).

They left the impression that improved service for pedestrians, cyclists and transit should be allowed only if they don't significantly impact traffic. This is both self-contradictory (it is, at least partly, a zero sum game), and unfair (why aren't the interests of all road users given equal consideration?).
We're hearing the same message in our economic summits as we hear in our transportation summits. At last year's Hamilton Economic Summit, keynote speaker Christopher Leinberger talked about the role of walkable streets in foster economically successful cities.
The year before, Storm Cunningham made a similar argument in favour of dense, lively downtown neighbourhoods, particularly through adaptive reuse of old properties. Cunningham, in turn, was exploring the same arguments made at the 2008 Economic Summit by keynote speaker Richard Florida.
In fact, every time a group of urban planners comes to Hamilton, they tell us the same thing: one-way streets and through truck traffic create "patches of despair" that are "killing the city".
Consistent Message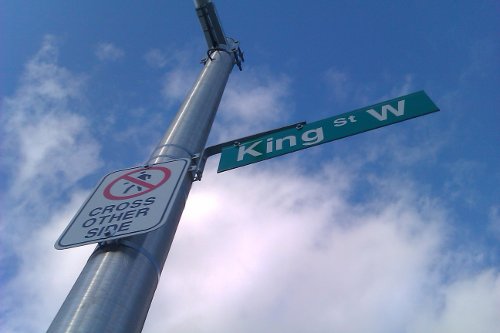 No pedestrian crossing sign at King and Pearl
We've been listening to experts tell us to convert our streets back to two-way since before 2008. In 2006, Public Works organized a pedestrian workshop featuring a keynote and workshop with a pedestrian planning expert who recommended all the usual things: convert traffic to two-way, install a network of bike lanes, plant a canopy of street trees.
Then the Public Works managers got up and said there was no way Main Street was going to be converted back to two-way: it carries too many cars. Well, yes, that's kind of the problem.
A year before that, Donald Schmitt, the architect whose firm designed McMaster Innovation Park, gave a talk on how Hamilton can spur revitalization by designing livable streets. In an interview with RTH, he explained:
Two way streets slow cars down. The environment on the sidewalk, particularly if they are widened with parallel parking and street trees becomes more protected from traffic and more conducive to window shopping, outdoor food and sidewalk life.

Pedestrians cross the street more safely and both sides of the street start to work together as a true retail strip.
Looking at Hamilton, he noted:
In an era when Canadian downtowns in Montreal, Vancouver and Toronto are bursting with vitality, Hamilton has too many abandoned buildings, too many narrow sidewalks, too few trees on the street.

Take a couple of traffic lanes, widen the sidewalks, give more comfort to the pedestrian. If people linger, low rents will attract small businesses, small galleries, shops and cafes.

The energy of those small business people will begin to restore vitality to the street.
As far back as September 1996, a Downtown Ideas Charette organized by a group of Hamilton architects, planners, developers, and engineers produced a list of recommendations that looks depressingly familiar:
Replace zoning regulations with "no zone" codes that encourage appropriate land use and building form with an emphasis on street-oriented developments.
Encourage a variety of housing options, including more infill development and live/work units.
Redevelop Main, King and York/Wilson as pedestrian-friendly boulevards with wider sidewalks, curbside parking, benches, street trees and outdoor patios.
Traffic flows should be converted to two-way. "The efficient movement of traffic should not take precedent over other objectives."
Reduce the number of parking lots.
Install a network of bicycle lanes throughout the downtown core and linked to the rest of the city.
That was over 15 years ago, and the efficient movement of traffic is still taking precedence over other objectives.
'Business has taken quite a drop'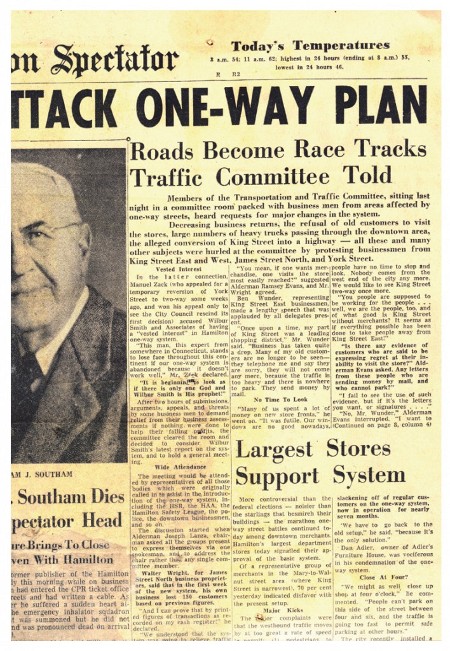 1957 Spectator article: 'Roads Become Race Tracks, Traffic Committee Told'
It gets worse. Local opposition to the one-way conversion of Hamilton's downtown streets started when the streets were converted in the first place. Here's a Spectator report on a traffic committee meeting just seven months after the streets were converted overnight in October 1956:
Ben Wunder, representing King Street East businessmen, made a lengthy speech that was applauded by all delegates present.

"Once upon a time, my part of King Street was a leading shopping district," Mr. Wunder said. "Business has taken quite a drop. Many of my old customers are no longer to be seen - they telephone me and say they are sorry, they will not come any more, because the traffic is too heavy and there is nowhere to park. They send money by mail.

"Many of us spent a lot of money on new store fronts," he went on. "It was futile. Our windows are no good nowadays, people have no time to stop and look. Nobody comes from the west end of the city any more. We would like to see King Street two-way once more."
We ignored this central, inescapable fact back in 1956, and we're still ignoring it today.
Through Traffic Trumps All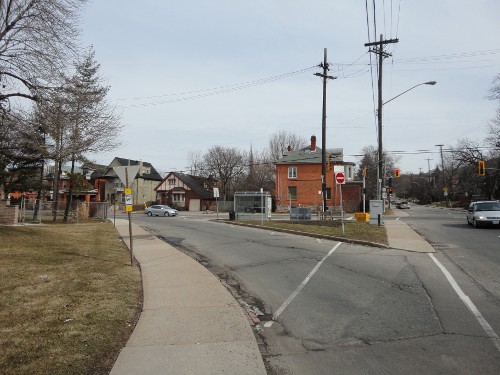 Highway-style on-ramp at Queen and Aberdeen
Despite decades of recommendations and mountains of evidence, the city continues to sacrifice downtown revitalization to the all-important goal of optimizing through traffic flow.
We saw it when Council rejected the Downtown BIA's plea to stop transport trucks from blasting through downtown on Main Street.
We saw it when staff dropped the plan to convert Main Street to two-way as part of the east-west LRT plan - despite the fact that the city's own consultants and even Metrolinx argued that LRT will be more successful with two-way streets. The decision was made on the basis of maintaining traffic flow:
We are not currently proposing to convert Main Street to two-way traffic. There is still a need for some traffic to move easterly across the City, and Main Street fulfills this role.
It doesn't matter how many other cities, both large and small, commit to making their downtown streets walkable and almost immediately enjoy big improvements in vitality and livability.
In Hamilton, the smooth flow of traffic trumps all other concerns. Not even clear evidence of danger to children is enough to shake our steadfast commitment to the fast, efficient flow of large numbers of vehicles through our struggling urban neighbourhoods.
Will Anything Change?

Sign by Paul Sousa: City of Hamilton - Designed so you can drive like no one lives here!
This coming Thursday, when another bevy of experts comes to Hamilton to tell our transportation planners the exact same thing they've heard steadily for years, are they suddenly going to be persuaded to change their priorities and commit to making Main Street Street, King Street, Cannon Street, Bay Street and our other struggling thoroughfares safe and walkable?
I would fall over myself to attend a Transportation Summit if I thought it would produce a real transformation in the City's priorities away from automobile flow-through to embrace making streets livable instead.
However, it would be deeply depressing to commit a full day of listening to expert after expert tell us to convert our streets to two-way and redesign them to be safe and livable for pedestrians and cyclists, only to have our leaders discard it all when it comes to the overarching sanctity of traffic flow.
Post a Comment
You must be logged in to comment.