West Harbour Plan Has Potential
The possibilities for the West Harbour are endless, but we must get it right the first time and plan a dynamic community that will get the attention of both developers and buyers.
By Jason Leach
Published February 10, 2012
this article has been updated
I received a copy of the West Harbour re-zoning report today and I'm certainly more optimistic about the plan than I had expected.
My main concern is probably the same as many peoples' - it seems like quite a lot of retail space, especially considering drive-thrus are banned and the design guidelines require businesses and buildings to front the public sidewalk, and all parking must be garages, not surface lots.
I'm not sure how much of a demand there is for that much street-oriented retail in Hamilton, but we'll see.
The key is going to be the residential space, and adding good-quality urban units. Not ho-hum apartment units or concentrated affordable housing units.
I really like the White Star concept and see potential for similar projects, albeit more modern and striking in design. I hope they will develop a more modern design as they get closer to construction and wanting to sell units.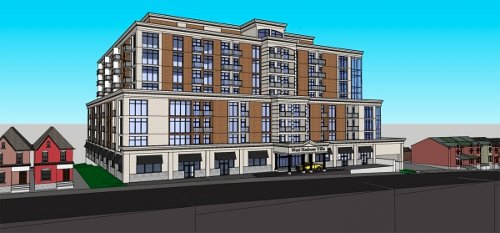 White Star concept for Barton-Tiffany
They've got a unique plot of land, up high, overlooking the harbour. They could see considerable interest in a sharp condo building there instead of the conservative 'Hamilton-design' shown at the moment.
Imagine this concept for sloping land behind the White Star condo leading down to more walkable, retail streets below: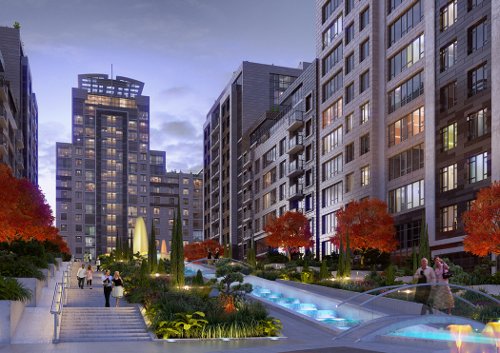 Concept for sloping land
I've met several developers over the years and I think I understand how a lot of them think. The report states that there is a four-storey height limit, but up to eight stories may be approved with appropriate urban design studies being completed.
Having White Star build eight stories north of Barton (closer to the tracks than any of the properties fronting onto Barton) will give developers a great case to push for buildings in the eight, and potentially 10-12 storey range further west down Barton for two reasons:
White Star's eight stories are built on a high piece of land. A 10 or 12 storey building at Barton and Hess would not be taller than the roofline of the White Star building.

White Star's condo project is actually closer to the tracks than any building fronting Barton St would be.
I fully expect smart developers like Molinaro to do the appropriate studies and probably make concessions like no north-facing balconies in order to get their height increase, and therefore, valuable waterview. A four-storey building at Barton and Hess will have no view of the water, and therefore limit its value.
If this can happen, I expect this plan to gain a lot of attention. A design charette as suggested by councillor Chad Collins would be great tool for us to undertake as soon as possible.
Here is a great brochure [PDF] on the new West Donlands district being built in Toronto for the Pan Am Games. We need to follow a similar model and design some fantastic public piazza spaces within the west harbour precinct with outdoor patios, as well as look to emulate the density and vibrancy that can be had by a relatively low-rise district of 8-12 storey buildings.
You'll notice that the River City neighbourhood in Toronto has a lot of eight to 10 storey buildings.

Rendering of River City Condos, Phase 2
They have planned LRT through the heart of the neighbourhood, along with greenspace, public piazza space, cafe/bar patios and good urban design.
A really striking pedestrian bridge at Caroline Street and another at Locke Street linking to Bayfront Park would be a huge asset to this neighbourhood. Who wouldn't want to go for their morning run or evening stroll around the harbourfront?
There's no reason a pedestrian bridge has to be bland and boring either.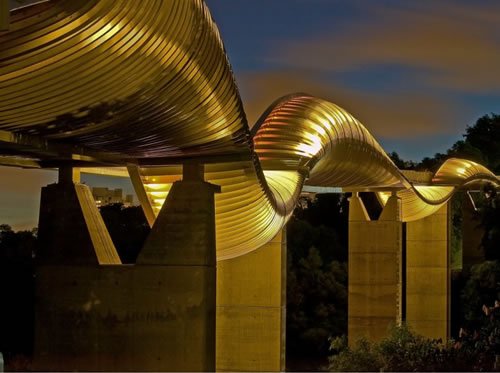 Henderson Waves bridge, Singapore (Image Credit: Smashing Lists)
We could do the same type of planning with our west harbour district and create the most unique and desirable new neighbourhood in the city. Why not run our first LRT line from McMaster to James Street, north to the new GO Station and head west on Stuart before making the return loop via Queen and Barton, back to James?
Let's not build these new streets in the same four-lane manner we always do, either. Let's develop some beautiful boulevards, like the Front Street extension in the Toronto Don Lands, or like this: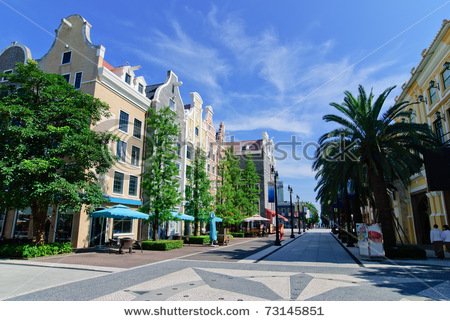 Livable street design (Image Credit: Shutterstock)
I love 'phase 2' of the River City condos - the 12 storey white building. It is family-friendly, and something for which we may see a demand in the West Harbour as home prices continue to rise in nearby Strathcona, North End, Kirkendall and Durand.
Perhaps the new high school for the lower city, as suggested by the School Board, could be built here as well.
The possibilities are endless, but we must get it right the first time and plan a dynamic community that will get the attention of both developers and buyers.
The same old boring townhomes and 1980s style apartments won't cut it if we want this to be a turning point for our city.
Clean, vibrant and modern design with lots of amenities and easy access to the beautiful waterfront and James North give this area chance to become a model neighbourhood in Hamilton.
This new Setting Sail plan appears to maintain the original goals of the plan, while satisfying some of CN's concerns, but I personally would fully support the city in any future battle with CN if a developer wanted to build a signature tower in this district.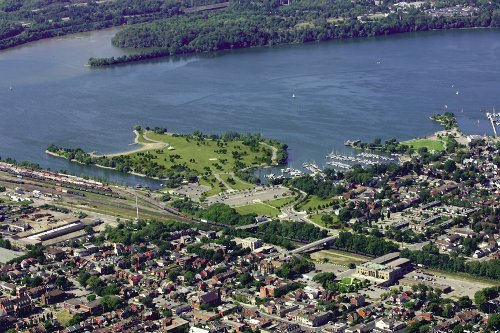 Aerial view of the West Harbour (Image Credit: Meetings Canada)
Appropriate glass thickness, balcony design and having every purchaser sign a legal 'no railyard noise complaint' waiver would go a long way to ensuring a peaceful existence between the trains and residents looking to enjoy urban living with the most beautiful waterfront views in Southern Ontario.
We may be the biggest Hamilton in the world, but now is the time to take a page from Australia's 'Hamilton' and develop a great, mixed-use harbourfront precinct.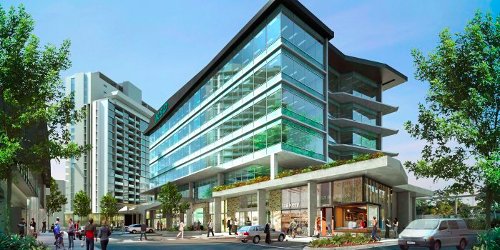 Hamilton Harbour, Australia (Image Credit: Leighton Properties)
---
Update: This article originally stated that the River City Condo project in Toronto is in the East Donlands. It's actually in the West Donlands. You can jump to the changed paragraph. Thanks to the RTH reader who pointed out the error.
Post a Comment
You must be logged in to comment.