Oh, Hell by Little Foot Long Foot
This is what psychedelic blues rock would sound like if it was performed by an angry band of classically-trained, straightedge punks.
By Ryan McGreal
Published June 23, 2011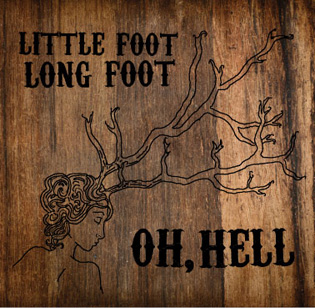 Oh, Hell, by Little Foot Long Foot
I'm beat-up, black, blue, battered and bruised after getting my ass kicked by the awesome new Little Foot Long Foot album, Oh, Hell.
LFLF's first full-length album, 2009's Harsh Words, was raucous and bombastic but had an underlying sense of humour and playfulness. Oh, Hell, by contrast, is almost all anger.
The album seethes and it roars and it grimaces. It's surly, moody and unpredictable. You never know when it's going to lash out and clobber you with a renewed sonic assault.
The country and rockabilly sound that was so evident in their earlier recordings has been largely displaced by snarling blues-metal guitars, throbbing drums and the venomous grind of a fat organ.
The latter is courtesy of new band member Caitlin Dacey, who joins guitarist and lead vocalist Joan Smith and drummer Isaac Klein to crank up the bone-crushing mass of the LFLF sound. The entire band punches above its weight, and Dacey really kicks up the intensity.
For a group that managed to squeeze maximum bombast out of two instruments, the addition of an organist turns out to be a stroke of genius. The organ sound is big. I'm talking Uriah Heep big.
This is what psychedelic blues rock would sound like if it was performed by an angry band of classically-trained, straightedge punks. It's as though the band got hopped up on strong black coffee and then went on a marathon bender of Steppenwolf, Iron Butterfly and Eric Burdon and the Animals.
And while some bands ramp up the instrumentation to mask lightweight or effete vocals, LFLF has no such problem: Smith's voice is huge. She wails, bellows, roars and spits out razor-sharp lyrics that easily hold their own against the wall of instrumentation.
In terms of individual songs, the album starts out strong and just keeps getting better and better. There are only ten songs, but there's no fat.
"Fugato" starts out sounding like The Doors' "Peace Frog" - it's one of the more upbeat songs on the album - but the chorus veers hard into menace and the instrumental organ solo rocks out really hard.
I'm not entirely sure what "Neko Case Hate Fucks Kurt Cobain" is about - and I'm afraid to find out, given that I rather like Neko Case - but the song seethes and broods through the verses before flaring into white-hot rage in the chorus and ramping up into a full-spectrum sensory assault at the climax.
"Missing The Point" recalls Led Zeppelin at their hard-blues "Since I've Been Loving You" best, but with a crisper, more tightly-controlled delivery.
"Kickface" demonstrates a stellar interplay of thick, grinding guitars and ponderous organs that explode into a wailing chorus that is simply awe-inspiring.
"Sell Out While You Can" features a groovy riff that reminded me of the Tragically Hip's classic "New Orleans is Sinking", coupled with deadly lyrics and an impeccable sense of pacing.
Produced by Canadian indie demigod Ian Blurton, the album has a mature, polished sound - definitely an improvement from the headache-inducing compression of Harsh Words.
Post a Comment
You must be logged in to comment.