City to Start Work on West Hamilton Multi-Use Trail
The City is building a paved, multi-use trial that runs across Hwy 403 from Kirkendall neighbourhood in southwest Hamilton to Ainslie Wood neighbourhood in west Hamilton.
By RTH Staff
Published June 17, 2011
A plan years in the making will finally be fulfilled when City staff begin work on a paved, 4.5-5 metre wide multi-user trail that will cross Highway 403 beside the Canadian Pacific (CP) rail line in southwest Hamilton.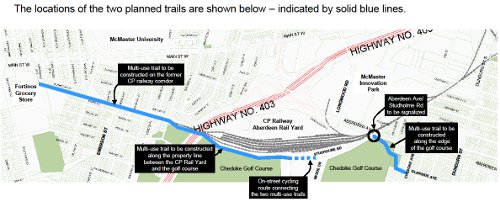 Map of the multi-use trail, marked in blue (click on the image to view full-size)
Running 1.8 kilometres in total, the trail will link Kirkendall Neighbourhood with Ainslie Wood Neighbourhood in west Hamilton by extending the Hamilton-Brantford Rail Trail across the highway into Kirkendall.
(The Rail Trail should not be confused with the Radial Trail that runs along the south side of Chedoke Golf Course and winds up the Niagara Escarpment toward Ancaster.)
The trail will also run along the edge of Chedoke Golf Course and connect the corner of Aberdeen and Studholme to the western end of Glenside Avenue at Chedoke Avenue.
The trail will begin on Studholme Rd at Aberdeen Avenue, and the intersection there will be outfitted with signal lights and an advanced stop line or "bike box" for cyclists.
According to a city news release issued today, work is scheduled to start on Monday, June 20, 2011 and should be completed in late September.
Post a Comment
You must be logged in to comment.