Crump: City Should Offer Red-Tape Navigation
Earth to Table Bread Bar owner Jeff Crump has some suggestions for how the City can make it easier for entrepreneurs to invest in Hamilton.
By Ryan McGreal
Published April 27, 2011
Earlier this month, Jeff Crump, chef and owner of the Earth to Table Bread Bar on Locke Street posted a cri-du-coeur on twitter:
Would love to open 2nd Bread Bar but the thought of dealing with the city....
Curious for details of what he experienced, we contacted Jeff and asked him to share his thoughts on how well the City works with entrepreneurs and what it could do to make Hamilton a more attractive place to start a business.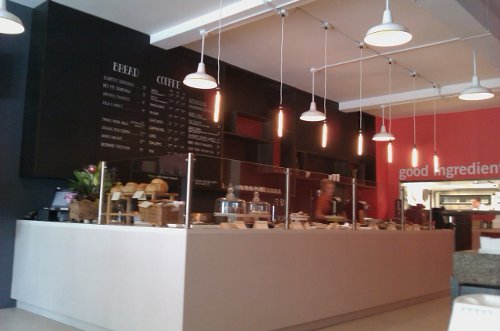 Inside the Earth to Table Bread Bar (RTH file photo)
Interview
Ryan McGreal, Raise the Hammer (RTH): What do you think is the biggest obstacle to starting a new business in Hamilton?
Jeff Crump, Earth to Table (JC): My business experience is only with Hamilton so I can't comment on the difference between this or that city. I believe the hardest obstacle is the age-old one of money. In relation to dealing with the city, time is money, delays cost money, so entrepreneurs must be prepared.
RTH: What should the City be doing differently to make it easier for entrepreneurs and investors?
JC: I believe the city should offer navigation of the "red-tape" as a service. The different departments seem to be disconnected.
Opening a business is incredibly stressful and time consuming. Spending time and energy trying to navigate the different departments in order to satisfy code and occupancy requirements was most frustrating.
At times I felt like my relationship with the city was a bit combative. I know the city employees that I was dealing with had the best intentions but I just felt it could have been much more seamless.
RTH: What advice do you have for other would-be entrepreneurs looking to invest in Hamilton?
JC: Hamilton is a great city, full of vibrant, progressive people. It seems like a cliché now but we don't give ourselves enough credit.
From a restaurateur's view, this city is begging for more great food. Bread Bar has been so well received we are just thrilled to be part of the evolution of the Hamilton food scene.
My advice to would-be restaurateurs? Cook real food! Hamilton is starving for it.
If you can budget for it, hire a fixer (someone who is familiar working with the different city departments). I met more than my share while I was sitting at city hall, arms full of building plans, permit applications and fee cheques.
RTH: If you do decide to go ahead with a second store, what locations do you have in mind?
JC: Hamilton has so many interesting locations and neighborhoods. We spent the better part of a year looking for the first location. Locke Street was the best fit for us at the time.
The locations we scouted were:
James St North - the art scene is something to embrace
Ancaster (on Wilson Street)
King street in Dundas
Westdale
Ottawa Street - we love the farmers market there!
So those are still on our list.
Post a Comment
You must be logged in to comment.