Taking Steps Toward a Pedestrian Master Plan
The Pedestrian Master Plan is an opportunity for Hamilton to raise the priority of walkable neighbourhoods from 'nice to have' into a real strategic goal.
By Ryan McGreal
Published March 10, 2011
Great cities are walkable: wide sidewalks, shielded from traffic and shaded by overhanging trees; continuous streetwalls that frame the sidewalk and offer various amenities, with apartments and offices above; and safe ways to cross the street without being exposed to high-speed traffic.
Walkable streets aren't difficult or even particularly expensive to create. Cities around the world have managed to create lively public environments following the same general principles. It requires only the political will to make walkability a priority.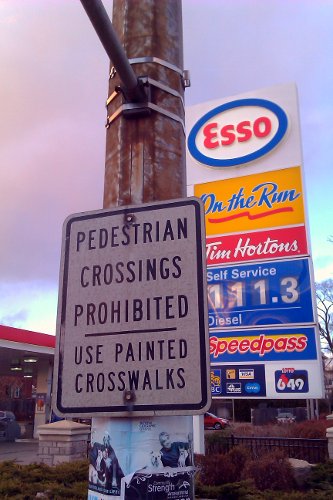 Pedestrian crossing prohibited at the west side of the intersection of King and Dundurn (RTH file photo)
Here in Hamilton, we talk a good game about walkability. Our downtown land use plan, approved by Council in 2001, is called Putting People First. Its defining vision reads in part:
The Downtown Hamilton of the future will be a vibrant focus of attraction where all our diverse people can live, work and play. The future Downtown must be built on a human scale, with streetscapes offering comfort, access and safety for pedestrians.
Council voted in April 2006 to establish a Pedestrian Committee, its mandate to deliver "improved pedestrian safety and better pedestrian access" and "pedestrian-oriented input to use of public space".
That November, a Pedestrian Workshop featured a keynote speech by Dan Burden in which he called walkability "the cornerstone and key to an urban area's efficient ground transportation".
In April 2008, Council unanimously adopted the International Walking Charter, which recognizes "the benefits of walking as a key indicator of healthy, efficient, socially inclusive and sustainable communities" and "the universal rights of people to be able to walk safely and to enjoy high quality public spaces anywhere and at anytime."
Studies in various neighbourhoods have identified numerous specific actions that would improve safety and comfort and make those places more inclusive.
Every year, the Public Works Department holds a Transportation Summit - the next is on Wednesday, March 9 - in which a succession of engineers and planners extol the vital importance of making neighbourhoods walkable, calming traffic, and improving transit.
A number of public policy documents also promote walkability: the Strategic Plan, Public Works Business Plan, Transportation Master Plan, Public Health Strategic Plan, Official Plan, Clean Air Hamilton Strategic Plan, Vision 2020, Places to Grow, Metrolinx Regional Transportation Plan, and provincial accessibility legislation.
Traffic Takes Priority
All to no avail. Where strategic documents translate into actual policies and investments, walkability consistently takes a back seat to traffic flow. Walkable streets are wonderful and desirable - as long as they don't get in the way of the high-speed automobile traffic streaming through the city on multi-lane thoroughfares.
The City commissions studies, consults the public, holds summits and workshops and brings in experts, only to balk at the prospect of actually transforming our dangerous, frightening, car-centric streets into real people places.
The latest round of consultation draws us toward a Pedestrian Master Plan that will establish policies, design guidelines and standards for pedestrians and compile a list of capital spending projects to close some of the gaps that currently fragment the city.
Maybe this time, the right to walk through a neighbourhood in safety and comfort will finally trump the right to drive across the city at high speed. One thing is certain: we will never see a real change in the city's priorities without extensive public engagement.
Public Works staff are hosting four Public Information Centres - on March 28, March 30, April 5 and April 7 - to explain the study and solicit feedback.
The City has also provided an interactive map where you can flag and describe problem areas or opportunities for improvement.
This essay was first published on OpenFile Hamilton.
Post a Comment
You must be logged in to comment.