We Missed The Show
New ideas can flourish again if we are reverent about our past.
By Paul Vicari
Published February 19, 2011
Mark Richardson's Citizen Journalism, The Rewards and Risks discussed the 'information vacuum' and the compensatory rise of citizen journalists (cit-js). It motivated me to contribute my first RTH article that surely preaches to the choir.
As a long-time Torontonian, my a priori of Hamilton was it had been Toronto's counterpart and rival for decades, with concurrent growth and comparable legacies, but by mid-century it endured brutal job losses, suburbanization and urban renewal, far worse than Toronto ever experienced.
I finally visited Hamilton and found a gem, with sorely devalued house prices. A few months of house hunting later, it was our new home. We like it here, but I have this recurring thought (and clumsy metaphor) that we missed the show, by about thirty or sixty years.
The Prints of King
I recently discovered the Gary Evans' prints series of Hamilton. The Prints of King: A photographic look at Hamilton's heritage street is noteworthy for its continuity (focusing on a single street) and resonated with me because I now live close to King (at Garfield).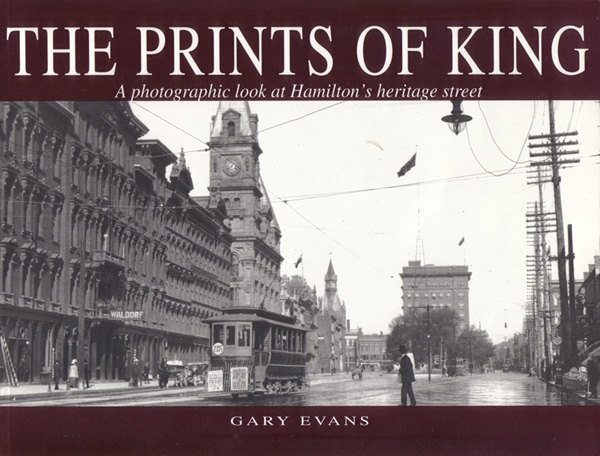 Gary Evans, The Prints of King (Image Credit: Historical Hamilton)
There it was the show. The astonishing transformations hurt my chest; it's heartbreaking how much we've lost. The stunning vibrancy and healthiness of King Street as a two-way street, the one-way conversion mentioned in several captions.
A closer look at the photographs reveals that people were drawn to this place, discernible in their gait and pace. There was a great diversity of viable businesses and large stores like Kresge's and Woolworth's, and theatres like The Capitol, it's marquee that tragically read, 'you will long remember, I know where I am going'.
Exquisite architecture like The Waldorf Hotel, replaced by another grand hotel The Connaught which now sits derelict. The topical picture of the last streetcar before the tracks were ripped up, another topical reminder of an old mistake.
So?
Do we gripe too often about the past? RTH is clearly rich in sustainable and logical ideas to improve our city, but how to reverse the apathy of some politicians and the public, both downtown and in the suburbs?
How else can we prevent more losses, like the Revenue Canada Building?
In those photographs I saw entire blocks that no longer exist. Of course, modern structures displace old ones, but entire swaths of streetscape obliterated for something like Jackson Square? Or surface parking?
People need to see old pictures like these, they need to be reminded again what happened here. Maybe the Hamilton Spectator should exhume some rare or unseen pictures from their archives and run a weekly piece, call it 'The Show'. At the very least, it might persuade drivers to slow down on Hamilton's favourite one-way heritage throughway.
Post a Comment
You must be logged in to comment.