Word on the Street
Ben rattles the bars of his subterranean cage in this month's WOTS.
By Ben Bull
Published June 16, 2005
OK, who's up for a little 'Hamilton Shuffle'? Come on - you know how it goes! Our beloved Hamilton finally takes one giant stride forward (Art Gallery of Hamilton) - and follows it with two huge jumps back (Aerotropolis, Staircase closure)!
While we at RTH are fully committed to our never-ending bout of eternal optimism, even we have to admit that it can sometimes be hard to find more than a few dregs at the bottom of the Hamilton glass...
But fear not, cos we've found 'em!
So let's all drink and be merry, forget all our troubles, and hop onto the dance floor for another rendition of everyone's favourite jig - The Word On The Street!
Downtown Beat
Let's kick this off with the downtown beat [no, we don't mean the core is exhausted - Ed.]. Downtown revitalization continues to set our hearts a-flutter. Here's a little bit about what's happening in and around the core these days:
Great news on the downtown job front. The old Ontario Works Office at 31 King St. is now home to Myron Call Centre, and they've just hired 35 people.

The business folks were apparently "high" on the location, the setting (overlooking the greenery of Gore Park) and the accessibility - as well as the Hamilton workforce, of course. Look for other call centre news in the next few weeks.

Tourism Hamilton has hired eight Downtown Ambassadors for the summer. Look out for them walking around downtown, cleaning up, taking down posters (Hey - what's with that?) and generally helping to make the downtown a better place (for no money). For more info (what else would you need to know, their names and addresses?), contact Maria Fortunato at x2616.

James St South BIA Director Laura Babcock is busy organizing a one-day festival to celebrate the James Street South business district. Look out for more info on this, the next Phase of the James St South revival.

Word is that the City is currently busy taking in applications from small businesses across the city for the Commercial Property Improvement Program. This Program provides grants of up to $7,500 to improve storefront facades. It's in its fourth year and apparently the City has already issued grants in excess of $900,000. This is the way we turn it all around folks - one façade at a time.

On the subject of free money Programs, the deadline for the Hamilton Downtown Residential Loan Program is June 15. Apparently, a slew of "exciting" proposals have already been approved and we are assured that RTH will have "lots to write about" once these get Council approval!

"We are going out with about $7 million in possible loans and that could translate into about $35 million in downtown construction over the next two to three years," says our City source.

James and John will be getting some much needed two-way treatment this summer. Look out for a public information session to be held by the Public Works Department later this June. Sonia Kapusin is the Project Manager - she can be reached on 905-546-2424 x2218.
Arts Scene
Now let's get with art scene!
Greenbelt Council
A new environmental taskforce was announced last month by the Provincial government. It's called the Greenbelt Council and features Linda Pim of Ontario Nature, as well as the Chamber of Commerce's Rebecca Wissenz.
I went to a Smart Growth presentation given by Linda last year and she is definitely one smart cookie. Here's hoping the rest of this group gears up to bring us more remedies to our urban sprawl malaise very soon.
Signs of Life
It's nice to see Hess Village finally getting some good press, these days. Here's what we've got to add to the on-going buzz:
The entrepreneurs who brought us 33 Hess, Funky Munky, Fever and now KOI, Svago Pizzeria and Diavolo Cabaret in The Village appear to be reaping the fruits of their hard work. A CH news story recently highlighted the success of these establishments, and the same folks plan to open an Italian restaurant and a Steakhouse in the Village next year. Judging by the lineups we've seen outside KOI on Friday nights, they appear to have developed a winning formula.

Staying on this happening stretch of town we hear that there will be three festivals in Hess Village this summer! Look out for more info in upcoming issues of RTH.

There's another café in town! Café on the Bay is located on the waterfront side of the Marine Discovery Centre and features huge windows with panoramic views of the harbour. The intrepid Jason Leach paid a visit and declared his chat with the resident chef to be "very educational" (for Jason, not the Chef). Check out Jason's review in this issue.

On the subject of this new café, RTH is busy trying to get to the bottom of their patio application limbo. The manager has apparently been told he cannot have a patio and liquor license. However, a City source assures us that this is not the case. Either way it, appears the owners are getting mixed messages and RTH would like to make it clear that there is no issue at all with such an application! We need more people places! We'll keep on top of this story and pass on any developments.

Another Waterfront trail extension is happening! The city will be expanding the trail from the Marine Discovery Centre at Pier 8 to the HMCS Haida. Look out for this latest extension going in later this month or early July.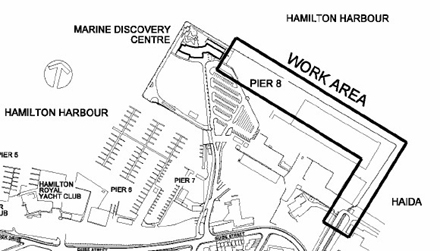 Waterfront Trail Extension (source: City of Hamilton Report Hamilton Waterfront Recreational Trail - Pier 8 Easterly Extension (PW05070) - (Ward 2 with City Wide Implications)
Downtown Hamilton's International Village has clued us in to yet another new restaurant opening this month. It will be in the King and Ferguson Area and might be called Brownies Downtown Fine Food and Spirits. Either the owners are named Brown or else it's going to be staffed by young girls selling cookies - I'm not sure. Maybe somebody can take a trip and let us know.

Anyone up for another launch? Yes, that's right. As if H Magazine maestro Dave Kuric couldn't get enough with one launch, he's got to go and have another one! Issue two of his nifty little mag will be out later this month, so why not Hop along to the Happy little Hamilton Happening over at the Loose Canon Gallery, 150 James North, on Saturday, June 18 from 2 - 4pm?

Finally, keep your eyes peeled for an exciting RTH happening coming to Hamilton's downtown very soon! We've no idea what we're going to do, or when we're going to do it, but we figure we really have to back away from our computer keyboards at some point and say "Hello" to our eager beaver supporters.

Don't worry - it won't cost anything and it won't feature a Jason Leach speech. It will be fun and we would love to see you there. So please, look out for this and do your best to come along and share your views on how we can improve what we are doing (bearing in mind that we don't get paid and we've been working out of Ryan's basement for seven months. He's got us locked in down here - if it wasn't for his kids sticking bits of cheese and nachos through the floorboards, I don't know what we'd do! Uh oh, what's that, Ryan? Yes Sir, sorry Sir ... I'm working on next issue's WOTS right now!...so hungry, so very hungry...)
That's all for now, folks! How about we end this issue's WOTS with a quick rendition of everyone's Hamilton favourite? That's right: The Hamilton Shuffle!
1-2-3-4...
You put your right foot out!
Your left foot back! (2 spaces).
You just spoke to your Councilor
And you give your head a smack.
You're feeling pretty ropey and
You are Toronto bound...
That's what it's all about - Hoy!
Post a Comment
You must be logged in to comment.