Hamilton, It's About Time We Had a Little Talk
What is the Future Fund for? What message does it send if we spend $100 million on football, while sites like these remain in this condition?
By Matt Jelly
Published July 20, 2010
Photos by Reg Moore
It's hot. It's humid. We're mad as hell and we're not going to take it anymore. Whatever it happens to be in your part of town. Let me tell you what it is in my part of town.
We're ripping ourselves apart as a City over a megaproject and a meta-argument. We have a gun to our head, and a deadline. We need to make a decision on the location of the Pan Am Stadium that will be the primary facility representing Hamilton's role in the Pan Am Games in 2015.
In the eyes of many, this is a legacy project, ready for us whenever we are. This entire debate has boiled down to two distinct and opposing philosophies of "city-building" - between using this opportunity to replace some severely neglected properties at the West Harbour, or to pave over a wheat field on the East Mountain, at the junction between the Red Hill Parkway and the Lincoln Alexander Parkway.
For seven years, it has been generally assumed that if Hamilton were to participate in either the Pan Am Games or the Commonwealth Games, that we would build a Stadium somewhere on the West Harbourfront.
At this point, the City has bought and expropriated 90-95% of the properties intended for use in a redevelopment at the West Harbour location for the purpose of building the Pan Am Stadium. So far, we've invested millions in acquiring some of these properties, whether by purchase or expropriation.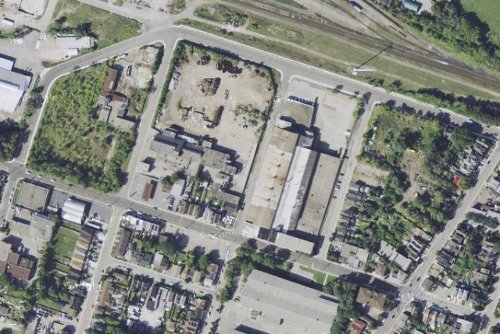 West Harbour lands, satellite view
Let's take a look at what's currently on these sites. Junkyards, the empty Rheem Factory and an abandoned former industrial property, bounded by Hess Street North, Stuart Street, Queen Street North and Barton Street West. I've visited the West Harbour location many times in the past year, a couple times as a part of the By-Law initiative I took on earlier this year. I'll tell you this - in all the sites I've visited, the property at Hess and Stuart Street is among the most deplorable. Here's the Google Street View of this site: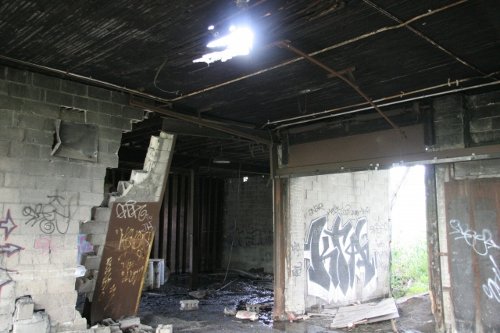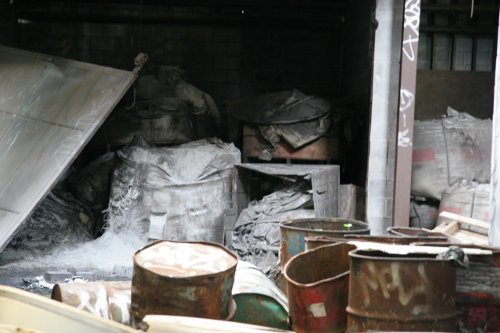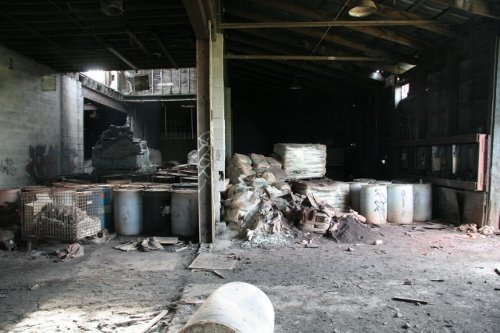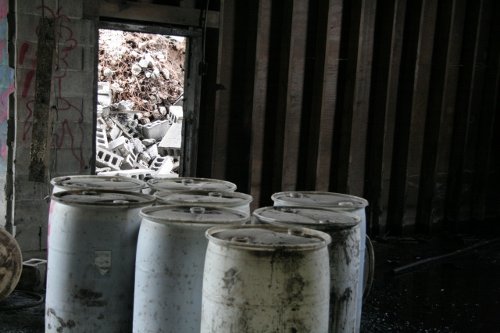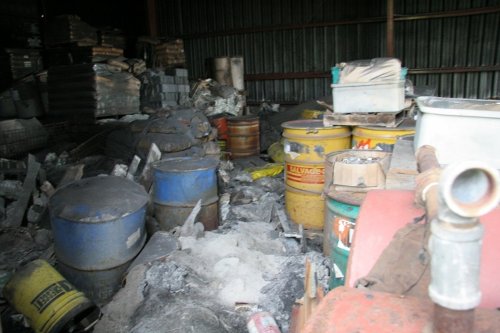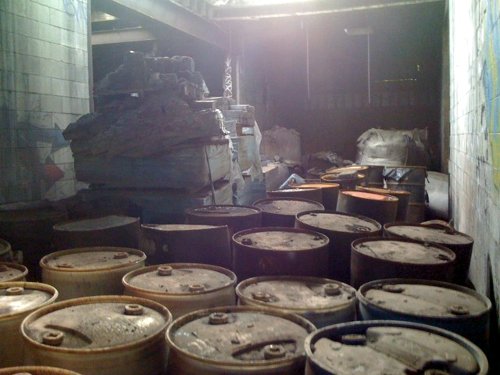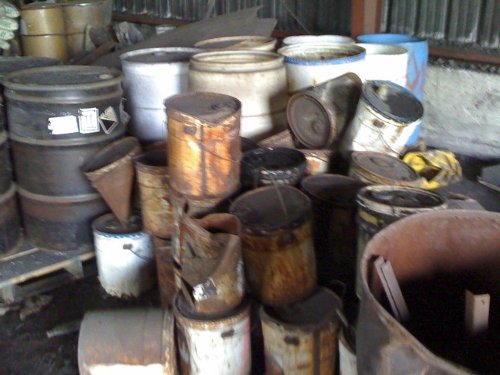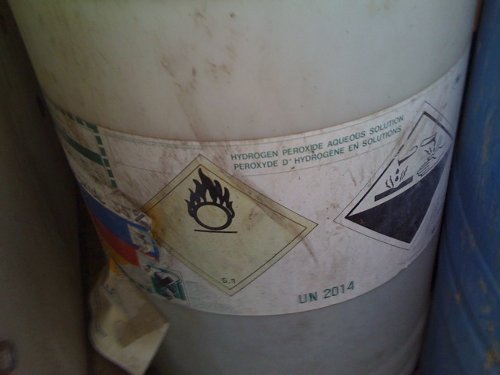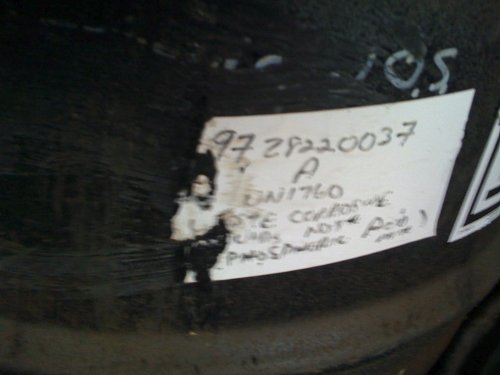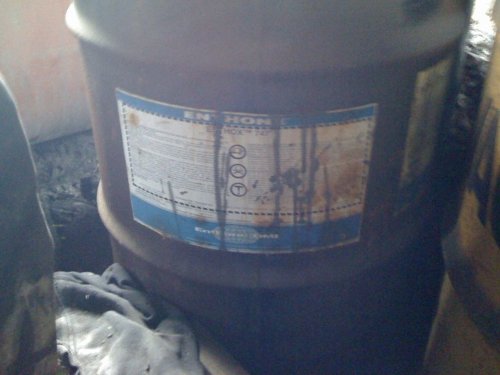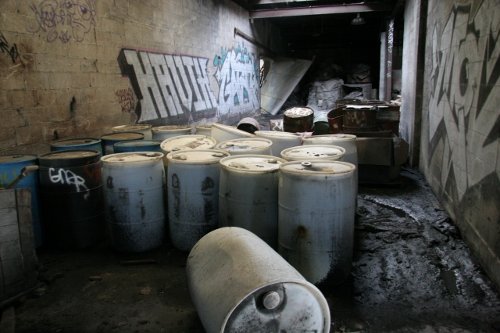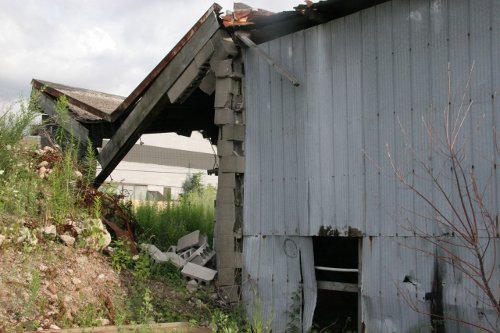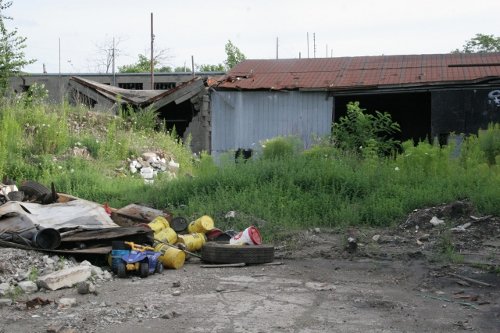 The companies who left this mess behind are long gone. The City has not replied to several e-mails inquiring about the ownership of the property. What is in those barrels? Regardless, they are absolutely not the kind of thing that should be left unattended, in buildings without locks, never mind in buildings without walls.
This community was built on industry, and continues to be an industrial centre. It's something we take pride in as a City. As a part of that industry, however, we've left behind some parts of town that have absolutely no hope of revitalizing when some of the land is so contaminated and toxic that nobody in the private sector is willing to come in and do that remediation. Neighbourhoods surround these junkyards and abandoned industrial sites. This is a legacy of our industrial past that we cannot be proud of.
Nobody in the private sector is going to come along in the short term to remediate these properties. As a City, it's our responsibility to clean it up. The cost is estimated at $5 Million- and some of the opponents of a West Harbour Stadium have told us it's not worth the cost, from the very start of this debate. But yet it's worth $100 Million to build a Stadium 15 kilometres away on a wheat field. For a millionaire and his team. All for a game.
If Hamilton is the best place to raise a child, we can't go on thinking we live in a City of equality and opportunity when some citizens live in close proximity to these kind of abandoned industrial sites- the contents of which are unknown and unadvertised. It's irresponsible for us to ignore this. My heart and my gut sinks when I see this in my City, just four blocks from where I grew up, where my family continues to live.
There are homes less than 100 feet from this property.
The next generation does not deserve these sites to remain in this condition, well after the companies that left them behind are around to do us any good.
It may very well be that these properties are remediated in the end- I believe the City is legally obligated to follow through with a secondary plan for any properties they have expropriated. But what if there are other sites exactly like it in other parts of town? What then?
Why did we wait until we were all caught up in the possibility of a Stadium to consider cleaning these properties up? Have we lost our sense of priority, and our responsibilities to one another as citizens of one big happy amalgamated City?
If the cost to remediate these lands are $5 Million, how far would $60 million or $100 million go towards cleaning up former industrial sites throughout the City? Is a Football team more important than this possible legacy?
What is the Future Fund for? What message does it send if we spend $100 million on football, while sites like these remain in this condition?
How can we say that Hamilton is the best place to raise a child when we still cannot or will not realistically guarantee that to every child in every home, in every one of our neighbourhoods? Does any child deserve to grow up in proximity to such pollution, without having any responsibility to the conditions that allow for these sites to remain?
We're caught up in quite the debate about this Stadium right now. The City is tearing itself in two. But let's put all that conflict aside and see eye-to-eye as Hamiltonians. Let's put all of our political sniping aside.
Look into your hearts. What is truly important? Who are we as a City?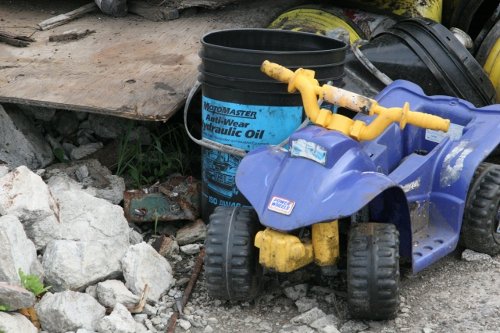 Is this a place where any child should have to grow up?
How much longer do we have to wait?
This article was first published on Matt Jelly's personal website.
Post a Comment
You must be logged in to comment.