Diamonds on Plastic
By Bryan Boodhoo
Published July 27, 2019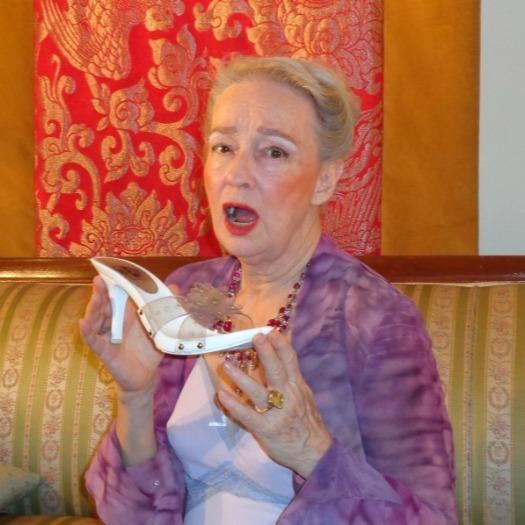 Purple Poet Productions (Toronto, ON)
Cast: Margaret Lamarre
Playwright/Director: Philip Cairns
Show Type: Comedy
Audience: Parental Guidance
Running Time: 14 minutes
WARNING: Mature Content
There's so much that's good about this show, it's hard to know where to begin. Margaret Lamarre gives a masterful performance in this one-person show as Doris Nightshade. In fact, it may be the single best performance of the fringe.
Nightshade is a suburban housewife, who has a penchant for very expensive jewellery. She fills in all the holes in her life with it, including being married to a man that's she's come to realized is a "pig" and she's repulsed by him. Having no job of her own, and being addicted to shopping, she does what she is needed to survive. In this cage of a life, Nightshade kisses one of her best friends.
Philip Cairns' writing is sensitive. He treats the subject matter with great understanding and affection. It's both funny and poignant. There's a message here, but you feel Cairns' writing and direction, right down to your bones.
The direction is also smart. I would guess Lamarre would be fairly easy to direct, but certainly the partnership between director and actor works well. They clearly share a theatre mind. A lot of the details are right, but I was a little confused as to why Nightshade was using a toothbrush to apply her make-up.
My only real complaint, however, comes with the venue. Partway through the show, someone came into the front of house, and it could be heard in the audience. In an age where almost anything can be streamed from the comfort of your living room, theatre maintains its power by preserving a connection between an audience and live performers.
That tender connection can be severely hampered by the noise of the outside world within the performance space. My suggestion would be to ensure that there are "Quiet Please" signs in the front of house, and it would help if the doors to that space were locked during the show.
To sum it all up, there's a lot on offer in this show. My hope is that Cairns develops this into a longer piece, but it does shine like a small jewel as-is.
Post a Comment
You must be logged in to comment.