Monster
By Brian Morton
Published July 25, 2019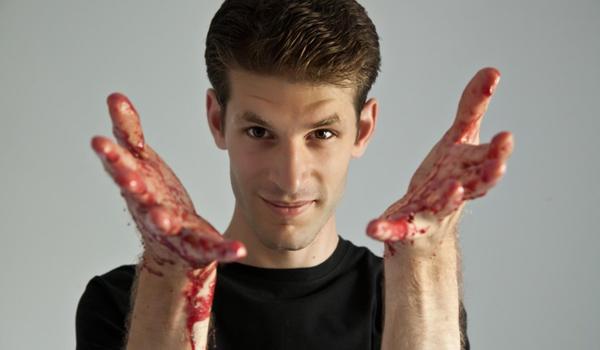 Director: Sean Aileen Mcclelland
Playwright: Daniel Macivor
General Manager: Chelsea Wilson
Cast: Colin Bruce Anthes
Show Type: Theatre
Audience: Mature
Running Time: 75 minutes
Daniel MacIvor is a legend on the Canadian theatre scene. Since founding his theatre company, da da camera, with director Daniel Brooks in 1986, he has written and acted in a series of one man plays that remind one of the work of New York performance artist Spaulding Grey. Many of MacIvor's plays are based upon his own experiences as a gay man and in a meta-theatrical way blur the distinctions between reality and fiction. In other words, what is true and what is not.
Which leads us to consider "Monster", MacIvor's 1998 play, which is getting a revival at the studio at Theatre Aquarius, as part of the the 2019 Hamilton Fringe. It is produced by Twitches & Itches Theatre from down the QEW in St. Catherine's, a company that did "September Songs" last year, which was a favourite production.
It is enacted here by Colin Bruce Anthes, a rather intense performer with a powerful energy that single-handedly drives this production forward. He is mesmerizing and flips characters and voices effortlessly, while spending almost the entire length of this 75 minute play squatting on a black cube, centre stage, and reacting to the audience that he shouts at and berates, and many sound and lighting cues that change the reality of what he is presenting to us.
The story the play tells is about a film-maker who is writing a horror film script about a son who murders and dismembers his father. These events may or may not have been based upon an incident from his own life. We also find ourselves at a twelve step meeting, listening to addicts share their "feeling" about the trauma of their lives. All of these stories weave in and out of themselves so that we are deliberately unsure of how the disparate elements of the narrative relate to one another.
This is a very powerful play with a deep message, and it has been produced here in this version at the Hamilton Fringe exceptionally well. I can find no fault with it except one. And it is this.
The solo plays that MacIvor has staged over the past twenty-five years are so stamped with his performance style and mannerisms. The only one that I ever had the chance to see MacIvor perform in was "House", way back in 1995. A truly memorable evening at the theatre.
Every single production that I have ever seen of one of his solo plays always feels like some kind of tribute act - just like seeing Beatlemania, the broadway musical that started the whole phenomenon. I enjoy seeing these recreations and sing happily along with the songs, but while watching I always remind myself that the guy playing left-handed bass is no Paul McCartney.
MacIvor makes his living from other people performing his plays, but just once I would love to see a production that transforms the script and ignores what Daniel MacIvor originally created. Give me a version of "Monster" performed by a woman perhaps, or a 70-year-old man!
Still, as the Fringe is intended to be an introduction to different styles of theatre, this version of "Monster" is a fine way to discover to MacIvor's playwrighting for the many audience members who will never have heard of let alone seen any of his work.
Post a Comment
You must be logged in to comment.