La Nuit du Vagabond
By Marianne Daly
Published July 25, 2019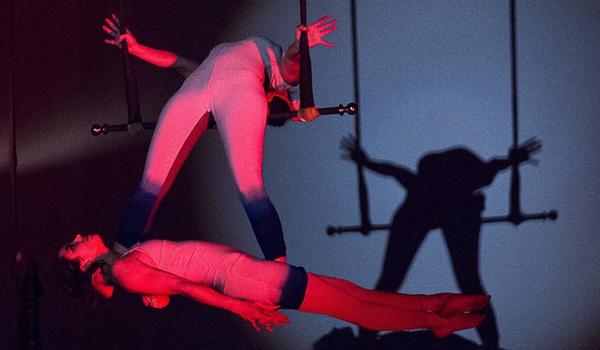 Cast: Tanis MacArthur, Tricia Cook, Michelle Prosek, Asia Laviolette, Lisa Crapsi, Emma Smith, Tammy Penny, Grace Loney, Sarah Perkins
Director: Lori Le Mare
Costume Designer: Tanis MacArthur
Mask Maker: Melanie Skene
Show Type: Theatre
Audience: All Ages
Running Time: 60 minutes
La Nuit du Vagabond fills the space set aside for it on the 3rd floor of the Cotton Factory from floor to the very high ceiling with music, magic and movement. This show was so carefully crafted, and the elements so well-woven, that it is an aesthetic feast for the senses to enjoy and for the mind to ponder.
Music, choreography, lights, dance, pantomime and aerial performances all blend together into a dramatic narrative that is packed with symbolism. There is no dialogue, and the only words are quotes from Alice and Wonderland that are projected onto a large back screen. Impressive aerial acts are integrated into the overall storyline, which is a journey or an escape from a villainous volcano god.
The costumes are beautiful. The beige with turquois trim worn by the group of humans fleeing the danger evokes the flow and image of sand and sea. The white headdresses and flowing satin pantsuits of the stilt performers helped to create the impression of strange otherworldly beings, preserving the magic of their performance. The oversized masks of the red volcano god and his two blue minions helped convey their evil intents.
There was never an uninteresting moment. In fact, so much was going on that I felt I missed a lot. I would go see it again if possible, so I could experience the wonder and curiosity that this performance evoked. Alas, at the Cotton Factory there were only performances during the first weekend of Fringe.
Post a Comment
You must be logged in to comment.