Come to the Edge!
By Marianne Daly
Published July 25, 2019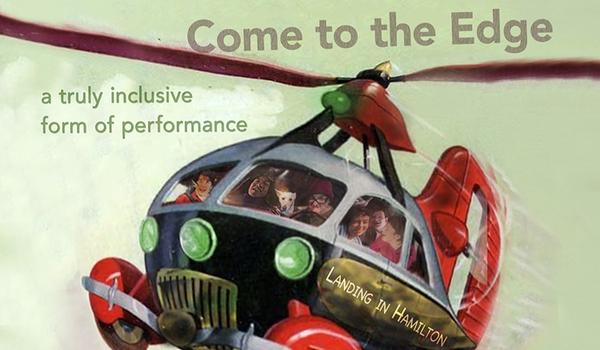 Ensemble: ADCID Artists, Musicians, Wheelchair Dancers, Live Scenographers
Show Type: Theatre
Audience: All Ages
Running Time: 90 minutes
Come to the Edge is an interesting experience involving imagination, inclusivity, interaction, improv, and a lot of slowing down. About half of the cast members were using wheelchairs because they have cerebral palsy, and all the members of the ensemble worked well together.
In the half hour before the show, there is a café with tables and chairs and live music. Audience members are invited to play along with the cast members by pretending to be patrons of their favourite food and drink stations. It was not clear to me how the preshow café was related to the show itself. When I tried to ask one of the cast members to help me understand what was going on, he stayed in character as a sort of conductor on a magical mystery tour or a circus ringleader, and kept repeating his invitation to come to the edge of possibilities and move toward the edge of not knowing.
Before the show was about to begin, we were asked to choose a cloth-covered stone and place it outside the circle of chairs that set apart the space that became the stage from the space that was the felt food café. I chose a nice large stone with pretty grey fabric on the bottom and a muted red on the top and placed it in one of the baskets as instructed. I later realized, after rereading the show program, that this must have been the ritual to "slow down time" and for "preparing the edge."
The performance was a lot of fun for the cast members. I enjoyed seeing the smiles on the faces of the performers and watching the wheelchair dancers. The show itself I would describe as supported improv. The live scenographers and choreographers took suggestions from the wheelchair dancers about how to create the setting by hanging lovely lengths of different colours and types of fabric on a web of black ropes strung between the poles that support the Cotton Factory's high ceilings.
The cast members in wheelchairs used a variety of ways to communicate their ideas to the scenographers and choreographers, who then verbalized and/or carried out their suggestions. A few more suggestions and a few more lengths of cloth turned people into characters. In this performance there was a dog and a cat. Both animals were lost. Clearly a lot of thought and expertise went into preparing this way to provide a cooperative creative experience for the participants. It seems the intention of the time slowing ritual was to assist someone like me to have the patience to sit for 90 minutes while this improv scene unfolded.
I said to my colleague that this would be an excellent inclusivity focused workshop on improv and storytelling. When I read the description in the Fringe program, I was expecting something more deep and philosophical. After doing some research, I learned that this performance has grown out of Engaging Possibilities Workshops. As a mother and as a teacher, I have always been an advocate for inclusivity, and I would like to see lots of people have the opportunity to experience this kind of workshop.
This show is a work in progress and the theatre company is actively seeking feedback to continue to develop this work. Perhaps the best feedback that I can give is to be clear to the audience about what this Come to the Edge experience entails.
The program states "together we will explore what happens when we move closer to places of not knowing." This sounds so intriguing and mysterious and raised my expectations. Consequently, I was confused and then a little disappointed when I felt like I was watching a work in progress improv workshop. The experience for me got off to a disappointing start when my colleague and I came to the show a half hour early, as we were asked to do at the Fringe Kick Off, thinking that we were going to a café. We discovered on arrival that there was only pretend food and drinks and instead of relaxing and chatting before the show we were expected to pretend we wanted felt food and invisible drinks. Shifting expectations is a tricky business, but raising expectations and then under-delivering is the worst outcome.
The feedback card asks the audience whether "the event provided new insights about what theatre/performance can be." If I had gone into this show knowing that I was watching a work in progress, or if the cast member I tried talking to had given me some background or explanation, then I would have felt more comfortable. I believe it is better for this show to be more straight-forward about being a work in progress or more of a workshop in advance.
Post a Comment
You must be logged in to comment.