Fuckboys The Musical
By Bryan Boodhoo
Published July 24, 2019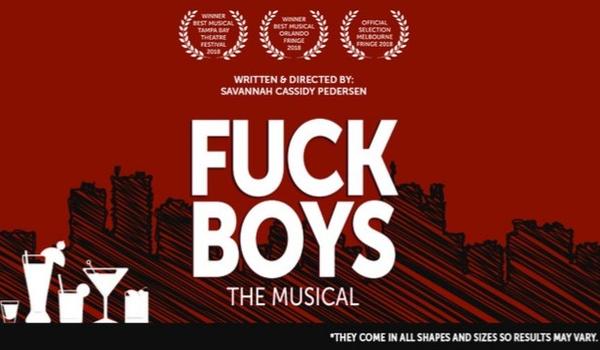 Show Type: Theatre
Audience: Mature
Running Time: 90 minutes
Generation Productions, from Orlando, Florida are making the fringe rounds with Fuckboys the Musical to a fair amount of acclaim. The show portrays the trials and tribulations of four 20-something women. It's comedic and light. There's a good number of upbeat song and dance numbers interspersed in the action.
Admittedly, I am not the target audience for this piece. Apart from this review, or conversations about this piece, the word "fuckboy" would rarely, if ever, leave my mouth. Still, there were audience members in close proximity who were about two decades younger and female. By the level and consistency of laughter I heard, I could tell they were enjoying themselves quite a bit. There were also a notable number of standing ovations at the end.
The premise is straightforward. Four unnamed women (Beth Anne Striplling, Savannah Cassidy Pederson, who is also the writer of the piece, Niolce Visco and Kendall Leamy) meet every Wednesday at a bar to sing karaoke. The Bartender (Brandon Munoz-Dominguez) acts as their confidant, and he's later joined by another bartender (Joseph Adam Gonazalez). We watch the women face their various problems, and at some points, the musical gets meta-theatrical, and the character of the Stage Manager (Hayley Vervalin) comes out, reminding everyone that what they're seeing is just a musical.
The four women ensemble work well together and they are given distinctive personalities. As a whole, the cast sing and dance well. Leamy and Munoz-Dominguez give standout comedic performances.
There were parts of the play that were, as is pointed out in the play, extraneous. Additionally, there were noticeable sound issues at times. Still, this is a fun show. It would probably speak to you quite a bit, if you're within the target audience. Even if you're not, if you're not offended easily, you're sure to have a few laughs and a good time.
Post a Comment
You must be logged in to comment.