You Want It What Way? A Boy Band Tale
By Bryan Boodhoo
Published July 24, 2019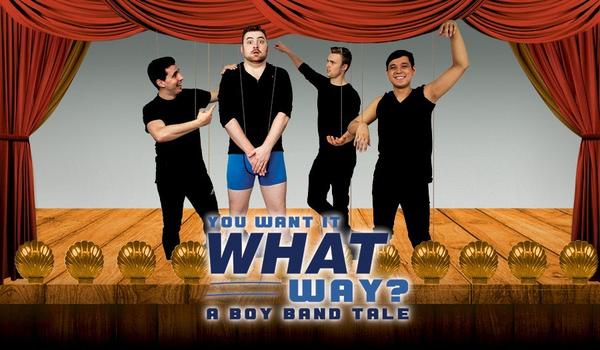 Cast: Adam Ashby, James Lintag, Brian Jansen, James Martin
Director: Brian Jansen
Playwright: Leonard Chan
Choreographer: Adam Martino
Show Type: Comedy
Audience: Parental Guidance
Running Time: 60 minutes
Sometimes you need a power shake filled with vitamins and healthy enzymes, and sometimes you need a burger and fries because it's comfort food. "You Want It What Way? A Boy Band Tale" is definitely a burger and fries, minus all the calories.
The cabaret piece starts off with the four actors (Adam Ashby, James Lintag, Brian Jansen and James Martin) lip-synching to a few boy band, pop songs. Although that piece is interesting, and really got the crowd going, it was a smart decision to intersperse other pieces into it, some like the fake game show, being more successful than others.
Leonard Chan offers a smart script that manages to weave boy bands from the 1960's to the present into the show. Some of the writing bordered on cliché, and a few re-writes would have probably made this show that much stronger.
Similarly, the choreography by Adam Martino was fun, and definitely had some great highlights. A little more selectivity and re-working would have taken it to the next level.
The direction by Brian Jansen was competent, but he could have taken himself and the rest of the cast through the paces a little bit more rigorously. Perhaps this production would have benefited from the watchful eye of an outside director. Transitions, for example, slowed down the otherwise quick pace of the performance.
What sells this show, and caused a roar of a standing ovation, was the energy the performers brought to the show-and the nostalgia the songs brought to the audience. Lintag was a particular stand-out for me, although all four of them brought it.
If you want to escape for an hours and dance in your seat to a few pop songs you may be ashamed you remember, check out this show.
Post a Comment
You must be logged in to comment.