Come to the Edge!
By Doreen Nicoll
Published July 24, 2019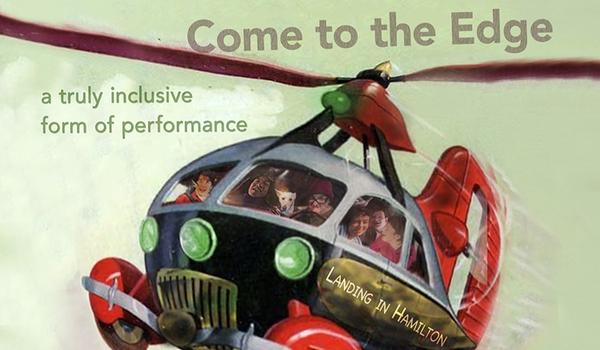 Ensemble: ADCID Artists, Musicians, Wheelchair Dancers, Live Scenographers
Show Type: Theatre
Audience: All Ages
Running Time: 90 minutes
Sunday morning is the perfect day to sleep a little late, then casually stroll to a favourite café for brioche and latte. But this past Sunday I thought I'd try someplace new, so off I headed to the Come to the Edge Café at the Cotton Factory.
Don greeted me at the entrance to an expansive space, lovingly decorated with fairy lights and flowing fabrics. Live instrumental music softly playing the background beckoned me into a room full of warmth and caring.
Don and his assistant welcomed me to make myself at home. I was given a beautiful chalice and told to help myself to refreshments. I was also encouraged to choose a special rock to clasp in my hand to ground me until the opening ceremony commenced. My hosts had no idea how happy that invitation made me, since I began collecting unusual rocks as soon as I could walk. And so my journey into the world of unknown possibilities began.
With Elaine's guidance, I carefully approached the table of rocks and chose the special one that was calling to only me. Holding my treasure tight in my hand, I made my way to the bar, where Laura suggested I might like to try the Volcano complete with silk ice and a felt olive. A house specialty not listed on today's fare, this cocktail turned out to be just what I needed. The pouring of this magical elixir was even accompanied by the roaring sound of an erupting volcano that made me jump and us both laugh out loud.
I then made my way to sample some culinary delights from the edge. Individually crafted pizza slices, cheese and crackers and perfectly made perogies. All expertly prepared and served by performers.
With felt food and imaginary drink in hand, I found a comfortable seat around the Sacred Space on which to eat, drink and contemplate this experience for the senses.
When it was time for the performance, our hosts and servers transformed into performers and guests were invited to place their rocks where they felt they best belonged. While young and old thoughtfully found the perfect home for their rocks, Frank danced his way into the sacred space moving in time with the mystical music before venturing around the room to dance fellow performers into the centre of the Sacred Space.
Performers then took turns describing the Sacred Space we were inhabiting while assistants draped fabrics overhead, creating an intimate atmosphere. Eventually, audience members were invited to volunteer to take the place of actors and become characters, animals, fairies and such.
The hour and a half performance was far different than any immersive performance I have ever experienced. It was followed by time for reflection and discussion when audience members mingled with performers and shared in some refreshments - the real delicious deal this time.
According to the troupe's website, "Come to the Edge is a truly inclusive form of immersive and ritual performance." Created and performed by a group of adults with Cerebral Palsy (CP), the performers help audience members learn about drama using computers and word boards to talk and express their complex thoughts and imaginings. Using Alternative Augmentative Communication, movement, and imagination, this troupe proves anything is possible.
Come to the Edge Café actors are exploring what it means to go to the edge of what is traditionally acknowledged to be possible, but then they push the parameters and invite their audience to participate in the journey.
The Toronto group formed eight years ago. Then, they branched out and began mentoring Hamilton participants four years ago. Sunday's performance was a collaboration between the two cities.
This is theatre for the actors and the audience are privileged participants invited to contribute to the process as the story of the day unfolds. Each performance is unique to the space, the day and the perceptions of actors and audience alike.
Frank, the only verbal member of the troupe, chose to remain silent during Sunday's performance. For the past twenty years Frank has been a power chair choreographer and expert in sit down dance. For the past two years he has worked with the troupe because, "It gives access to bodies which never get on stage. It brings out 'the dancer that is' (inside everyone) because we don't all have time." Frank is referring to the fragility of life and the unknown time that each of us has on this earth. He believes dance allows the freedom to be and enjoy in the moment. His goal is to make his partner shine.
Frank believes theatre should, "Empower the dreams of those who don't get to play in our physical realm. If theatre does that, then we've done great theatre."
If you missed this amazing immersive experience in autonomy and self-discovery while it was at the Fringe, you're in luck because the troupe will be performing at the FirstOntario Performing Arts Centre in St. Catharines, Ontario on August 24th and 25th.
Come to the Edge has been developed by Aiding Dramatic Change in Development (ADCD), an organization that Engages Communities in Creative Thinking which supports the organically developing Imagining Possibilities movement.
For more information about Frank G. Hull go to http://muuve.tk/.
Post a Comment
You must be logged in to comment.