Rollerblading Demon Menaces Farmers' Market
By Ryan McGreal
Published June 06, 2007
While I was enjoying my daily constitutional with a co-worker, we noticed one of those prohibition signs outside the doors to the Farmers' Market on York Blvd between Park and MacNab that lists all the things one cannot bring inside the building - rollerblades, bicycles, and pets.
It seems someone noticed something strange about the image accompanying the No Rollerblades injunction, and elected to draw the attention of others to the observation via the expressive power of the magic marker. (I, in turn, have elected to draw your attention to it via the expressive power of the Internt.)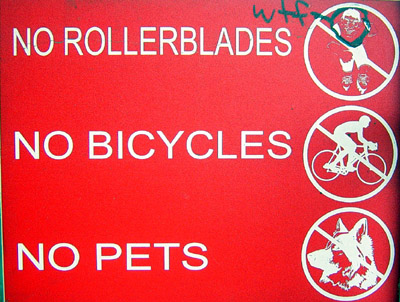 No Rollerblader - WTF?
Sure enough, closer inspection reveals something mighty peculiar about the rollerblader depicted inside the prohibition sign.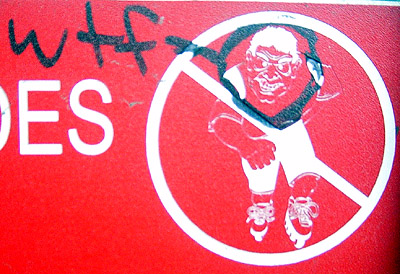 Rollerblader: furious at being balked and fleeing from authorities?
Look at the swooping forehead, the furrowed brow, those blazing eyes, that fearsome grimace of pain and rage. Is it some kind of goblin? George W. Bush at his impeachment proceedings? Councillor Merulla finally fulfilling his promise to 'come after' Councillor McHattie?
I mean, what kind of psycho would rollerblade through the market, anyway?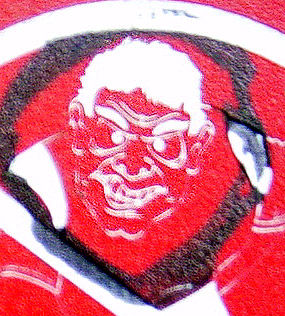 Grrrrrrrrrr!
Seriously, check it out next time you're downtown.
If you have any found gems to share, please send your photos and accompanying text to editor@raisethehammer.org. If it makes us laugh, scratch our heads or shudder in mortal terror, we'll post it on the Hammerblog.
Post a Comment
You must be logged in to comment.