Globe Article on Hamilton Mistakes Sprawl for Growth
By Ryan McGreal
Published March 26, 2007
An article on Hamilton in last Monday's Globe and Mail escaped my attention, but reader Shawn mentioned it to me, and it's an interesting read.
What really jumped out at me is how lazy and one-sided the reporting is. It essentially serves as a mouthpiece for the business-as-usual mode of sprawl development that has been strangling this city for decades.
Surprisingly, it opens with an account of George Brown, the owner of Brownie's Downtown Fine Food and Spirit, using the restaurant's success as a springboard to the city's economic revival after globalization gutted its industrial base.
However, the author moves from this downtown revitalization success story straight to Len Falco, past president of the Hamilton Chamber of Commerce and a big aerotropolis supporter; Terry Cooke, the former regional chair and a strong proponent of the Red Hill expressway; and the infamous Hemson Consulting study, which made a painfully dogmatic case for opening employment lands around the airport in a golden future of warehousing and logistics jobs.
The interviewees cited amalgamation and the city's decision to lower business taxes for the growth in permits, and the reporter uncriticially credited these with a rise in the total value of building permits from the late 1990s to the 2000s.
In the six years from 1995 to 2000, Hamilton averaged just under $378-million a year in building permits. In the first six years of the new century, the average was just over $627-million a year, according to city figures.

The building numbers are not just civic boosterism. Building permits are a basic indicator of the state of a city's economy, as investment in bricks and mortar, concrete and steel, measures both its current economic strength and the confidence that people have in its future.
The Numbers Don't Add Up
So an article about Hamilton starts with a new investment downtown, jumps to Len Falco and Terry Cooke, and ends with endorsement of the Hemson employment growth plan, all hinging on new building permits. It just doesn't add up.
I decided to take my own look at the data with which we're supposed to be so impressed. I could only find data on the city website going back to 2003, but it paints a very interesting picture.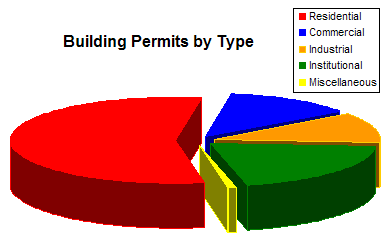 Building Permits by Type, 2003-2006 (Source Data: City of Hamilton - Planning & Economic Development Monthly Reports)
From January 2003 to December 2006, out of a grand total of $2,594,910,637 in building permits issued in Hamilton, 55.4 percent of the total value was for residential buildings.
Only 23.7 percent was commercial or industrial building permits. That's roughly equivalent to the 20 percent of institutional/government building permits, plus a little less than one percent in miscellaneous permits.
Good Old Sprawl
So much for building permits as "a basic indicator of the state of a city's economy". The engine driving Hamilton's building permits is good old residential sprawl.
Even if you look at the data month-by-month, the pattern holds steady. (The following chart excludes miscellaneous permits for ease of reading.)

Building Permits by Type, Jan 2003 - Jan 2007 (Source Data: City of Hamilton - Planning & Economic Development Monthly Reports)
The Globe article repeats the "location, location, location" meme, extolling Hamilton's position as a wonderful goods transportation hub, a view that echoes the Hemson study.
Falco is given the last word, expressing support for the Hemson plan: "We don't want to drag our heals [sic] on that. ... The airport lands are critical to encouraging investment."
The monthly reports provided by the city do not break the data down by location, but I've asked the city if they can provide this. (More to come if they respond.)
Post a Comment
You must be logged in to comment.