Overview of Child Wellbeing in Rich Countries
By Ryan McGreal
Published February 14, 2007
The Innocenti Report Card 7 [PDF link], A recent study by UNICEF, compares 21 OECD countries for the wellbeing of their children based on the goals set forth in the UN Convention on the Rights of the Child.
The relatively comprehensive report is a first step in creating a regular monitoring of child wellbeing across the OECD countries, and it assess the countries based on six broad criteria: material wellbeing; health and safety; educational wellbeing; family and peer relationships; behaviours and risks; and subjective wellbeing.
Perhaps not surprisingly, countries with strong social programs and low inequality, like The Netherlands, Sweden, Denmark, and Finland, have the highest ranking, whereas countries with high inequality and comparatively poor social programs, like the United States and Britain, have the lowest ranking.
According to the Times of London, Professor Johnathan Bradshaw, one of the report's authors, explains why Britain has the unhappiest children:
Between 1979 and 1999, children were relatively neglected in Britain, child poverty rates rose rapidly, those living in workless households soared and the numbers not in education or training also rose.
Interestingly, the report found no correlation between per capita GDP and child wellbeing, but a significant inverse correlation between inequality and child wellbeing. A significant factor is the child's perception of inequality.
Bradshaw again:
The more unequal a society, the relatively deprived people will feel, and child poverty is still double the rate it was in 1979.
Also predictably, Canada ranks in the middle of the pack, torn between an emotional commitment to Northern European notions of social welfare and an economic commitment to American notions of every man for himself.
Reports like this are important because, as the main findings note:
measurement and comparison gives an indication of each country's strengths and weaknesses. It shows what is achievable in practice and provides both government and civil society with the information to argue for and work towards the fulfilment of children's rights and the improvement of their lives.
Some of the particular findings in the report were startling. On the comparison of relative income poverty (percentage of children in households with equivalent income less than 50 percent of the median), for instance, the United States wasn't simply dead last but was way out on its own.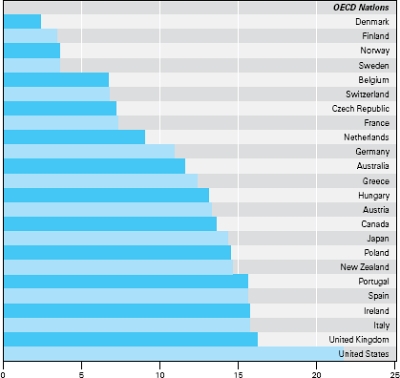 Relative Income Poverty by Country
Interestingly, despite having by far the highest percentage of children in poverty, the US also had the third lowest percentage of children in homes without an employed parent, strongly suggesting that the problem of poverty in the US is not unemployment but severe income inequality.
With Hamilton's recent dedication to becoming the best place to raise a child, the comparative findings in this report are especially relevant. Watch for more analysis as we dig deeper into the data.
Post a Comment
You must be logged in to comment.