The Greatest Minds
By Alison Nicholson
Published July 24, 2019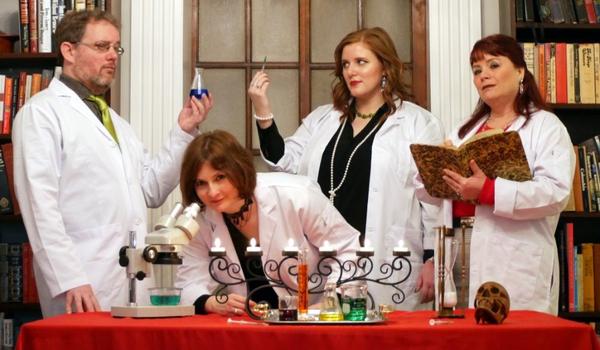 Cast: Kimberly Jonasson, Sara Laux, Rebekah Pullen, Jamie Taylor
Playwright/Director: Francesca Brugnano
Show Type: Theatre
Audience: Mature
Running Time: 70 minutes
The Greatest Minds is an original play featuring a cast of homegrown talent. Director/Writer Francesca Brugnano is best known for her musical Acts of Fiction and the prehistoric Cave 10. This year her playwriting skill takes on a darker tone of personal tragedy set against the discovery of a mind-altering weapon.
The cast, clad in lab coats, are fearful that their research and its discovery has them looking over their shoulders. The scientists, dubbed the greatest minds, have been brought together into a think tank with the promise of a state-of-the-art research facility. What if their research leads to disaster?
If that were not enough, each harbours a deeper secret of love, loss and guilt with outcomes equally as painful.
Sara Laux, as a forward-thinking scientist, adequately takes on the team who want to scrap the project, and that is the last thing she has in mind. Her ultimate decision creates the tension in this not-quite-thriller.
Kimberly Jonasson, one of the area's hardest-working performers, is the potty-mouthed specialist whose voice of reason peppers the plot with a not-in-my-lifetime attitude. Kim does this with full force and "f" bombs.
Rebekah Pullen plays the puppet master and keeper of the research cash with energy and sass: she has, after all, summoned this genius trio.
Jamie Taylor, the lone male in the cast, is believable as a tragic character with the deepest personal secret.
As a cast they work very well together. The play has a lot going on and a little trimming wouldn't hurt.
Sound and lights are masterfully engineered by Peter Jonasson, providing a great soundscape.
The production tends to slow down in places and picks up where it counts. High heels are not the best sound effect on the hollow stage, and can't be helped, maybe a carpet could muffle some sound which at times I found distracting. But aside, some may not even notice, and its doesn't detract from the play itself.
The intriguing story requires attention and a smart ensemble cast is a welcome diversion in a festival where single acts rule.
Post a Comment
You must be logged in to comment.