Buried in Comfort
By Alison Nicholson
Published July 31, 2018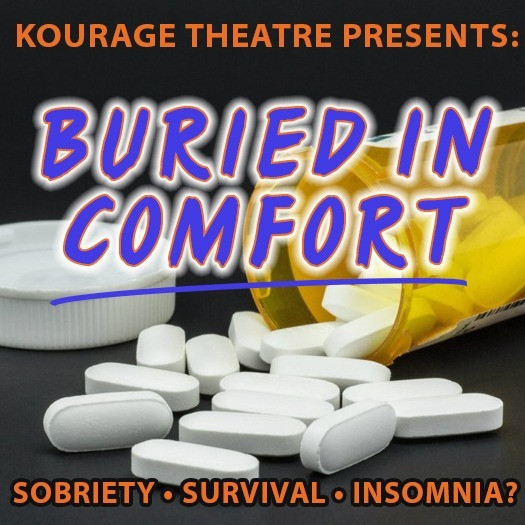 Buried in Comfort
Written by: Tracy Rankin
Directed by: Ali Adatia
Show Type: Theatre
Audience: Parental Guidance
Running Time: 20 minutes
Sobriety, Survival and Insomnia are the subtext for the one-woman performance in Buried in Comfort, part of the gallery series. Tracy Rankin is the living document of this piece, having lived, struggled and clawed, often sleepless, to find her authenticity, contentment and comfort.
Buried in Comfort is a premiere performance developed within Soulo Theatre, directed by Tracey Erin Smith, a theatrical midwife who assists in the birthing of the creative within. I am privileged to have seen the creations of Robin Zee, Darlene Chrissley, and Anne Bokma, all alumni of Soulo Theatre.
Tracy Rankin's presence on stage is bold and we are riveted to her as she descends into the depths of her psychosis, dependency and fears. I can visualize this play as a full-length Fringe work: it stands up to other fine storytellers featured in this year's lineup.
Psychiatric hospitals have been portrayed in film: Girl Interrupted, One Flew Over the Cuckoo's Nest, and the 1948 breakthrough film Snake Pit. Buried in Comfort does not shy away from the stark reality of rehab, and as the audience, we can only empathize.
Thankfully, the writing is sprinkled with comedy and the timing and energy never drags. Tracy has a strong voice and her features are expressive. Her eyes, especially, are windows to her soul.
The play is nimbly directed and choreographed, the performance polished. There is good use of the space and I loved the elegant chair and granny square afghan, a symbol of love and comfort.
The play moves from present to past through the breakdown of her marriage and addiction to recovery. The transitions are adeptly distinctive.
There are two players in a relationship breakdown, and in no way does the character assume total responsibility, but nor does she lay blame, either. The character discovers her part in the family drama and seeks a way out of the co-dependency.
Unfortunately, this was the last day of the Fringe and many will have missed seeing Tracy Rankin's superb work. Buried in Comfort is this critic's choice and hopefully will make its way back to Hamilton and one day into a featured performance.
Post a Comment
You must be logged in to comment.