Waaaay Off Broadway: A Musical Improv Show!
By Arthur Bullock
Published July 21, 2018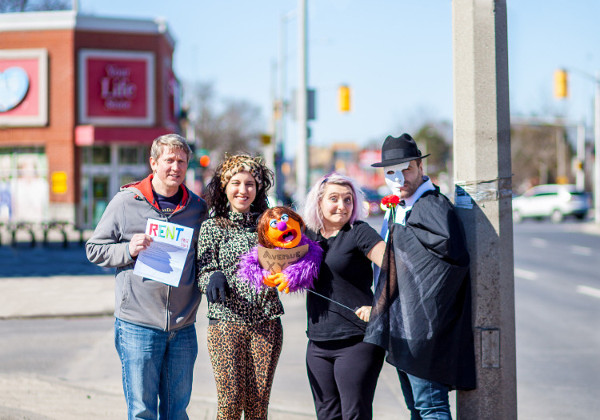 Waaaay Off Broadway: A Musical Improv Show!
Troupe: The Understudies
Musicians: Steve McRae, Aaron Bruinsma
Stage Manager: Rose Usenica
Cast: Mart Alas, Adriana Alfano, Kristi Boulton, Andrew Hopps
Show Type: Comedy
Audience: Mature
Running Time: 75 minutes
The Staircase Theater is no stranger to improvised comedy: it has been the host of many workshops and improv shows for over 18 years now. However, it is only at the Hamilton Fringe that we get to see the most unique and innovative forms of improv.
The Understudies take improv to a whole new level in their latest show: "Waaaay Off Broadway: A Musical Improv Show!" Not only are they producing entirely new content in every scene, but they also spend much of the performance singing and rhyming.
All four improvisers show their experience from the very beginning, and consistently utilize it throughout the show. No matter the direction or content of the scene, the Understudies go with the flow and maintain a positive atmosphere. There is a lot of variety to be found within the show, as they play a wide variety of different improv "games".
By their own admission, the Understudies are comedians first and singers second, so the audience should not expect the work of a professional opera star. With that said, the improvised songs they sing are actually very fun. Half of the experience is watching the performers try to come up with everything on the spot, and the other half is genuinely enjoying the results when they repeatedly succeed.
The play's stage manager accompanied the cast from the sound booth, but the show most prominent technical aspect was the inclusion of a keyboard player. While the performers improvised characters and lyrics, he would play catchy improvised tunes to fit.
Whenever a scene or game began, the interaction between the performers and their musical accompaniment became a kind of game in itself. The music would need to fit the tone of the scene, but so too would the reactions of the characters need to fit the music.
Thus, whenever one of them affected the scene somehow, everyone else would adapt. The music itself was especially entertaining, and it added a tremendous amount of value to an already excellent performance.
Perhaps the best feature of improvised comedy is that unless you manage to obtain a video recording, you are never going to see the exact same scene twice. Each night brings new characters, new stories, and new songs, giving repeat viewings a degree of value that few other shows or plays can achieve.
If you want to see a literal once-in-a-lifetime performance, then you should definitely be headed waaaay off Broadway.
Post a Comment
You must be logged in to comment.