Fringe 2017 Review: SCUM: A Manifesto
By Bryan Boodhoo
Published July 31, 2017
Creator/Writer: S.E. Grummett and Caitlin Zacharias
Director: Danielle Spilchen
Cast: S.E. Grummett and Caitlin Zacharias
Show Type: Comedy, Drama
Audience: Mature
Running Time: 60 minutes
Venue: Hamilton Theatre Inc
There has been a lot of controversy around this play and a few others, not because of what it's about per se, or the quality of acting, but because someone decided to deface the show's posters with hate speech. This is unacceptable, and it unfortunately distracts from the work itself.
The play is a parody of feminism and, as the title would suggest, of Valerie Solanas and her Society for Cutting Up Men. For those unfamiliar with Valerie Solanas, she is the woman who is most famous for shooting Andy Warhol, which is the subject of the movie "I Shot Andy Warhol".
Having actually read SCUM: A Manifesto about two decades ago, I was curious about how S.E. Grummett and Caitlin Zacharis would turn this short rant of a book into a play.
The answer is: wonderfully. The play intersperses two stories: the one that we expect, namely the Solanas and Warhol story that is now somewhat legendary; and the story of two female roommates finding feminism. Through their quest, the roommates conflate feminism with lesbianism, which they play for maximum comic effect.
The pace of the show is fast, but the audience is never lost. The set and costumes are onstage And are used frenetically. This is an irreverent show, which at times had me admitting to room full of strangers that I was a turd. It was fun. I was a little stunned, but will never forget my experience.
Zacharis gives a stand-out performance, particularly as Solanas. Although I was fully engaged with Grummett, her portrayal of Warhol seemed unbelievable at points, particularly given the real life Warhol's many physical and linguistic quirks.
You can see this show because you despise hate speech. You can see this show because you support feminism. Or you could see this show because you want a good laugh. It really doesn't what matter the reason is, I would recommend that you see this show soon.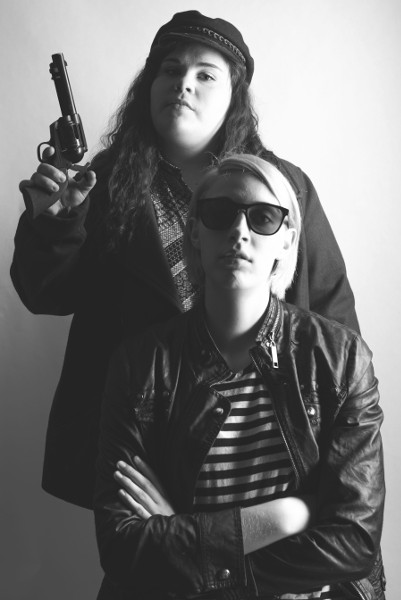 SCUM: A Manifesto
Post a Comment
You must be logged in to comment.