Fringe 2017 Review: Up Here
By Bryan Boodhoo
Published July 27, 2017
Creator: Ensemble
Cast: Ryan Breton, Andrew Cameron, Jason Houle, Matthew McMillan, William Warren, Evee Hayword and Shea McCallum
Show Type: Physical Theatre
Audience: General
Running Time: 60 minutes
Venue: The Players Guild
Ensemble theatre seems to be en vogue these days in drama schools and among their students and recent grads. The premise of ensemble theatre is that the actors collectively create a show based on a collaborative process. This process spells the end of the authorial hand of the playwright, and in theory gets away from the tyranny of authorship.
Still, someone has to make sure that there's a script and that someone should ensure that there's a compelling story. In this regard, Up Here could have benefited from the guiding hand of a strong dramaturge who concentrated on delivering a compelling story.
The story is simple enough. Two brothers, who have moved out of town to find their fortunes, return to turn an abandoned train station into a hotel. Then there's pushback from the local residents, or really one local resident, who is a little obsessed with model trains and the old train station.
Each of the actors seemed to fully commit to their characters, but all the characters seemed a little flat. It was hard to believe, for example, that anyone's only interest was their job as a construction worker.
There was obviously a lot of attention paid to he costumes and the set. However, the set was not always easy to see, and some of the intricacies were lost in the audience.
Up Here is an interesting experiment.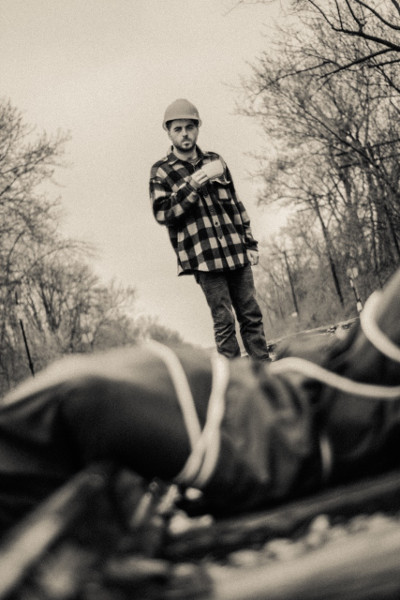 Up Here
Post a Comment
You must be logged in to comment.