Fringe 2017 Review: The Secret of Castle Alphabet
By Susan J. Creer
Published July 24, 2017
Writer: Adam Schnell
Director: Heather Laubenstein
Cast: Rebecca Schnell, Mark Holmes, Melissa Dorsey
Audience: Family
Running Time: 55 minutes
Venue: Theatre Aquarius Studio
We all have the light inside. Heartbeat Theatre, which is comprised of Mark, Melissa and Becca, invited the audience to explore that theme in The Secret of Castle Alphabet. Live theatre has some great components: audience interaction, set, costumes, plausible plots, morals, challenges, evil, puppets, fun characters and preshow entertainment. This Castle had a lot of those components.
The set is comprised of a castle wall with a white screen/window that acts as a space for shadow puppets to help tell the story and a table that gets moved on or offstage as necessary. Some audience members came in costume.
There was British Pantomime-like audience participation where they audience gets to help the heroine with her quest(s). Some of the audience were helpful and some tried to misdirect the actor on her quest, but it was all in good fun.
There were a couple of funny Harry Potter-like references as Al the Gardener advised Mea how to start on her quest, which were enjoyable for the adults in the crowd.
Two of the three actors played more than one character. It was really great to see that they did not just put on another costume but actually created believable, sustained characters with specific characterisations.
The script also included some lines about not making fun of someone who has a funny name or job title. I did find the "Cook" story a bit convoluted but the ending was enjoyable. I also found the ending to have a great moral but about us all having the "light" within us and keeping our eyes open for adventures.
The "Gauntlet" was fun but you will have to watch to find out how Mea can lose and win at the same time. I found the actual ending a tad confusing.
The audience was very appreciative and very energetic, which is always a good thing. I believe that if children become interested in theatre when they are young, it will become a lifelong love for them. The Secret of Castle Alphabet is a great show to take kids of all ages, too.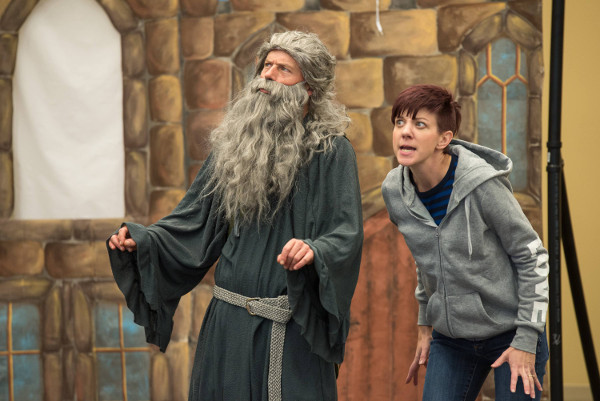 The Secret of Castle Alphabet
Post a Comment
You must be logged in to comment.