Fringe 2017 Review: Swipe Right For Love
By Arthur Bullock
Published July 23, 2017
Cast: Mart Alas, Adriana Alfano, Kristi Boulton, and Andrew Hopps
Show Type: Sketch Comedy
Audience: Mature
Running Time: 75 minutes
In the grand scheme of things, online dating is a very new phenomenon. Finding someone you like can be difficult, and even when you end up discovering someone with potential, it can be a very hit-and-miss affair. Simultaneously, it has become an increasingly familiar concept in culture, to the point that those who do not date online are still well aware of the premise. Swipe Right for Love is an improvised comedy show that plays on this modern concept, inviting anyone familiar with the concept of online date to laugh along at their tales of romantic tomfoolery.
Improv comedy is exactly what it sounds like: comedy where everything is made up, using suggestions from the audience as the basis for any given scene. The four improvisers in this show are Mart Alas, Adriana Alfano, Kristi Boulton, and Andrew Hopps: each one is an experienced improviser in their own right, and they clearly work well together.
Swipe Right for Love has a unique format, setting it apart from other improv shows. In many of the scenes, the improvisers will come before the audience in a line, presenting characters for the audience to consider. As they do this, audience members can "swipe left" to move the line along, or "swipe right" to accept the character for the scene. This continues until two characters have been swiped-right, at which point they will have a scene where they go on a date together.
In between these swipe-segments, traditional audience offers determine the content of multiple sets of scenes. Each offer adds something to the whiteboard on the stage - where the improvisers are building the fictional Tinder profile of a character. At the end of the show, an audience member is asked several questions, which are added to a secondary section of the profile. The completed character is used in the final scene of the show, incorporating all of the elements added to the profile throughout the show.
Improv provides a new experience each time you see it, but Swipe Right for Love is special because of its additional interactivity. Instead of merely providing suggestions, they also get to choose the characters appearing in a scene, and the final scene always includes a character of their own creation.
On top of this, the performers themselves are highly skilled. Their improvisational abilities are clearly well-developed, since none of them ever froze up on stage. Not only would I recommend that you see this show once, but I would also suggest seeing it again on other days. After all, the best thing about improv is that you never see the same show twice.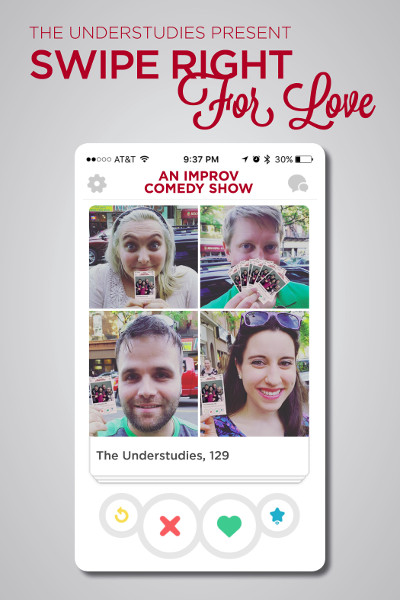 Swipe Right For Love
Post a Comment
You must be logged in to comment.