Fringe 2015 Review: ONEymoon
By Kevin Somers
Published July 25, 2015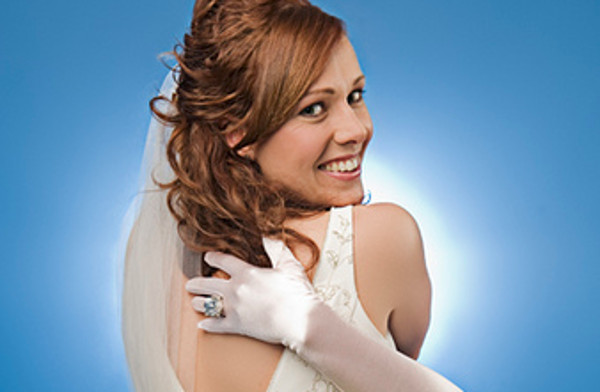 Playwright: Christel Bartelse
Director: Paul Hutcheson
Cast: Christel Bartelse
Show Type: Comedy
Audience: General, Mature
Running Time: 60 Minutes
Oneymoon is hilarious. It is the tale of a woman who, although her finance has backed out of the marriage at the last moment, goes ahead with her wedding ceremony and honeymoon, which likely happens more than we'd think.
It's a one-woman show from Canadian comedy veteran Christel Bartelse. The performance opens with Bartelse, playing abandoned bride, Caroline Bierman, dazzling in a wedding dress, explaining the scenario to ceremony's guests (we, the audience).
Bartelse uses a perfect combination of embarrassment, anger, sadness, hope, and determination, to set the stage for the ensuing comedy romp as she marries herself, takes a romantic oneymoon, maintains the absurdity of her self-marriage, and celebrates the anniversary.
Bartelse's extensive training in performance and clowning coupled with her stage experience has resulted in tremendous comedic sense and sensibilities. A clever, sharp, well-pared script delivered with an expert's timing moves the energetic show quickly.
At various times, audience members are brought on stage to take part, like reading the vows she wrote to herself. Christel picked me to help her make an imaginary cake. My job was to whisk. Once I got going, Bartelse left the stage and, from the shadows, called my name lustfully, while encouraging me to whisk, "Faster! Faster!"
Did I ever. Like the rest of the show, it was great fun.
After the performance, Bartelse explained she's taking Oneymoon to the Edinburgh Fringe Festival, the granddaddy of them all. "It's on my bucket list," she said. "The Hamilton Fringe has 48 shows; Edinburgh has over 3000."
I wish her all the best. Despite the competition, I'm sure it will stand out; Oneymoon is hilarious.
Post a Comment
You must be logged in to comment.