Fringe 2015 Review: Scribe!
By John Bandler
Published July 21, 2015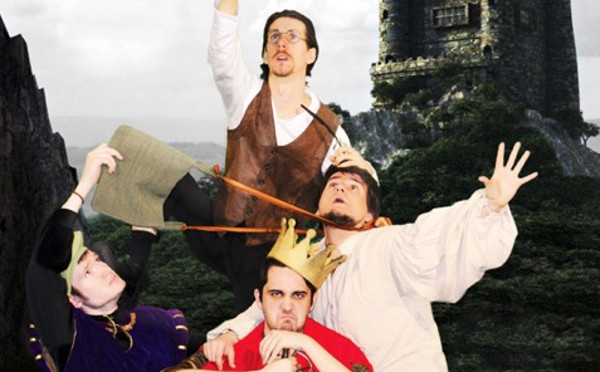 Playwright: Nolan Molfetta
Director: Kayla Vanderlip Elektra Prepos
Cast: James Andreadis, Nolan Molfetta, Ryan Abedi, Anton Wasowicz
Show Type: Comedy
Audience: General
Running Time: 60 Minutes
The comedy's premise is brilliant. "Who would hire a scribe that cannot read or write?" The possibilities of setup and follow-through are unlimited. There is the comic misunderstanding in communication, the obvious deception, the fear of being discovered, the inevitable embarrassment, the peril that might befall innocents and, of course, the ultimate punishment.
So, who would hire a scribe that cannot read or write? The show's publicity blurb says, "The King, of course! Follow the journey of Padre, the well intentioned but illiterate scribe as he stumbles along the fine line between interpreting and fabricating language. Will his endeavours unite a kingdom or start a bloody war? Chock-full of historical inaccuracies, 'Scribe!' is a laugh-a-minute on the art of literacy."
Playwright Nolan Molfetta also plays Braudery, a scribe, who finds his royal post threatened by the embarrassingly illiterate protagonist, Padre. "I'm in crisis," Padre says. "I've been summoned to the court."
Braudery responds, "But I'm the royal scribe."
"But I can't read," says Padre.
"Make it up as you go along," says Braudery. As the comedy unfolds, Braudery develops a plan. He uses the opportunity to better himself by all means necessary, even if two kingdoms go to war over Padre's inevitably botched communications.
Braudery proposes to teach Padre to read and write. In the process, there is some fine comic interplay between the pair. Some of the many great lines: "We form words with the alphabet," declares Braudery.
Later, "Soon you won't be able to see letters without forming words."
The court itself consists of the new king and his nephew, whose royal dad the king has deposed. This angle contributes to a subplot.
Royal cloak-and-dagger subplots are skillfully woven into the story: revenge, assassinations, fratricide, and so on. All this keeps the interest high and the tension ratcheted. Who will kill whom? Will two kingdoms go to war? How will our new, illiterate royal scribe mess up, and what demise will greet him when he does? Does the dungeon await the schemers?
The script itself lives up to its promise: it deals with the intricacies of articulation, expression and understanding, and the plot turns and the characters reveal themselves through minutiae of language, pronunciations, misunderstandings of metaphors, and so on. But even sitting in the front row, some lines escaped me though slurred delivery.
The comedy is well-supported by its music, its choreography and an endearing carrier pigeon puppet.
Post a Comment
You must be logged in to comment.