Fringe 2015 Review: She Said Saffron
By Kevin Somers
Published July 20, 2015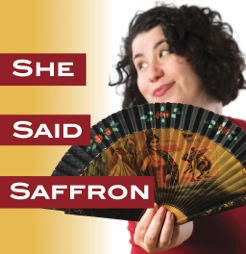 Playwright: Lisa Pijuan-Nomura
Cast: Lisa Pijuan-Nomura
Show Type: Comedy, Drama
Audience: General
Running Time: 60 minutes
One of the great things about The Fringe is stumbling serendipitously into a performance with little knowledge of the show, wondering what to expect, and emerging, an hour later, entertained, satiated, and feeling better about life.
Good comedy requires good timing and with only a small opportunity to see something Saturday, the timing was right for She Said Saffron, which turned out to be a delightful, fun, funny one-woman comedy.
Yay, Fringe!
Lisa Pijuan-Nomura wrote and performs She Said Saffron, taking us on the very personal journey of a new Canadian growing up in Toronto. Pijuan-Nomura's family came from Spain and her portrayals of kin, especially grandparents resplendent with accents and old-world mannerisms, are hilarious.
The promotional blurb for She Said Saffron explains that the playwright grew up with one foot in Spain and one in Canada. Life in Canada, however, put her in the middle of a multi-cultural world. Pijuan-Nomura's deftness with accents is again highlighted in depictions of her German (?!) Flamenco Dance instructor and the international cast of characters at Kensington Market, where she shops with her grandmother.
Food is an overriding theme in the performance. "I love food!" Pijuan-Nomura declares and speaks passionately about her grandmother's cooking. "Everything was fresh. I could read and pronounce all the ingredients in her recipes. Everything was made with love." Like every other young Canadian, though, she discovered junk food, which is not made with love, and she had to hide donuts from her grandmother like they were crack.
There are some profoundly sad moments. Pijuan-Nomura speaks candidly about her weight issues and struggles with body-image growing up. But perseverance rules the day and Pijuan-Nomura channels her challenges to touch the audience. The high school dance scene put lumps in throats and tears in eyes.
Also touching is this quote from the playbill, "The last song of the show is sung by my grandmother, Encarncion Espinosa, and is the only recording I have of her singing."
I appreciated the wholesome humour and family-friendly entertainment. There was no swearing, no vulgarity, no attempt to shock. It's a show to be seen with as many people from as many generations as possible. Bring your grandmother, particularly, she'll love it.
Post a Comment
You must be logged in to comment.